Home
>
Blogs
> Golf Course and Beer Pairing 2 | Duffer's Corner
Golf Course and Beer Pairing 2 | Duffer's Corner
May 20th, 2014 by Kevin P. Duffer
Kevin P. Duffer
A quick refresher on the refreshment for those of you that missed the essential first installment of this series: I love golf. I love beer. And more than anything else, I love combining the two. These posts are just one hacks opinion on what might play and drink well together. It might be because of geography, style, flavor, or any other alcohol-fueled inspiration that's knocking around in ol' Duff's ample skull. I never promised to make sense or even pretend to. The beauty is in the eye of the beer holder, as they say. What's important is that all these courses and beverages share one essential ingredient: Excellence.
Chicago Golf Club - Yuenling Traditional Lager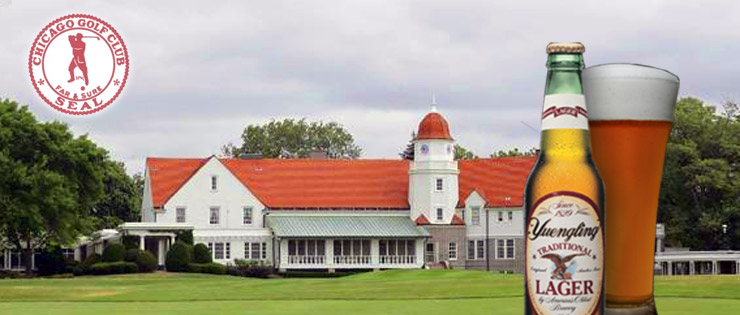 We've got an East Coast feel with this round of pairings. (See what I did there? Round. Like round of golf. Dual Meanings. Great joke.) And if we're going East, why not start with first and oldest 18-hole course in North America? Chicago Golf Club was founded in 1894, just around the same time my great-grand pappy was swinging around his first hickory shaft and slugging his share of late century ale. Other interesting facts about the course include: Location (Wheaton), Par (70), Number of holes (18). Alright, I lied, those facts aren't interesting, but I just want to get to the beer. Let's stroll the oldest course while drinking the oldest beer, that beer being American Staple Yuengling Lager. This beer might not excite the hop-heads but it's clean, classic, refreshing, and classic. After a few well-balanced and distinctive sips of Yuenling, let the sweet aftertaste of storied tradition satisfy your tastebuds, and may there be an eagle on your beer, an eagle in the sky, and an eagle on your scorecard.
Pinehurst No. 2 – Dogfish Head 120 Minute IPA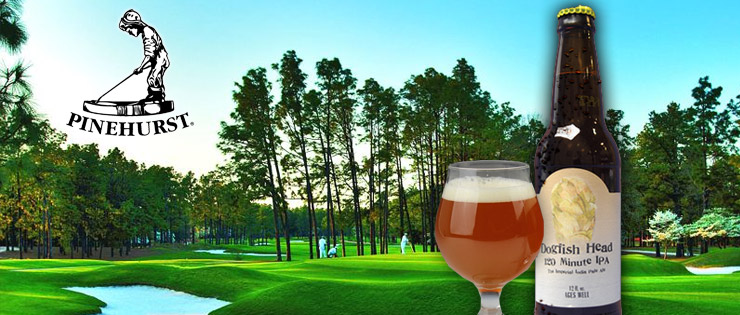 If you were wanting for hops with the last pairing, then here you go, have some hops. The Dogfish Head 120 Minute IPA gets it's name thanks to a two hour boil of continuous hopping action. It's then dry-hopped every day for an entire month, finally aging for an additional month with more hops. So, yeah, hops. Have I mentioned hops? Hops. At 15-20% ABV depending on the batch, the 120 minute might lead to some 120 stroke scores. Especially when paired with the beastly Pinehurst No. 2. Often the host of many Major Championships, No. 2 will challenge the most skilled among us, and since I'm a daredevil with a mediocre handicap, I might as well double down on the challenge, right? Thick rough and professional-grade green undulation means next to nothing when you're nursing the final few gulps of an 18% powerhouse brew. So I say to hell with it. Kick one back, try to focus for a few holes, and then conveniently forget to keep track of your score. It wasn't going to be pretty anyway, and now you can blame everything on the beer.
Shinnecock Hills Golf Club – Southern Tier Pumking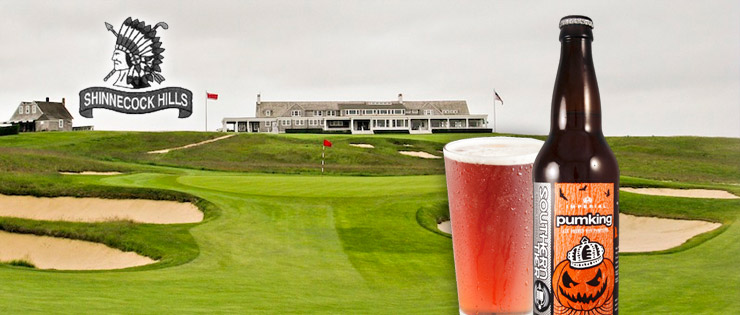 The course may be super exclusive, but your beer doesn't have to be. I admit that this pairing exists as somewhat of a fall-themed, booze-addled trickster fantasy. I see myself harnessing the power of witchcraft to sneak onto this near-impossible-to-play course in late October, utilizing the shine of a full moon to light the fairways and greens, I crack the inside of my glowball and stumble around in the rough where the bulk of my drives slice into. The excellent Pumpking from Southern Tier becomes a great combination with the stiff breeze of the nearby ocean, keeping me warm as I hack away in the dark. It's not often you combine golf, beer, and Halloween, but I think I just did. It's possible I've had one too many sips from the bottle of inspiration I keep next to my keyboard. Did I just invent some sort of golf-themed costume party?
That ought to do it for this installment of golf course and beer pairings. What to do you, am I onto something, or completely off my rocker? (Maybe don't answer that.) Let me know if you like the pairings, or chime in with your own!
What about your pairings? Share them with me.
Duffer
comments powered by

Disqus