For many golfers, when the calendar turns towards October, the golf season is officially over. The rain starts to fall, the temperature drops, and it becomes too dark to golf past the afternoon. Golfing in this environment requires intense commitment, and it's work. You have to wake up early, or take off work. You have to load up with rain gear and pack your bag with extra layers and hand warmers. For some, this slog through the season is a badge of honor, a sign of their love of the game. For others, the better idea is to track down the warmth of the sun.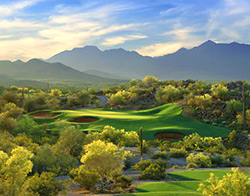 For those golfers looking to escape the element rather than endure them, GolfDiscount.com is happy to provide an extensive collection of warm weather travel options, with 16 first-class courses to choose from and lodging accommodations provided by the award winning Zona Hotel and Suites of Scottsdale. Select three rounds that most pique your golfing interest, and enjoy a breakfast buffet every morning in the Graze Desert Grille before heading out to the practice green.
Once on the course, you'll enjoy a Championship caliber experience, featuring world-class facilities and grounds. With so many excellent courses to chose from, there is an enjoyable and challenging option available for golfers of every interest and skill level. During your three round, three night stay, you'll leave behind the rain and the cold, instead soaking up the desert sun, surrounded by the ever-present beauty of natural rock formations, indigenous cacti, and views that span for miles. Book your travel package today and start preparing for an unforgettable golf vacation!
Your comments are always appreciated.
Kyle
Checkout our new Golf Discount Travel Packages starting at just $549.