Home
>
Blogs
> Throwback Thursday - Tiger Woods (Week 1)
Throwback Thursday - Tiger Woods (Week 1)
April 24th, 2014 by Kevin P. Duffer
On Throwback Thursday we will seek to present to the reader a classic golf photograph in an attempt to remind and inspire. For in our sport of golf, the same as in life, the times may change but a classic never goes out of style.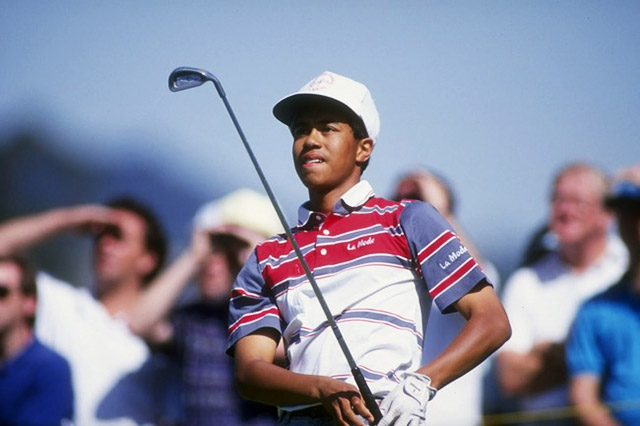 For our foremost foray into the storied Throwback Thursday tradition, what better golfer to highlight than a young Tiger Woods? Young Tiger Woods is witnessing the late 80's give way to the early 90's, and he likes what he sees. He looks into the horizon beyond his arching ball flight and sees nothing but green. He's comfortable in a fresh La Mode polo, its crisp horizontal striping accentuating the precision inherent in Eldrick's iron play, the contrasting colors symbolizing the separate yet equally extraordinary golf gifts within his possession. The blue stands for his power game, the white his deft touch around the greens. The bold red blazes like the intense competitive fury that burns withing the Young Woods heart. He holds his follow-through, watches the ball land softly near the hole. His cap holds still in the breeze. His Pings Zing. He lowers his head and walks forward into the future.
Let us know if you have a great Throwback Thursday picture we should feature!
Check out Duffer on his Google+ page
.
comments powered by

Disqus