Cleveland - HB3 Combo Irons
This product may have minor scratching and/or ball marks on the face & sole. Shop worn clubs come with the same warranty as non shop worn clubs. Clubs listed as shop worn may have been hit off indoor range mats and have not been played out on the golf course. Head cover may also not be included.
HB3 Irons
The best hybrid iron set Cleveland has ever produced. The new HB3 is Lighter, Faster and Longer. With its advanced internal weighting and forgiving sole design, this seamless transition full hybrid iron set inspires confidence at address while providing supreme launch conditions. The HB3 comes equipped with Cleveland's new Action Ultralite graphite shaft, which is 15 grams lighter with a lower kick point than its predecessor. As a result, you get faster clubhead speeds, higher launch angles, and the longest hybrid iron set engineered by Cleveland Golf.
Advanced Internal Weighting
Weight removal on crown & sole recesses allow for internal discretionary weight placement and a 12% deeper face to CG depth.
Advanced Sole Design
The new sole design provides recessed sections to reduce drag and improve turf interaction while maintaining wide sole characteristics for increased control and forgiveness.
Seamless Transition
The new HB3 takes hybrid irons to the next level in distance, forgiveness and overall performance. Their seamless transition and full hollow construction throughout the set provides golfers with irons so easy to hit, it almost feels like cheating.
Specifications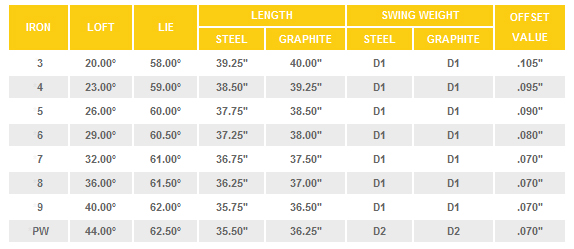 Accurate (4)
Great feel (4)
Durable (3)
Large sweet spot (3)
Improving game (4)
Replacement (3)
Upgrade (3)
Reviewer Profile:
Golf enthusiast (3)
Accurate
Forgiving
Great Feel
Large Sweet Spot
Comments about Cleveland HB3 Combo Irons:
Just bought these with steel shafts stiff flex. Iron play is way more consistent now and my handicap will soon be droping. They are the easiest clubs I have ever hit. After spending money on multiple set configurations, I finally have comfort on the course again. Thanks Cleveland!
Comment on this review
Accurate
Durable
Forgiving
Great Feel
Large Sweet Spot
Improving Game
Replacement
Upgrade
Comments about Cleveland HB3 Combo Irons:
This is the second set of HB3 clubs that I have owned. I sold the first set on being transferred back to the US. The person who bought them is also very pleased with them and has seen an improvement in his game as well. I believe that these clubs have shaved at least 10 strokes off of my score, consistently...
Comment on this review
Accurate
Durable
Great Feel
Longer Higher forgiving
Improving Game
Replacement
Comments about Cleveland HB3 Combo Irons:
Borrowed 8 iron from a friend, could not believe how high and long and also how accurate this was. Then borrowed his set, hit first par 5 in two in ten years, Driver then 3 iron (210) yards. Made the birdie putt. Bought set five months ago and scored my first Hole in One (45 yrs playing this wonderful game) with wedge (121) yds. Handicap has gone from 25 to 19. Great feel with the graphite shafts. I now "love this game."
Comment on this review
Accurate
Durable
Great Feel
Large Sweet Spot
Improving Game
Replacement
Upgrade
Comments about Cleveland HB3 Combo Irons:
I am pleased with the purchase. They take some getting used to; but I think they will definitely help my golf game.
Handicap:
34
Was this a gift?:
No
Comment on this review
International Shipping
GolfDiscount.com can ship almost any item we carry in stock internationally. From Canada, to Europe, to Australia and everywhere in between, we can provide rate estimates and service to interntional customers. International shiping prices will be calculated during checkout, but if you would like to estimate shipping costs prior, please use our
Shipping Estimator
. Note: Items must be in your Shopping Cart in order for the Estimator to reflect accurate figures.
Online Shipping Information (United States)
GolfDiscount.com is proud to use UPS as its primary shipper. All packages are shipped UPS with the cost of insurance for your purchase included in the price that we quote you. Packages are protected 100% until the merchandise arrives and is signed for by you. We offer UPS Ground Shipping to the Contiguous 48 states. All UPS shipment times are quoted in business days, as neither UPS Next-Day service nor UPS 2-Day service ship or deliver on weekends or holidays.
Orders over $

50

.00

*Free UPS Ground shipping!
Orders under $

50

.00
Ground shipping only $6.99
*Free shipping option excludes PING merchandise due to MFR restriction.
Express Shipments
We are also proud to offer UPS Next Day and 2-Day Air at the lowest possible rates attainable. Rates vary depending on the dimensional weight and destination of the shipment.
Hawaii and Alaska Shipments
UPS Next Day and 2-Day Air are available.
Processing Times
When expecting your package, please allow for
1-2 days of processing time
before your order is shipped.
PO Boxes
We apologize for any inconvenience, but UPS does not ship to PO Boxes.
APO Shipments
We support our troops but due to a large number of lost shipments can no longer offer shipping to APO boxes. We recommend having your order shipped to your home address and having someone ship it for you to your military address. Simply check the "This will be shipped to a different address" box at the bottom of the check-out page. Thank you for your cooperation in this matter.
Additional Shipping Information
Canadian and International Orders
Recently Viewed
MAY WE SUGGEST
<!– Library placed at the end of the HTML Document, before the /body closing tag -–>