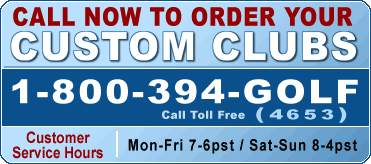 Looking to customize your next set of irons? Are most factory shafts just not stiff enough for your swing? Did you know that Callaway has 15 different FT-9 clubheads with 29 different shaft options to choose? All TaylorMade woods & irons have 30 different grips you can select from?
No need to settle for stock components when you can take advantage of a long list of custom options that most golf manufacturers offer. Whether it's adjusting the loft or lie of a set of irons, getting a custom grind on a Ping wedge or having that extra stiff tour shaft installed in the latest Titleist driver, your options are endless.
Call our customer service center today to see what custom club options are available for your next purchase.
Examples of various custom options:
Shafts
Speciality Irons
Fujikura Banzai Hybrid
Bridgestone J36
Fujikura Speeder 757
Srixon i-701 Tour
Graphite Design Pershing
Callaway Tour Authentic X-Prototype
Mitsubishi Diamana White 73
Tour Edge Exotics CNC Forged
Customizing
Up to +3 inches long driver shaft
Iron sets bent as much as 3°-5° upright or flat
Custom grips & grip sizes
Swing weights
Tipping a shaft to change its kickpoint
Special wedge grinds