Bridgestone - e5 Golf Balls 2010
Higher Ball Flight
The new e5 golf ball uses its unique 2-piece urethane cover construction to help golfers who have a desire to add more height to their shot trajectory.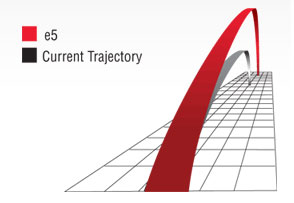 Performance
Promotes higher trajectory
Powerful 2-piece Urethane Cover for deep distance and added spin control
Large Gradational Compression Core
Tour Caliber Urethane Cover
New 326 High Flight Seamless Dimple Design
Bridgestone eSeries Golf Balls - Press Video
Take your pick to fit your game. The e5 for higher trajectory. The e6 for straighter ball flight. Or the e7 for a lower, more penetrating ball flight.
Comments:
Comments about Bridgestone e5 Golf Balls 2010:
i dont think they work that good for the price.
Comment on this review
International Shipping
GolfDiscount.com can ship almost any item we carry in stock internationally. From Canada, to Europe, to Australia and everywhere in between, we can provide rate estimates and service to interntional customers. International shiping prices will be calculated during checkout, but if you would like to estimate shipping costs prior, please use our
Shipping Estimator
. Note: Items must be in your Shopping Cart in order for the Estimator to reflect accurate figures.
Online Shipping Information (United States)
GolfDiscount.com is proud to use UPS as its primary shipper. All packages are shipped UPS with the cost of insurance for your purchase included in the price that we quote you. Packages are protected 100% until the merchandise arrives and is signed for by you. We offer UPS Ground Shipping to the Contiguous 48 states. All UPS shipment times are quoted in business days, as neither UPS Next-Day service nor UPS 2-Day service ship or deliver on weekends or holidays.
Orders over $

50

.00

*Free UPS Ground shipping!
Orders under $

50

.00
Ground shipping only $6.99
*Free shipping option excludes PING merchandise due to MFR restriction.
Express Shipments
We are also proud to offer UPS Next Day and 2-Day Air at the lowest possible rates attainable. Rates vary depending on the dimensional weight and destination of the shipment.
Hawaii and Alaska Shipments
UPS Next Day and 2-Day Air are available.
Processing Times
When expecting your package, please allow for
1-2 days of processing time
before your order is shipped.
PO Boxes
We apologize for any inconvenience, but UPS does not ship to PO Boxes.
APO Shipments
We support our troops but due to a large number of lost shipments can no longer offer shipping to APO boxes. We recommend having your order shipped to your home address and having someone ship it for you to your military address. Simply check the "This will be shipped to a different address" box at the bottom of the check-out page. Thank you for your cooperation in this matter.
Additional Shipping Information
Canadian and International Orders
Recently Viewed
MAY WE SUGGEST
<!– Library placed at the end of the HTML Document, before the /body closing tag -–>