Mizuno - MP-4 Irons
Ships out in 1-2 Business Days
SHIPPING:

FREE!*
TAX:

$0.00**
Discounts can not be applied to this product.
*48 Contiguous U.S. States.
**Excludes WA Residents.
MP-4 Iron Set
The Art of Shotmaking.
The MP-4 is the purest of forged muscle backs for shot-makers seeking the ultimate control over their ball flight.
A longer, softer sense of impact results from Mizuno's patented grain Flow Forging process and bulging muscle design that extends higher up on the clubface. The muscle bulge is most prominent in the scoring irons and reduces down through to the slender long irons – where design emphasis is placed on creating a quick launch and steeper landing angle to knock down flags.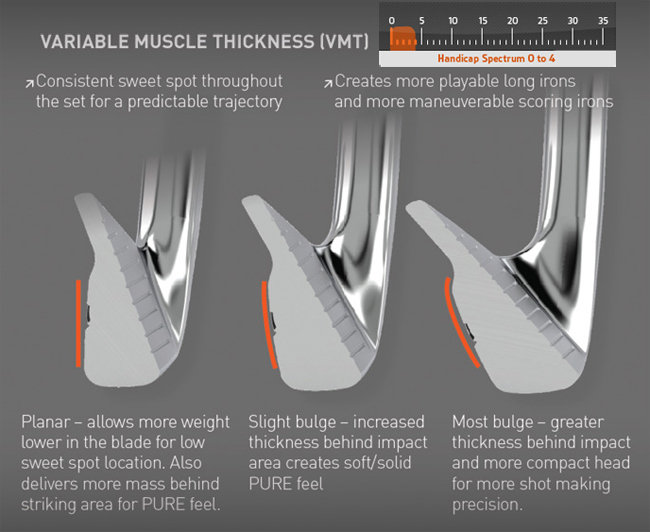 Key Technology
Pure Muscle Design: Bulging muscle ensures thickness behind impact for solid feel.
Shotmakers Profile: Thin top line and reduced offset help manipulate ball flight.
Variable Muscle Bulge: More bulge in the short irons for trajectory control.
New Profile (8-PW): More compact than previous MP irons.
Grain Flow Forged: From a single 1025E Pure Select mild carbon steel billet for enhanced feel.
Standard Shaft:
True Temper Dynamic Gold – S300
Standard Grip:
Mizuno M-31 0.58, 0.60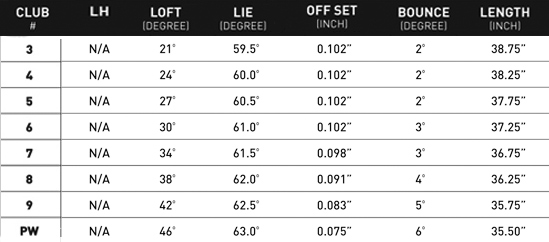 "The MP-4 gives real shot-makers the ultimate control over their ball flight – with the very purest feel and feedback possible. If you want to learn to become a truly great shotmaker, the MP-4 is the best teacher you can have".
-Tetsuya Kanayama, Manager Golf Club Development
International Shipping
GolfDiscount.com can ship almost any item we carry in stock internationally. From Canada, to Europe, to Australia and everywhere in between, we can provide rate estimates and service to interntional customers. International shiping prices will be calculated during checkout, but if you would like to estimate shipping costs prior, please use our
Shipping Estimator
. Note: Items must be in your Shopping Cart in order for the Estimator to reflect accurate figures.
Online Shipping Information (United States)
GolfDiscount.com is proud to use UPS as its primary shipper. All packages are shipped UPS with the cost of insurance for your purchase included in the price that we quote you. Packages are protected 100% until the merchandise arrives and is signed for by you. We offer UPS Ground Shipping to the Contiguous 48 states. All UPS shipment times are quoted in business days, as neither UPS Next-Day service nor UPS 2-Day service ship or deliver on weekends or holidays.
Orders over $

50

.00

*Free UPS Ground shipping!
Orders under $

50

.00
Ground shipping only $6.99
*Free shipping option excludes PING merchandise due to MFR restriction.
Express Shipments
We are also proud to offer UPS Next Day and 2-Day Air at the lowest possible rates attainable. Rates vary depending on the dimensional weight and destination of the shipment.
Hawaii and Alaska Shipments
UPS Next Day and 2-Day Air are available.
Processing Times
When expecting your package, please allow for
1-2 days of processing time
before your order is shipped.
PO Boxes
We apologize for any inconvenience, but UPS does not ship to PO Boxes.
APO Shipments
We support our troops but due to a large number of lost shipments can no longer offer shipping to APO boxes. We recommend having your order shipped to your home address and having someone ship it for you to your military address. Simply check the "This will be shipped to a different address" box at the bottom of the check-out page. Thank you for your cooperation in this matter.
Additional Shipping Information
Canadian and International Orders
Recently Viewed
MAY WE SUGGEST
<!– Library placed at the end of the HTML Document, before the /body closing tag -–>