Adidas - Tour 360 4.0 Golf Shoes White/Metallic
Get Closer To The Ground
The Tour 360 4.0 is engineered with advanced THiNTech - a revolutionary low-profile technology that brings golfers closer to the ground. A lower center of gravity equals a higher level of performance and greater stability, better balance and footwork, and increased power and feedback. All of which promotes more consistent ball-striking.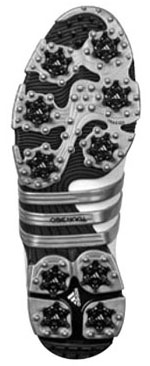 Advanced THiNTech
The entire cleat and attachment system has been re-engineered to bring golfers closer to the ground. The result is advanced THiNTech with PINS (Performance INsert System), which is 32% lower than conventional cleat systems.
360WRAP + Unibody Construction
Stability and balance are further enhanced with Adidas innovative 360WRAP support system. Unibody construction connects the 3D molded external heel counter and 360WRAP technology to the outsole, creating the most stable Adidas golf shoe ever.
Re-engineered Powerband Chassis
The tour proven Powerband Chassis harnesses the energy of the swing and delivers more of it to the ball at impact. The TPU platform has been re-engineered with strategically placed perimeter support and Powerband geometry to promote more stability and better weight transfer through impact.
THiNTech Cleat
Advanced cleat system combines a low-profile, anti-clogging cleat design and thinner outsole receptacle to bring golfers closer to the ground for better power transfer, balance, footwork, and more consistent ball striking.
FitFOAM
FitFOAM molds to the exact contours of each athletes foot. Located in the footbed, this visco-elastic foam is engineered to evenly distribute weight and pressure for a personalized fit.
adiPRENE
Provides long-lasting impact absorption in the heel for long-lasting comfort.
adiTUFF
Golfers are known to drag the toe of their back foot on the follow-through. adiTUFF is an abrasion-resistant material that protects the toe from wear and keeps the shoe looking great.
ClimaProof
Combines technologies to deliver 100% waterproof protection. The first layer wicks inside moisture to the shoe's surface, while the second layer surrounds the foot with a waterproof membrane.
Color:
Running White/Titan Metallic/Scout Metallic
Model Number:
816335
Adidas Golf Shoes - Press Video
Equipment For Your Body. Get low for greater stability, performance, and scores.
Comments:
International Shipping
GolfDiscount.com can ship almost any item we carry in stock internationally. From Canada, to Europe, to Australia and everywhere in between, we can provide rate estimates and service to interntional customers. International shiping prices will be calculated during checkout, but if you would like to estimate shipping costs prior, please use our
Shipping Estimator
. Note: Items must be in your Shopping Cart in order for the Estimator to reflect accurate figures.
Online Shipping Information (United States)
GolfDiscount.com is proud to use UPS as its primary shipper. All packages are shipped UPS with the cost of insurance for your purchase included in the price that we quote you. Packages are protected 100% until the merchandise arrives and is signed for by you. We offer UPS Ground Shipping to the Contiguous 48 states. All UPS shipment times are quoted in business days, as neither UPS Next-Day service nor UPS 2-Day service ship or deliver on weekends or holidays.
Orders over $

50

.00

*Free UPS Ground shipping!
Orders under $

50

.00
Ground shipping only $6.99
*Free shipping option excludes PING merchandise due to MFR restriction.
Express Shipments
We are also proud to offer UPS Next Day and 2-Day Air at the lowest possible rates attainable. Rates vary depending on the dimensional weight and destination of the shipment.
Hawaii and Alaska Shipments
UPS Next Day and 2-Day Air are available.
Processing Times
When expecting your package, please allow for
1-2 days of processing time
before your order is shipped.
PO Boxes
We apologize for any inconvenience, but UPS does not ship to PO Boxes.
APO Shipments
We support our troops but due to a large number of lost shipments can no longer offer shipping to APO boxes. We recommend having your order shipped to your home address and having someone ship it for you to your military address. Simply check the "This will be shipped to a different address" box at the bottom of the check-out page. Thank you for your cooperation in this matter.
Additional Shipping Information
Canadian and International Orders
Recently Viewed
MAY WE SUGGEST
<!– Library placed at the end of the HTML Document, before the /body closing tag -–>