Womens Golf Education
Women's golf equipment and accessories are made especially with the needs of female golfers in mind. Key differences from men's golf gear are smaller sizes and more feminine designs. Besides these differences, there are other important performance considerations to take into account when you are selecting specific gear.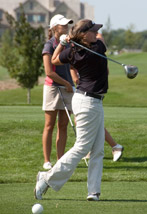 We will discuss them below.
Women's golf clubs are available in the same models as men's golf clubs—i.e., drivers, woods, hybrids, irons, wedges, and putters—but they are usually manufactured with a slightly higher loft angle, a softer flex, a lighter overall weight, and a shaft that is made of graphite and shorter by about an inch. These features accommodate a golfer who is shorter in stature and who is looking for clubs that suit a slower swing speed and enhance performance.
Shop Womens Golf Clubs
Women's golf bags are, in most respects, the same as men's bags, but some are made specifically for clubs that are about an inch shorter than men's clubs. When selecting a bag, you will want to look for one that is lightweight and that can carry what you need. Most importantly, there should be enough room in your bag for all of your clubs and gear, and should be able to accommodate walking or riding, depending on your preference.
Shop Best Selling Womens Complete Sets
A women's complete golf set comes with 10 to 14 clubs and a bag to carry them all in. Complete sets can be a great starting point for a beginner golfer or for a more experienced golfer. Whether you are just starting out or you are on the more experienced end of the spectrum, you may find yourself making individual club replacements in a complete set overtime as your preferences and skills evolve.
Shop Best Selling Womens Complete Sets
When selecting golf balls, you may choose to go with a women or men's golf ball, depending on your swing speed, preferences, and goals. If you are looking for more distance, a certain feel, more spin, or a straighter shot, each of these needs can be met with certain golf ball models. Balls made specifically for women are usually made with lower compression than men's models for a soft feel and a long travel distance. And, of course, you have a variety of colors and designs to choose from, ranging from classic white to more bright or personalized options.
Shop Womens Golf Balls
Women's golf apparel and shoes are made with the same high-performance materials as men's apparel, except that apparel is fitted with a distinctly tapered waist and designs, and shoes are narrower. Both apparel and shoes for women come in feminine styles, with an eye toward fashion and function.
Shop Womens Apparel
Shop Womens Golf Shoes
Go Top