Description
Adams Blue Combo Irons
Get More Air.
The Easy Launch System consists of three amazing features that work together to give golfers more air (and who couldn't use high-launching, draw-biased, easy-to-hit fun on the golf course?)
How It Works:
Velocity Slot Technology™ – The sole slot gives golfers more flex and more speed, across a larger area of the face.
Low/Back CG – Keeping the CG low & back allows for more spin and more speed on more shots.
SlimTech Shaft – Allowing for more kick and easy launch
Specifications
Standard Steel Shaft: True Temper Dynalite SlimTech 85
Standard Graphite Shaft: Aldila SlimTech 55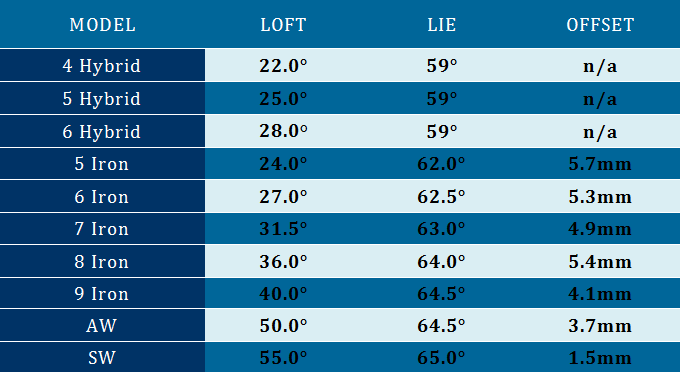 Reviews
Great Clubs & Great Service!
Ordered the Adams Blue set & received them within two days in Ontario , Canada. Great service! I immediately played 9 holes with the new set and hit some awesome shots. Definitely an improvement over my old clubs.
Awesome Value
I couldn't be more please with my new set of Adams. The senior shaft was better than I expected, I'm hitting farther and straighter. Great price, great clubs! Would highly recommend!
Adams blue
I got the senior shaft which is new to me and I hit them better each time I play the clubs I really like especially the hybrids I wish I could find some more of the hybrids like a 5 or 6
Adams Blue Irons
I could not be happier with this new set of Adams Blue irons and golfdiscount's service and delivery.. Having not played the game on a regular basis in years, my PGA instructor recommended these clubs with graphite "senior" shafts now that I'm in my sixties. They're the perfect choice and golf discount provided them at a terrific price.
Adams Blue irons
Great product. Outstanding service and quick shipping.
Awesome Clubs
Love the clubs. Added 5 to 10 yards a club and seemed to have taken away my slice.
Great Buy
These clubs are just what I needed. I have been retired for a few years and have always used regular shaft clubs. I never imagined a senior shaft could make golf as enjoyable as these have made mine so far. I have only played a few rounds since I received these clubs and if they improve my game just a little more than they already have I know I will enjoy playing golf more than I ever have.
Adams Idea Senior Clubs
I am very happy with my Adams Idea golf clubs. My experience with your company is definitely 5 star.
great clubs
Only hit them a few times but am very satisfied with the results. The ball flight is what I was looking for, straight ahead in the fairway.
New clubs
Priced well and delivered as promised.
Adams Blue combo clubs
Great clubs at very good price!
Adams Blue Clubs
Great clubs, great deal, very pleased. I would recommend them to everyone.
Shipping