Description
Idea Hybrid Irons
Super Game-Improvement Irons

Adams Golf and their new Idea irons gives you a set that is sure to be, for mid- and high-handicappers, exactly what a game-improvement set of irons should be - more forgiving on mis-hits.

The new Idea irons set is a unique, non-homogenous composite set of the following: hybrid long irons (3-5), hollow-bodied mid-irons (6, 7) and extreme perimeter-weighted short irons (8-PW). By swapping long irons for hybrid clubs, which have a lower center of gravity, Adams has made it easier for higher-handicap players to get the ball airborne. But, the most distinguishing feature of the new Idea irons is the inclusion of strategically-placed slots in every club that are designed to create springier faces and deliver more distance.

While the crown and sole of the new Idea hybrids feature the same, newly-designed vertical channels found in the new Adams Tight Lies fairway woods, the hollow-bodied mid-irons (6- and 7-irons) have channels in the topline, the sole and in the toe area to enlarge the sweet spot and create more ball speed. The cavity-back short irons were built with slots in the sole and toe area.

With a 270-degree slot that wraps around the head of the middle and short irons - misses out on the toe of the iron will still create respectable control and ball speed on off-center hits. Compared with previous versions of Idea irons that didn't feature slots, Adams adds that the new Idea irons are getting 29 percent more ball speed on toe shots.

Golf's a hard game. And Adams along with their new Idea(s) that are more forgiving and easier to hit give you the power where you need it most – across the entire clubface.

Features
Cut-thru sole slot in hybrids
Wraparound slot in hybrid irons and scoring clubs
More ball speed and forgiveness for on-center and off-center shots
Specifications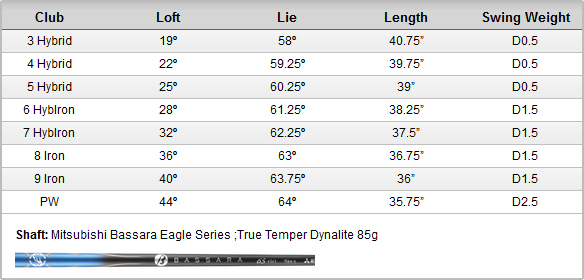 Reviews
Adams Blue hybrid iron set
Received order promptly, when clubs were received they were not exactly what I wanted. The no. Hassle return policy was without incident and went very smoothly, would definitely recommend doing business with Golf Discount again.
Great set of clubs
I really find these Hybrids easy to hit and they appear to replace the distance that I have lost through the years. I opted for the regular flex after trying the stiff flex and for my swing that was a great move. After a few rounds of getting used to, I believe they are the best out there for an intermediate or older player who is looking for a larger sweet spot and a more forgiving set of clubs.
Adams New Idea irons
I was dubious but there is no doubt these irons have helped my game.....straighter shots and more forgiving. With perfect contact, longer as well.
Adams hybrid combo set with graphite shafts
Great set of irons! Great service from Golf discount next day delivery to Canada
Amazing
Great deal on left hand clubs !!!! WHAT I know never happens (south paws will understand) .Great clubs and amazing service ordered these on Wednesday night Sydney, Australia time and received them on Monday morning.Would highly recommend this site.
Adams new idea
They are everything I expected and more. Older golfers be sure of regular flex and senior flex
Fast and efficient process. Very
Fast and efficient process. Very happy with service I received.
Great clubs for beginners or
Great clubs for beginners or hackers. Farther distance and straighter than with old clubs
Gift for Father's Day
The clubs were a gift for my husband for Father's Day, he had both of his knees replaced and had not played golf for several months. He has only gone to the putting range a few times, however, he is enjoying his new clubs.
Excellent!
Great price and fast free shipping! What more could you ask for?
Adams Idea medium shaft irons
They had the clubs I wanted when the local stores did not and they were less expensive. Arrived quickly, packaged well. Would recommend to all.
74 year old finds new life with Adams New Idea Hybrids
I am 74 years old and my game has deteriorated over the past few years. I recently purchased a set of Adams New Idea Hybrids and the first time out shot 78. I love the clubs but am most frustrated because I'd like to get a gap wedge and sand wedge to match the set and it doesn't appear as if they make them. What a shame for Taylor Made to ignore the older golfers who are about the only strong segment of the golf community left.
Great Clubs
I haven't golfed in 20 years. Now that I just turned 60, I thought I would take it up again. I bought the senior flex- graphite shafts. I was surprised how light they were compared to my old clubs. They are superb! I never hit the ball so straight and far. They are very forgiving. Love the grips too.
ADAMS NEW IDEA IRONS
THESE ARE THE BEST IRONS I HAVE PLAYED FOR YEARS. I AM REALLY GLAD I BOUGHT THEM.
Milan Zikovic
Post to Australia was very quick.Clubs are just what I needed, good large grips and irons are so easy to hit with.I fill like in control of my game now.For 70 year old I started enjoy my game again.
Great set, Have no problems
Great set, Have no problems with them. I would advise any senior looking for clubs to purchase these. Rich
Adams new idea combo irons
these clubs are amazing! I hit straighter than I ever have using them and they've definitely taken strokes off my game.
Shipping