Description
New Idea 12-Piece Full Set
Slot Technology Through the Full Set
The Idea Complete Set is everything you need for the course, now with Adams Golf's patented and game-enhancing slot technology going through the set. Everything from the easy to hit driver and fairway woods to the hybrids, irons, wedges – this full set will make the game more fun and enjoyable for you. Top it off with a Yes! putter, featuring C-Groove Technology, and this complete set is above all others - loaded with the latest Adams Golf technology and playability.
Features
A complete set that starts with an easy-to-hit driver along with three high-launching fairway woods that add extra distance to your game
New Cut-Thru sole slot design in the hybrids makes ball speeds greater and launch angles higher and adds extra distance on off-center shots
There's an actual wrap-around slot - never seen before in golf clubs - that expands the sweet spot for up to 44% more speed on off-center shots and 23% more speed on center shots compared to Adams' industry-leading Idea a12OS
Higher launch from the lowest center of gravity Adams has ever had in their hybrid irons
More ball speed and more forgiveness where you hit it most
Premium, full-sized and featured Adams Golf cart bag included
Specifications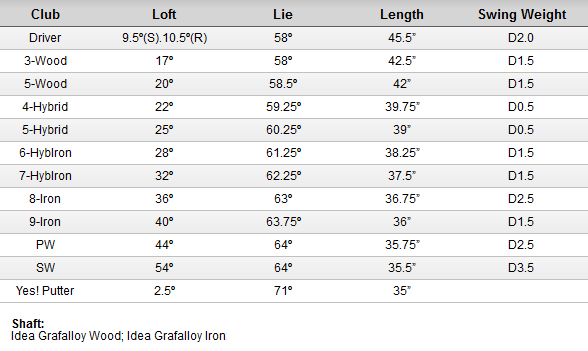 Reviews
Great clubs
I had the same old set for several years and decided to upgrade. I don't know if these clubs will simply lower your score by themselves but they are definitely nice clubs. My scores since I bought them (9 holes): 51, 67, 65, 55, 58, 54, 56. The grips are cheap and some of the plastic wrap was not on my club heads when I received the shipment, which made me upset because I could clearly see the imprint of a ball on a few of the faces, with a little scuffing here and there. I would have complained but I found TWO 9 irons in the bag. Now I have a spare if I lose one I guess.....
Just getting started. Happy with
Just getting started. Happy with the clubs so far.
Adams Idea Set
I ordered the set onlin . The clubs are perfect for a senior golfer. The hybrids are easy to swing and very forgiving. The service at Golf discount is excellent. My order was received within 3 days. There was a slight machining problem on one club. When I calle d about the problem another set was sent again within 3 days. I would recommend doing business with Golf Discount.
I've already lowered my avg. score5/6 strokes.
At age ninety(90) I can't believe hoe much better I'm striking the ball-since I purchased the full set of Adams clubs.-Kas Kaske
Brand new golfer!
Golf is a new sport for me, buying clubs is overwhelming with so many choices. I chose the Adams Idea line as they appeared to have all the clubs that I needed to start and play with for many years. I searched on line, Golf Discount had the answer, the price was great and they delivered within a week. I am really happy with my purchase, now I have to master hitting that white ball!!
I love my new set
I love my new set of Adams club. My drives are 25 to fifty yards farther and my 3 wood hybrid is my favorite club. It allows me to get much closer to the green. Strongly recommend Adams clubs. Buddy Sylvia. Reedville Va
SamB
The clubs are all I hoped they would be. I seem to be hitting farther and straighter with almost every club. I'm hitting the driver farther too, but have yet to eliminate my slice. The bag is just okay. the top rear pocket could be a little larger and there's no room for a bottle or two of water. Probably just as well, because it would increase the weight. It wasn't as light as I would have thought. But the clubs are worth it. My only concern was that from the time I ordered the clubs until the time they showed up on my doorstep, I had no notice of when the factory received my order or when they shipped the clubs. I was lucky to be home the day they arrived or they probably would have been left on my doorstep. All in all, I am very pleased. I will definitely order from Golf Discount again and refer them to my friends.
Adams golf clubs
Ordered the clubs and they came in three days,, clubs are excellent, will definitely do business with discount golf in the future
Shipping