The new for 2015 Red Hybrid is an aesthetically pleasing hybrid that will work for the golfer to make the game's difficult shots easier.
Red Hybrid
Make Difficult Shots Less Difficult
The recipe for Red is simple: Engineers placed the focus on versatility, utilizing a smaller head (95cc) that can handle a wider variety of difficult shots and make them easier to hit from all conditions.
Adams' patented upside-down head design brings the CG lower, promoting easier launch and greater demand from all lies, increasing playability and inspiring player confidence.
To keep ball speed fast, even on off-center hits, Red utilizes Adams' trusted and proven Velocity Slot TechnologyTM on the sole and Ghost Slot TechnologyTM on the crown.
As an extra benefit to those seeking maximum shot-shape options, three transferable weights on the sole (one 25g & two 2g) can be configured to promote the flight that works best.
The result of these ingredients is Red: an aesthetically pleasing hybrid that will work for the golfer to make the game's difficult shots easier.
Specifications
Standard Shaft: Matrix Altus Tour
Standard Grip: Golf Pride Tour Velvet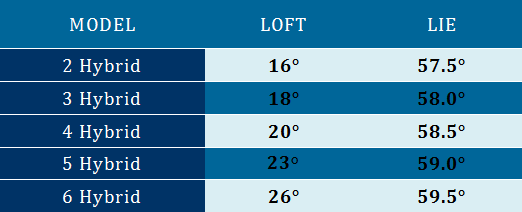 Adams Red Hybrid Expert Review
Written By: Bob Gomavitz
---
The Takeaway
Being a leader in the Hybrid category, Adams did not let up with the new Red version. Shape-wise, you have that classic smaller-sized head (95cc) with the higher box-shaped toe. The simple black crown is missing the Velocity Slot from the past offering, and this is because Adams incorporated a Ghost Slot under the crown, instead of on top of the crown. Yes! You still get dual Slot Technology to increase ball speed across the face, but you just do not see it at address anymore. The feel was dead solid with a slight click at impact, which provides excellent feedback to your hands. The Red also incorporates three transferable weights on the sole to create a different bias and flight shape if desired. I was very pleased to see the Matrix Altus shaft as the stock offering. This is an excellent Hybrid shaft for a wide range of players.
Who's It For?
Adams has been making hybrids that perform at a very high level for years. This version will touch base with players that have a mid to lower handicap, and who need to keep their ball flight down. The resulting strike produces a more penetrating flight, but still high enough to land the ball softly on the green.
Final Take
I, myself, have always found the shape of the Adams Hybrids to be a bit to small and too boxy in the toe area, and this one is not much different. I did find that it produced excellent shot shape, feel and a penetrating ball flight, all which are very important to me when I am looking for a hybrid. However, I did not test the sole weight system to see if I could create some fade bias, which is also very important for my game. If you are an Adams fan, the new Red will not disappoint one bit. I can't wait to see Langer loft one of these onto a Par 5 at The Masters!
Read the 2015 Hybrid Guide