Description
Arccos Stat Tracker
Golf's #1 Performance Tracking System
Arccos is a comprehensive platform, combining GPS + Live Shot Tracking + Tour Analytics.
Arccos records every aspect of your game automatically, and with our proprietary Tour Analytics platform, also analyzes all of your stats, uncovering your strengths and trends, and giving you game changing knowledge so you can make better decisions on the course. Arccos stats are available instantly on your iPhone as you play or after your round on any computer, anytime, anywhere.
Overview:
Arccos is the easiest way to improve your game.
Live distances, data & analysis for every shot you hit
Hands free. Zero interruptions
GPS for over 20,000 courses worldwide
Advanced shot detection technology
Club distances & averages
Analytics more powerful than anything on tour
Features:
GPS – Precise GPS distances to key points on the course and custom calculations
Scoring – Overall handicap, scores, % breakdown for eagles, birdies, pars, bogeys and doubles+
Driving – Longest average drive, fairways hit, % of misses right/left, standard deviation
Approach – Greens in regulation (GIR), proximity to hole, miss zone % (short, long, left, right)
Chipping – Avg. distance to pin, up and down %
Sand – Proximity to hole, rate of bunker shots onto green
Putting – Total putts, putts-per-hole, putts after GIR, % of one-, two- & three-putts
Highlights:
Performance Tracking:
Arccos is the only fully automatic, live performance tracker
GPS and Live Shot Tracker:
Fully automatic GPS & Shot Tracking System
Instant:
Stats are available instantly on your iPhone or on your computer anytime, anywhere
One-time Pairing:
One-time pairing process makes set-up easy
Seamless:
Completely seamless play. No need for additional actions on the course. Arccos doesn't interrupt a golfers game.
Tour Analytics:
Arccos doesn't simply record your stats, it interprets them so you know why and how they're important for your game. Get your handicap breakdown by the five facets of your game so you know your strengths and where to improve.
Batteries:
Arccos sensors use standard watch batteries (CR_2032). Batteries should last up to 50 rounds. Arccos has a built-in battery indicator so users know when batteries need replacement.
Lightweight:
Arccos sensors weigh less than 12 grams and have zero swing impact.
Play anywhere:
We have every course in the USA mapped, all 16,000+ of them.
Accurate Stats:
The putter sensor is very sensitive and detects even 1-foot putts
Take your practice shots:
Arccos sensors can detect the difference between a real shot and a practice shot so swing away. The technology is that good.
System requirements:
Arccos is compatible with any iPhone 4S or newer, and Apple Watch.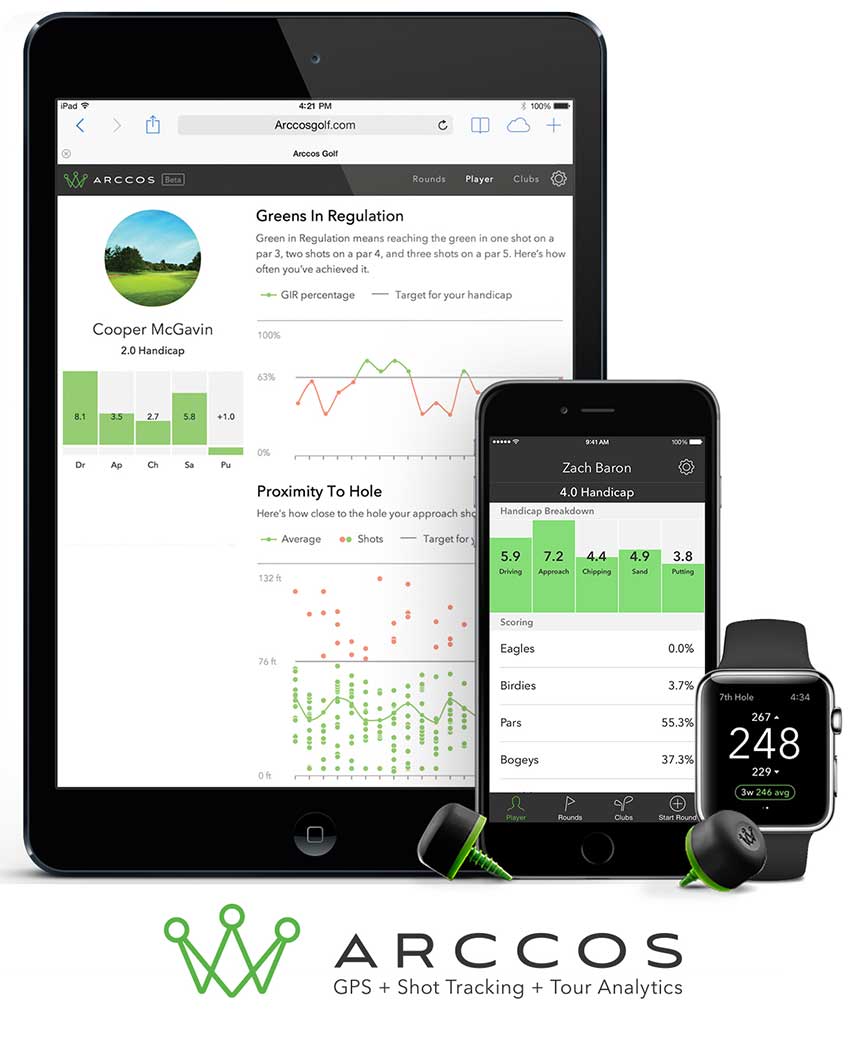 In the box:
14 ultra lightweight smart sensors: 13 attach to any club (wood or iron), 1 specifically designed for the putter.
Quick Start Cards include set up info and tips and tricks for using Arccos on the course.
Batteries included.
Free app available through the iTunes App Store.
Guaranteed lowest price on Closeout Arccos Stat Tracker and all Arccos Golf Game Analyzers Closeouts with Free Ground Shipping on orders over $99.
Reviews
Shipping