Description
Details
Callaway Apex Irons
Long and Forged.
The new Apex CF 16 Irons are precision engineered with Callaway's industry-leading, category-defining Cup 360 technology to give you exceptional, consistent ball speed across the face and playability in a forged players iron.
The progressive design creates scoring performance through the set from your long irons to your short irons. Our high tech, multi-piece construction provides a combination of distance, feel and control that can suit any player. And the extremely soft feel comes from quadruple net forging and mild carbon steel. When you combine all of these advanced technologies along with the classic, authentic shape, you have a forged iron for all golfers.
Distance with Playability
This is Callaway's first face cup in a forged players iron. They've taken their industry-leading Cup 360 technology that's redefined ball speed in fairway woods and irons, and precision engineered the face cup to give you consistent ball speed across the face in a forged Apex design.
Scoring Performance Through the Set
The progressive offset, sole widths, CG height and notch weighting provide the right balance of ball flight, playability, forgiveness and control for each iron. The longer irons feature more offset where you need it for more forgiveness, while the shorter irons have a more compact shape with less offset for feel and control.
Multi-Piece Construction
This high tech construction goes through the whole set to create a remarkable combination of distance, feel and control for any player. The longer irons (3-7) utilize the Cup 360 to increase ball speeds and forgiveness across the face. In the shorter irons (8-AW), Callaway included a unique engineered face plate to enhance feel and distance control.
Extremely Soft Feel from Advanced Forging
Callaway applied an extremely precise quadruple net forging, precision milling, and 1025 mild carbon steel to produce a new standard for incredibly soft feel in a forged iron.
Overview
Extremely Soft Feel From quadruple net forging and 1025 mild carbon steel.
High Ball Speed with Control Multi-piece construction with a face cup in the longer irons for more ball speed and forgiveness. Enhanced control in the shorter irons.
Scoring Performance Progressive offset and CG height for the right ball flight, playability and control from each club.
Specifications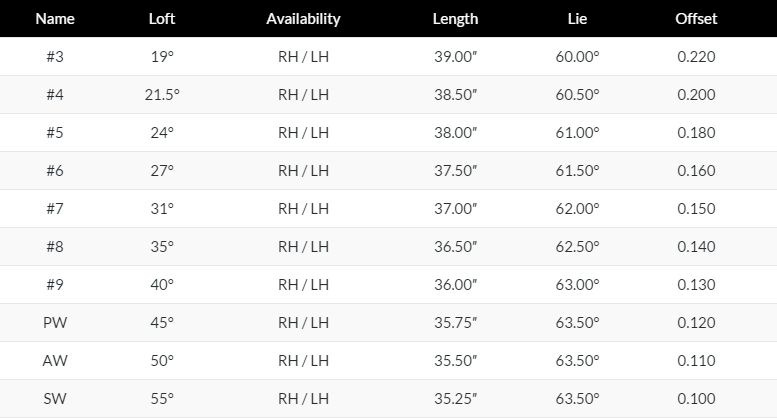 Reviews
Shipping
*PING Excluded from FREE Shipping. Shipping costs are for Ground Shipping to the contiguous United States
Online Shipping Information (United States)
GolfDiscount.com is proud to use FedEx as its primary shipping provider. All packages shipped via FedEx include shipping insurance as part of the quoted price. Packages are protected 100% until the merchandise arrives and is signed for by you. We offer FedEx Ground Shipping to the Contiguous 48 states. All FedEx shipment times are quoted in business days, as neither FedEx Next-Day service nor FedEx 2-Day service ship or deliver on weekends or holidays.
Orders over $99.00 = *Free FedEx Ground shipping!
Orders under $99.00 = Ground shipping only $8.99
*Please note that the free shipping option excludes PING merchandise due to MFR restriction.
Orders with out of stock products
We do our best to reflect accurate inventory on the website but on occasion some items may be out of stock. If an order with multiple products includes a product that is out of stock, the out of stock item will be removed and we will ship the in-stock items. This will allow us to get your order delivered quickly without delay! Questions? Call us at 1-800-394-4653.
International Shipping
GolfDiscount.com can ship almost any item we carry in stock internationally. From Canada, to Europe, to Australia and everywhere in between, we can provide rate estimates and service to international customers. International shipping prices will be calculated during checkout, but if you would like to estimate shipping costs prior, please use our sales team at 1-800-394-4653.
Express Shipments
We are also proud to offer FedEx Next Day and 2-Day Air at the lowest possible rates attainable. Rates vary depending on the dimensional weight and destination of the shipment.
Hawaii and Alaska Shipments
FedEx Next Day and 2-Day Air are available for customers looking to have products shipped to Hawaii or Alaska.
Processing Times
Orders completed by 12PM PST (3PM EST) ship out same day! All other orders will be processed and fulfilled within one business day. Drop Ship products and orders completed on Saturdays require additional processing time.
PO Boxes and APO Shipments
GolfDiscount.com gladly ships to PO Boxes and APO addresses through USPS.
Additional Shipping Information
Canadian and International Orders