Description
MD3 Milled Wedge
The Wedge Game Has Been Re-Grooved.
Legendary Callaway wedge designer Roger Cleveland took Tour input and blended that with advanced CAD design. The result is a balanced wedge with a high toe profile and a semi-straight leading edge. The weight ports in the back of the wedge gave us the freedom to reposition the weight for better shot-making, especially out of deep rough.
3 Grinds for Every Shot, Every Condition, and Every Swing
The Mack Daddy 3 has three unique grinds to suit the shots you hit, the courses you play and the swings you make. It's the versatility and selection you need to get up and down from anywhere.
W-Grind: A slightly wider sole. It's perfect if you play in softer conditions or you come in with a steep angle to the ball. And it's extremely playable out of all types of bunkers.
S-Grind: Our most versatile option. It's great for a wide range of conditions (normal, soft or firm), shot types, and swings (moderate to sweeping attack angles).
C-Grind: Designed for firmer conditions and versatility around the green. The heel and toe relief allow for a number of shots, especially opening up the face and keeping the leading edge low.
2 Finish Options
MD3 Milled wedges are made from soft 8620 Mild Carbon Steel. The Satin Chrome finish is plated and will not rust. The Matte Black finish is unplated and will wear to silver and rust over time.
Progressive Groove Design
The MD3 Milled line has Progressive Groove Optimization – A 3 groove package precision milled into the face of these wedges that optimizes spin as you go up in loft. It creates a smoother spin transition from your irons to wedges. The 30V grooves in the Pitching and Gap Wedges are built for shots that require a steep angle into the ball. The 20V grooves in the sand wedges are designed for full shots and bunker shots, and Callaway put in wider 5V grooves in the lob wedges for better control for shots out of the rough and around the green.
Specifications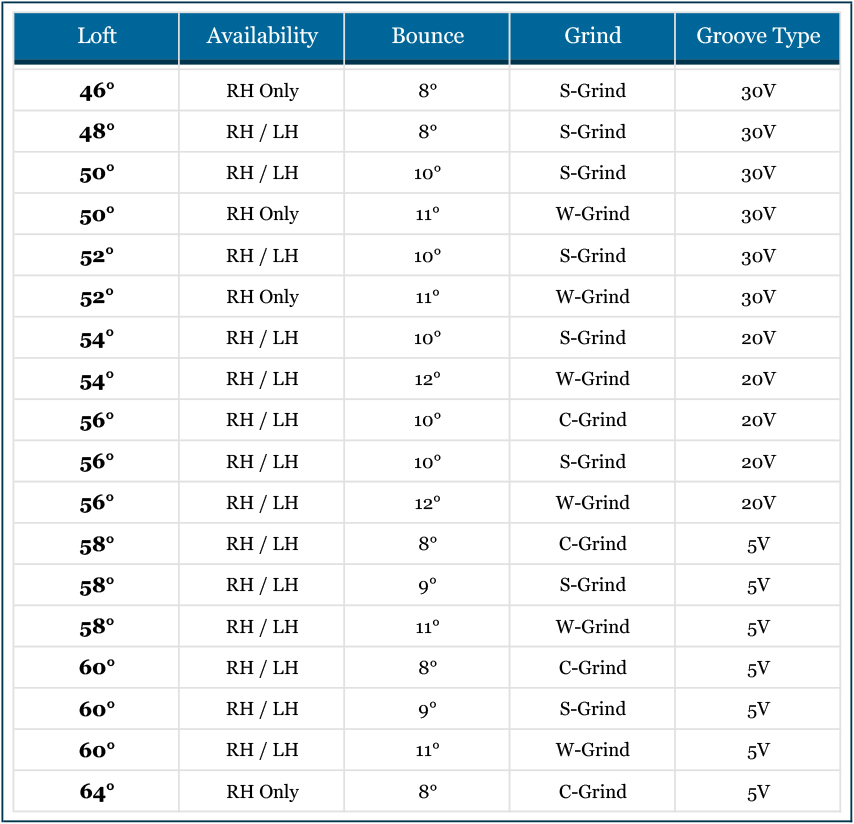 Callaway Talks: Roger Cleveland on MD3 Wedges
Renowned club designer Roger Cleveland discusses the brand new MD3 wedges, featuring three different grinds and groove patterns for specific turf conditions.
Reviews
Calloway Wedge
Really excellent club. Much better than previous wedges.
Nice wedges
Nice bounce, great feel and lots of feel. Great purchase at a fair price.
MD3
Great wedges no complaints!
Great stick
Does everything I ask and looks awesome
Sweet Wedges!
They've got bite. They've got feel. Just an all around great wedge. Don't be afraid to buy them (new) even if they are a couple of years old.
Excellent and on time
Encontré todo en forma excelente y llego a tiempo. Gracias
Great Price
I searched most sites looking for this wedge and found it @golf discount cheaper than anywhere else!
Callaway wedge
Great service, great price.
MD3 50*
Super fast shipping. Called customer service they were great very knowledgeable.
Nice wedges
Feels good + creates good consistent spin. I bought another wedge after playing a round with my the first one I bought.
Outstanding service and early delivery
I had been looking for the wedge I bought everywhere and found it at a phenomenal price with an earlier than expected delivery date. I've been using the club for a few weeks and I absolutely love it. I'll be a customer for life. Thank you for everything
Wedges
Great wedge for the price.
Callaway Wedge
Selected a new wedge and and choose the MD3 Callaway wedge ... it has been a good product if I hit it right. I use it for my 70 to 85 yard approach shots. It feels nicely weighted, I like it.
Great product terrible customer service
Great product terrible customer service
Very nice club. I would
Very nice club. I would recommend.
Excellent performance
This club looks as good as it works!
Solid wedge, great feel
I really enjoy the feel of the MD3 wedges. I was longing for a proper substitute for my old cleveland 900, and these were perfect. Nice shape, love the dark look. Perfectly paired with dynamic gold shaft and lamkin grip. The extra bounce has been a life saver for me. The CG positioning has me hitting it a little stronger than my older wedges, so I do need to adjust, but I like the results so far.
Fabulous!
Not only does the wedge perform as I had hoped. The price was great. But also GOLF Discount sent it out immediately. I was so happy with the delivery timing.
Shipping