Description
MD3 Milled Wedge
The Wedge Game Has Been Re-Grooved.
Legendary Callaway wedge designer Roger Cleveland took Tour input and blended that with advanced CAD design. The result is a balanced wedge with a high toe profile and a semi-straight leading edge. The weight ports in the back of the wedge gave us the freedom to reposition the weight for better shot-making, especially out of deep rough.
3 Grinds for Every Shot, Every Condition, and Every Swing
The Mack Daddy 3 has three unique grinds to suit the shots you hit, the courses you play and the swings you make. It's the versatility and selection you need to get up and down from anywhere.
W-Grind: A slightly wider sole. It's perfect if you play in softer conditions or you come in with a steep angle to the ball. And it's extremely playable out of all types of bunkers.
S-Grind: Our most versatile option. It's great for a wide range of conditions (normal, soft or firm), shot types, and swings (moderate to sweeping attack angles).
C-Grind: Designed for firmer conditions and versatility around the green. The heel and toe relief allow for a number of shots, especially opening up the face and keeping the leading edge low.
2 Finish Options
MD3 Milled wedges are made from soft 8620 Mild Carbon Steel. The Satin Chrome finish is plated and will not rust. The Matte Black finish is unplated and will wear to silver and rust over time.
Progressive Groove Design
The MD3 Milled line has Progressive Groove Optimization – A 3 groove package precision milled into the face of these wedges that optimizes spin as you go up in loft. It creates a smoother spin transition from your irons to wedges. The 30V grooves in the Pitching and Gap Wedges are built for shots that require a steep angle into the ball. The 20V grooves in the sand wedges are designed for full shots and bunker shots, and Callaway put in wider 5V grooves in the lob wedges for better control for shots out of the rough and around the green.
Specifications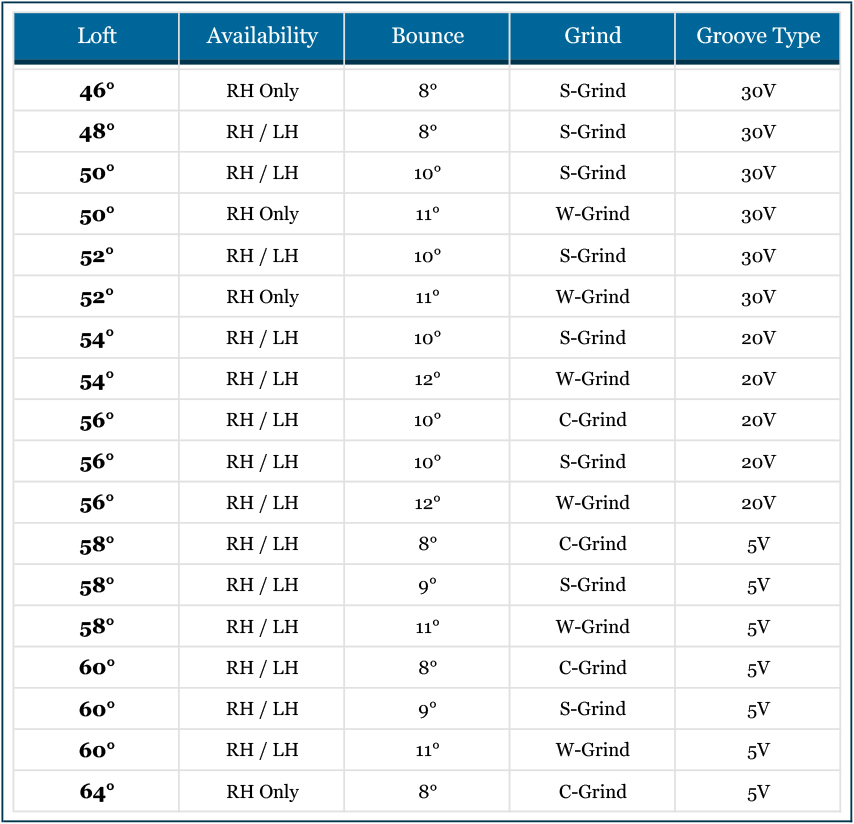 Callaway Talks: Roger Cleveland on MD3 Wedges
Renowned club designer Roger Cleveland discusses the brand new MD3 wedges, featuring three different grinds and groove patterns for specific turf conditions.
Reviews
Awsome
The wedge is as describe. A ton of spin if that's what your looking for! Would highly recommend especially at that price
Mac daddy wedge
Best wedges I've ever played
Love them, my chipping is
Love them, my chipping is 100% better.
Looks great, performs as well
Looks great, performs as well as I can expect, any bad shots are caused by the swing. Didn't love the neon green grip at first but I have come to love it.
Love the feel of the
Love the feel of the club, it's helped my short game inside of 60 yards.
Callaway MD Wedge
56/12. W grind. So much easier to get shots up and closer to the pin than my old SW.
Low bounce wedge
Just what I needed. Tired of blading your wedge off hard pan or in a trap with little sand. A low bounce wedge for hard, tight desert conditions helps. Forget all the low cost generic offers that are std or high bounce.
It wasn't my first transaction
It wasn't my first transaction here and as usual, they were very reliable and fast. I haven't had the chance to test my new wedge yet and I'll update this review as soon as I do it.
Callaway wedge
Glad I made this purchase. Little learning curve as more loft than my gap wedge. But deadly from between 70 to 80 yards. First time in my life I backed the ball up on a approach shot really cool. Would recommend you will enjoy it.
great club,great price ,great service
great club,great price ,great service
MD3
I love these wedges, I happen to buy the last 46 degree, I was called by customer service to inform me that it had a small scratch on the bottom and they would give me $20 off if I still wanted it, I said yes, the scratch was so minor that I would have never notice it, kudos to golf discount for their honesty, will be doing most of golf shopping here.
Best wedge yet.
Purchased a Callaway MD3 Milled Chrome Wedge for Golf Discount. Really love the club. Easily adapted to it. Very nice precision shots.
Best price. Very happy. Delivered
Best price. Very happy. Delivered on time.
Super wedge
Love the balance, feel and especially the results of my new wedge shots. Thank you !!!!
Great Wedge
Fun color. Good balance and weight for getting the ball onto the green with ease.
Shipping