Description
Steelhead XR Combo Irons
Forgiveness, Playability, and Distance
Steel has long been the dominant material used for making irons, and Callaway possesses unique steel-working talents that have created a history of sophisticated designs pairing performance-enhancing technologies with clean, strong shapes.
Steelhead XR Irons combine the shaping and playability that made the Steelhead X-14 one of the most popular irons of all-time. Their explosive power come from industry-leading, next-generation 360 Face Cup™ technology that increases ball speed with greater efficiency on both center hits and mis-hits for more distance on every swing.
The Steelhead XR Hybrids improve upon XR Hybrids, with longer heel-to-toe and deeper front-to-back measurements, plus a deep-back CG, all of which collaborate to add increase forgiveness and make launching the ball easier.
Faces on each Steelhead XR Hybrid are larger and incorporate next-generation Hyper Speed Face Cup technology, allowing edges of the face to flex and release faster at impact, raising ball speed on center and off-center hits, promoting more distance.
Higher Launch
In the irons, a bar of steel-infused soft urethane positioned behind the lower portion of the face serves two functions; Absorbs unwanted vibration for great feel, and adds weight, which lowers the head's Center of Gravity for faster ball speed on low hits and higher launch characteristics.
A larger head and deep-back CG make XR Steelhead Hybrids easier to launch high for more carry and distance.
Max Forgiveness
Steelhead XR Hybrids have a refined head shape which maximizes forgiveness by creating a slightly deeper body and longer blade length for a larger hitting area and higher MOI.
The irons have a hollow Bore-Thru hosel design which saves significant weight that's repositioned in strategic places in the head to create more forgiveness and easier launch.
Increased Speed Distance
The hybrids feature next-generation Hyper Speed Face Cup technology which promotes faster ball speed for more distance, especially on off-center hits.
In the irons, the CG is positioned strategically in each iron to promote easy launch and long carry in the long-irons, easy launch and keen control in the middle-irons, and lower and high-spinning shots in the short-irons.
Specifications
Standard Steel Shaft: True Temper XP 95
Standard Graphite Shaft: Matrix F15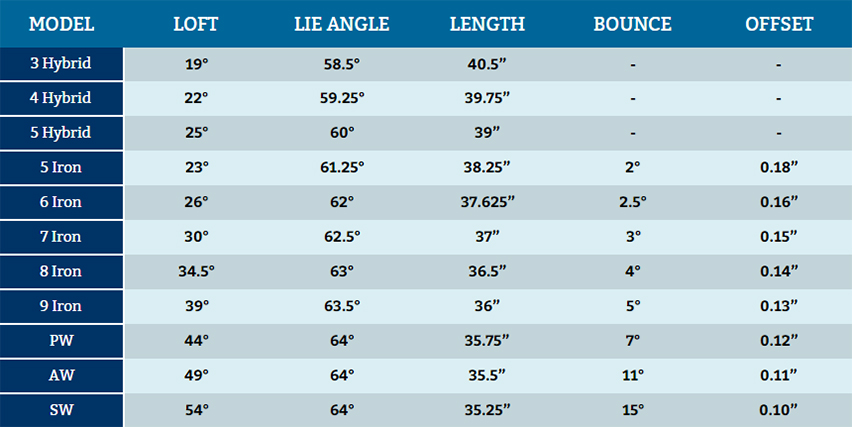 Reviews
I really enjoy these clubs,
I really enjoy these clubs, I never felt better after playing 18 holes !
Calaway Ironns
I like the clubs. The order, shipment and arrival were perfect. Best price I could find. I have already placed another order.
Fantastic game improvement clubs & shrinking handicap
I purchased the Callaway Steelhead XR Combo with a 3H & 4H, and the 5-PW irons; and I also bought the other 3 wedges (AW, SW & LW). I immediately started hitting every iron a minimum of 10 yards longer than my old clubs, even when I hit the ball poorly. When I hit the ball well I am getting up to 15 yards more distance..simply fantastic! What is also amazing, is that when I mis-hit a ball (on the toe or on the heel of an iron) I am still getting reasonably straight ball flight with as much or more distance than my old set of clubs. I also getting an easy 15-20 yards more distance with the 3 & 4 hybrids. Frequently I have hit the 3 hybrid over 200 yds; compared to my old 3 hybrid that I never hit more than 190yds at best. After both total knee replacement and back surgery (due to a broken back) I found I could not rotate my trunk/hips like I used to, so re-learning to play golf resulted in a loss of at least one full club length across my entire set of clubs. With these new Steelhead clubs I have immediately recovered that lost distance, plus even more distance, and more accurracy. This new set of Callaway Steelhead Combo clubs has given new life to my golf game and has made my game more competitive, and is making playing much more fun! This is the best set of clubs I have owned in 50+ years of playing the game.
Shipping