Description
Details
XR OS Hybrid
Fast Has Never Been This Forgiving.
The XR OS Hybrids are designed to perfectly complement the XR OS Irons, and they'll give you extreme forgiveness and great ball flight trajectories. Callaway combined their industry-leading, category-defining Face Cup for high ball speeds and maximum distance, more versatility, and a larger head shape to get the most forgiveness and great launch with more draw bias. It's the perfect hybrid for golfers who are looking to elevate their game.
Face Cup Technology
Callaway's Forged Hyper Speed Face Cup has redefined distance and ball speed in the hybrid category, and they put it in the XR OS. It's built to give you more speed and forgiveness across the face so that you get the most distance out of each shot.
Extreme Forgiveness
Engineers used a larger head to create higher MOI for maximum forgiveness. It has a look that gives you confidence over the ball, and it's built for great ball flight trajectories. Callaway also made it higher launching and draw biased so that it's easier for you to turn the ball over.
More Versatility
The XR OS Hybrids give you the versatility to hit good shots from all lies with our keeled utility sole. They are going to be a go-to club for you off the tee, the fairway or out of the rough.
Specifications
Standard Graphite Shaft: Mitsubishi Fubuki AT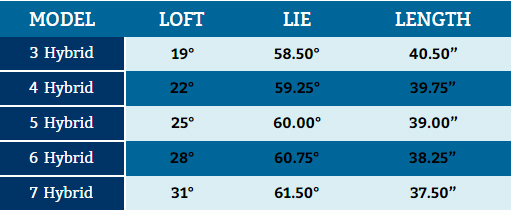 Reviews
Expert Review
Callaway XR OS Hybrid Expert Review
Written By: Bob Gomavitz
---
The Takeaway
The OS version offers a larger head size to create higher end MOI for maximum forgiveness. Its looks are designed to give you confidence over the ball and create consistent ball flight trajectories. The XR OS is higher launching with a draw bias making it easier for you to turn the ball over. Players will find more versatility from all types of lies due to the Keeled Utility Sole. Off the tee, fairway, or out of the rough the Forged Hyper Speed Face Cup delivers more speed and forgiveness across the face.
Who's It For?
Designed for the mid-high to higher handicap player, players that struggle with elevating the ball from all lies and players that flat out have a tough time with irons in general.
Final Take
Offered in 5 different lofts the XR OS is more of a cross between a hybrid and a small fairway wood. It is quite large looking at it at address. The classic matted black colorway and chevron alignment aid on the crown give it a very simple look. It produced exactly what it was meant to do, a high sweeping draw. The solid feel and great click sound will make this hybrid excellent for slower swing speeds.
Club Tested: 3 Hybrid; Shaft: Mitsubishi Fubuki AT 60; Flex: Stiff; Loft: 19°
Read the 2016 Hybrids Guide
Shipping
*PING Excluded from FREE Shipping. Shipping costs are for Ground Shipping to the contiguous United States
Online Shipping Information (United States)
GolfDiscount.com is proud to use FedEx as its primary shipping provider. All packages shipped via FedEx include shipping insurance as part of the quoted price. Packages are protected 100% until the merchandise arrives and is signed for by you. We offer FedEx Ground Shipping to the Contiguous 48 states. All FedEx shipment times are quoted in business days, as neither FedEx Next-Day service nor FedEx 2-Day service ship or deliver on weekends or holidays.
Orders over $99.00 = *Free FedEx Ground shipping!
Orders under $99.00 = Ground shipping only $8.99
*Please note that the free shipping option excludes PING merchandise due to MFR restriction.
Orders with out of stock products
We do our best to reflect accurate inventory on the website but on occasion some items may be out of stock. If an order with multiple products includes a product that is out of stock, the out of stock item will be removed and we will ship the in-stock items. This will allow us to get your order delivered quickly without delay! Questions? Call us at 1-800-394-4653.
International Shipping
GolfDiscount.com can ship almost any item we carry in stock internationally. From Canada, to Europe, to Australia and everywhere in between, we can provide rate estimates and service to international customers. International shipping prices will be calculated during checkout, but if you would like to estimate shipping costs prior, please use our sales team at 1-800-394-4653.
Express Shipments
We are also proud to offer FedEx Next Day and 2-Day Air at the lowest possible rates attainable. Rates vary depending on the dimensional weight and destination of the shipment.
Hawaii and Alaska Shipments
FedEx Next Day and 2-Day Air are available for customers looking to have products shipped to Hawaii or Alaska.
Processing Times
Orders completed by 12PM PST (3PM EST) ship out same day! All other orders will be processed and fulfilled within one business day. Drop Ship products and orders completed on Saturdays require additional processing time.
PO Boxes and APO Shipments
GolfDiscount.com gladly ships to PO Boxes and APO addresses through USPS.
Additional Shipping Information
Canadian and International Orders