Description
XR OS Wedge
Fast Has Never Been This Forgiving.
Face Cup Technology
Callaway has taken their Cup 360 technology that's redefined ball speed in the category, and they made it even faster. And with the multi-piece construction engineers implemented a new heat treatment in the face cup for even more ball speed, with a soft heat treatment on the body for better feel.
More Forgiving
The soles of the XR OS Irons are wider to give you more forgiveness, and they're easier to get more distance out of every impact location. You'll feel confident over the ball, and you have the technology to hit good shots more consistently.
Easier To Hit
XR OS Irons are easy to launch with a Center of Gravity that's lower and further back. It's easy for you to get a ball flight that leads to more distance.
Progressive Lengths and Lofts
To help you hit the ball farther, Callaway included the progressive lengths and lofts through the set for longer distance off each club.
Specifications
Standard Graphite Shaft: Mitsubishi Fubuki AT
Standard Steel Shaft: True Temper Speed Step 80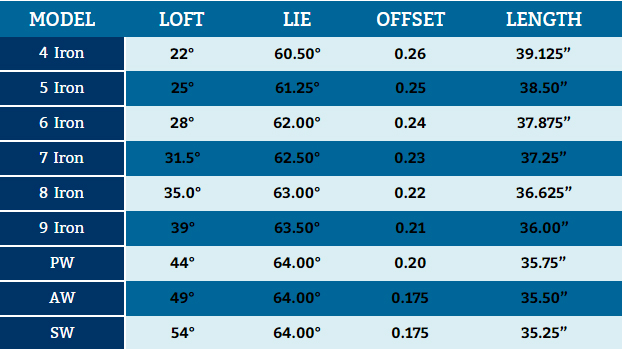 Guaranteed lowest price on Callaway XR OS Wedge and all Callaway XR OS with Free Ground Shipping on orders over $99.
Reviews
Great
Amazing service. Fast shipping.
Nice club
I have all of the Callaway XR irons, but no sand wedge. The club I received was still wrapped and appeared brand new. I would definitely order from golf discount again.
Callaway XR OS Irons
I've always had older pre-owned clubs. I now have moved into the 21st Century with these Callaway clubs. They've help me improve my game by 10 strokes or more. Highly recommend them.
Wedge
Great deal and excellent wedge. Fast service
Unable to review
I was injured shortly after receiving my new club and cannot play. I'd be happy to respond but it will likely be months before I can golf again.
Callaway Wedge
the wedge got here when they said it would..haven't been able to use it yet cuz it's February and cold here in New Jersey but love the feel of it
Perfect fit
Perfect fit for my wedges. Needed a wedge to fit between my lob and pitching wedge. Right price also helped with fast delivery.
Callaway OS wedge
Needed to complete my new set of irons. Great clubs.
Callaway XR OS 58 degree wedge w/ senior flex shaft
I've used this new wedge now multiple times since I got it for Christmas. Really like being able to take a full swing as I get close to the green & this gets the job done. Very happy with the club, price & performance. I strongly recommend this for anyone playing XR OS that wants to carry an extra wedge.
Callaway Sand Wedge XR7
Bought set but did not include sand wedge. Got this at a fair price and matched my set perfectly.
Wedge, Callaway
Fills the gap between the pitching and the sand wedges.
The Sand Wedge
The Sand Wedge by Gene Sarazen tells us that in order to escape those disgusting bunkers that we find on occasion, we must have sand wedge. I now know for sure that he was not full of shit
Nice wedge to complete my set
I play the Callaway XR OS iron set, bought the gap and sand wedge to complete my set. They work great around the greens. Plus 1 inch and upright shaft was in-stock too, no need to special order. Great price on them too! Very convenient!
Matching club.
Club matches rest of set of irons
Shipping
Callaway XR OS Sale