Description
ThermoCharge
2-in-1 Device.
ThermoCharge heats up quickly and reaches a maximum of 113 degrees Fahrenheit (45 degrees Celsius). The 4400 mAh rechargeable lithium battery provides up to an impressive 6 hours of continuous heat on a full charge.
ThermoCharge delivers a full charge most smart phones, MP3 players, cameras and many other USB-powered devices.
Unlike single-use chemical hand warmers, ThermoCharge is safe, scent-free and rechargeable. Just plug it into any USB charging port. A rugged aluminum housing and protective silicone caps make ThermoCharge perfect for your next cold-weather excursion.
Overview
2-in-1 device: portable power pack and hand warmer
4400 mAh rechargeable battery provides 6 hours of continuous heat
Charges smartphones, MP3 players, cameras and many other USB-powered devices
Durable, aluminum housing with protective silicone caps
Ergonomically designed to fit easily in your pocket or bag
Includes USB charging cable and soft carry pouch
Specifications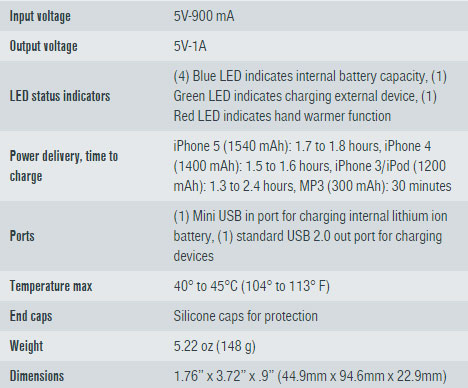 Guaranteed lowest price on Celestron Elements ThermoCharge and all Celestron Amazon with Free Shipping on orders over $99 at Golf Discount, your favorite authorized Celestron retailer.
Reviews
Shipping