Description
588 RTX 2.0 Wedge
The Evolution of Spin.
The next generation of the 588 RTX wedge from Cleveland Golf offers dramatic increases in versatility, control, spin, feel and, most importantly, confidence.
The evolution of the 588 RTX 2.0 wedges began by listening to some of the best players in the world. Working in cooperation with elite tour staffers like Graeme McDowell, Keegan Bradley, and Hideki Matsuyama, Cleveland engineers were able to pinpoint the challenges players face from 125 yards and in and seek out solutions to help them score better. Throughout the entire development process, Cleveland's tour staff tested and provided feedback to ensure that the 588 RTX 2.0 was the best wedge on tour.
Tour Zip Grooves
Fourth generation Tour Zip Grooves combine sharper grooves and deeper micro-milling to provide superior spin on all shots from the rough.
Laser Milling
Fine tunes the micro-roughness for more consistency and texture across the face. This allows us to reach the USGA roughness limit, and pushing this boundary lends itself to increased spin on pitch and chip shots.
RTX 2.0 Technolgy
Cleveland's Rotex face technology literally changed the face of spin in golf last year. Rotex 2.0 takes spin control to yet another level. 15% sharper grooves and a new micro-milled Rotex face pattern give these wedges the most surface roughness the USGA will allow.
Standard Bounce Grind (2 Dot) provides a mid effective bounce, offering players a wedge that performs well in most conditions. The combination of a trailing edge grind and moderate relief from the heel and toe gives the player the perfect combination of versatility and forgiveness. Standard Bounce Grind is ideal for a wide variety of conditions and/or players with a neutral attack angle.
Specifications: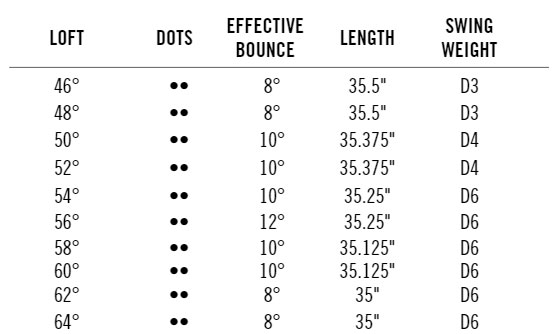 Shaft: True Temper Dynamic Gold Wedge Flex
Grip: Lamkin 588
Reviews
Excelente club
It has an amazing view and it feels great. Helps me a lot whit distance less than 100 yards. Great ítem!!!!
Great wedges
Great wedges, lots of spin, good grind nice feel. Bought two.
Cleeland Wedge
item as described/ good price and fast ship.
Excellent club at an unbelievable
Excellent club at an unbelievable low price
Cleveland 588 RTX 2.0 black sayin wedge
I bought this to replace a older worn wedge (same brand). It meets expectations and I am very pleased.
My 52 degree wedge
I used this wedge a few times and I love it. It performs well , I just have to get my distance down. My wedge game isn't the best but this club gives me the confidence needed to improve. It gets the ball up in the air and my shots have been on line , and the grooves are fantastic. Another great wedge from Cleveland. Golf discount is a great place to buy golf equipment , the prices are very good , and shipping is fast.
Excellent wedges
I've been using Cleveland wedges for years and I love these clubs. Very nice feel and balance.
Orders
I order for The first time I was so satisfied good Job everyone
Cleveland Wedge 588.
First hit was a new experience for me. It was the best wedge I have ever hit. I'm a very good short game player, so I have never considered buying a new wedge. However, my wedges are 30 years old so I gave it a try. I'm very happy I bought this club.
This was a gift and
This was a gift and was exactly what the recipient wanted.
Cleveland 588 RTX 60
I have only used it for a few rounds and I can say I am really happy that I purchased this wedge.Seems to pop the ball up and onto the greens nicely.Would definitely purchase another Cleveland wedge.
Versatile, excellent spin.
Dropped 2 degrees to 58 and 54 from my old set to account for age-related distance loss. Excellent clubs achieving my goal.
Great wedge
This is my 3rd 588 RTX 2.0 wedge and all 3 are great. Consistent ball flight, fantastic spin and love the look of them too.
New wedges
They are perfect. Will definitely order from here again.
Cleveland wedges
These are great wedges and very workable!
cleveland wedge, balls
fast delivery , good price
Replaced my trusty Rec. 485 - Love it!
I never thought I would replace my trusty 485 raw gap wedge, but when I demoed the 588 RTX a few weeks back I knew this would be the answer to my short game woes! Thanks GD!
Excellent club!!
I bought this club for my brother, and he really loves it. He says he fells like it was made exactly for his game.
Cleveland wedge
Great price. 52 degree wedge has great feel around the green.
Used to have an older
Used to have an older Cleveland 49 degree "special" which worked to perfection for me, counted on it. Pitching wedge with my set of irons just did not perform the way the old 49 degree special did. The the 588 48 degree performs exactly like the old one it is awesome gets me about 115-120 yards every time. Not bad for a senior golfer!!!!
well done
everything on time, and in great condition.
More consistent distances
I bought three Cleveland 588 RTX wedges: 52, 56, and 60 degree (56 degree with a 14 degree bounce to replace my sand wedge). Already I have noticed drastic improvements in my short game. Previously I only used a sand and gap wedge, both of which I had no clue the degree of their loft. I could not get consistent distances for shots. However, after playing a few games with the Cleveland 588 RTX wedges I now can take full swings within 50-90 yards and I have been able to get better consistency with my short game. Well worth it to me.
Shipping