Description
Launcher HB Irons
Ready for Launch.
Launch your iron shots higher, farther and on target with these new forgiving irons from Cleveland Golf. The Launcher HB Irons blend hybrid and other club technologies to make irons much easier to hit for golfers of all abilities.
"We set out to create new irons with true performance benefits that are obvious the moment a golfer swings one of these clubs."
–Brian Schielke, Marketing Director at Cleveland Golf
Club Features at a Glance
Full-Hollow Construction
HiBore Crown
High-Strength Face
Feel Balancing Technology
Progressive Shaping
Miyazaki C. Kua Shaft
Full-Hollow Construction
Full-Hollow Construction makes these hybrid-like irons extremely forgiving—even more so than cavity back irons.
HiBore Crown
The low and deep weighting from the HiBore Crown creates an easier hitting action that launches the ball on a higher trajectory.
High-Strength Face
The high-strength, ultra-thin steel face increases COR across the club face for longer distance and more forgiveness.
Progressive Shaping
The long irons look and hit more like hybrids to help you launch the ball higher and to provide maximum forgiveness. The short irons look and perform like irons to give you superior feel and precision.
Miyazaki C. Kua Shaft
Made in Japan and weighing only 50 grams, this advanced, lightweight shaft promotes an easy swing and faster club head speed.
Specifications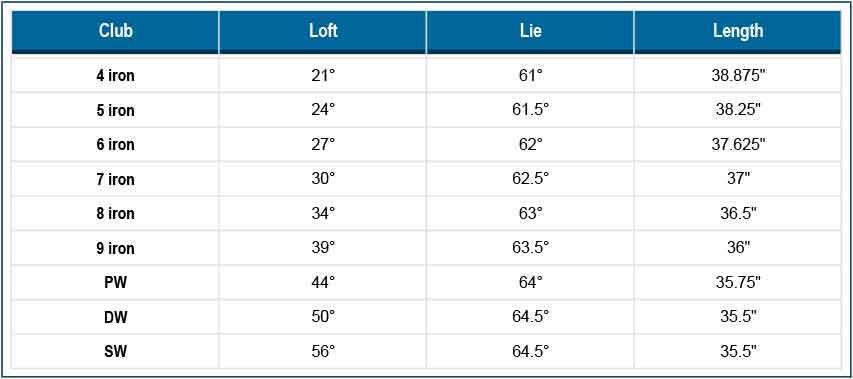 Reviews
improving my game
LOve these clubs! As a super senior, the Cleveland Launchers help make up for my low club-head speed, AND the semi-hybrid style is a great help in getting out of any rough.
Got what I wanted
Looked all over the net for the irons I wanted. They had them at the best price and shipped right away, What's not to like?
ClevelNd Launcher HB Irons
I wanted to try these irons because I have carried and heavily utilized Cleveland 2,3, & 4 hybrids for quite a while. I figured if I like hitting those, the irons that kind of transition from hybrids to regular irons might fit the bill. I found out I like them very much. Seems like there is lots of talk about these irons helping to elevate the ball. I tend to hit the ball higher than I want many times, and I actually thought these irons helped me hit it a little lower. I got stiff steel shafts. 18 HCP. 58 years old. Play once every week or two.
Love my Cleveland Launcher HB's
Easy ordering, lowest price I could find and great customer service. Shipping was quick as well.
Cleveland Launcher Irons
These clubs are perfectly weighted. Even mishits feel solid and don't stay far off target. Most shots elevate easily. Shots with t by e lifted clubs check up nicely with no effort. Highly recommend these clubs for anyone.
Cleaveland launcher hybrid irons
This is an update on my earlier post in June. I've had these clubs for 3 months now and have adjusted to them very well. My balls does not hook anymore. I have gained about 11 yards and the balls have high trajectory and land softly. Very good for island greens. I'm very happy with these clubs.
cleveland clubs
got them in 4 to 5 days and they are just what i ordered
add 10 to 15 yrds
They have changed my game. I play hybrids 15 yrs ago and hated them. The ball would fly up and go nowhere. Play blades for the last 15 yrs. These clubs are so light and the ball takes off. I have to rethink all my shots cause the ball goes to far.
Service
I was very pleased with Golf Discount service. Being left handed it is sometimes difficult to get clubs. Golf Discount was very responsive on checking my club order.
Irons and driver
The driver is about 10 yards longer the irons play about the same as my callaway irons .
These clubs work Great for
These clubs work Great for me. Hitting a lot of greens, and more chances for "Birdies "
Brand new clubs, same old swing
The irons feel great and look great. I live in the dakotas so our golfing window finally opened last week, so I haven't had a lot of time using them. But that being said, I doubt I'll be going back to my Taylormade irons anytime soon. I would buy these again.
DJA
Bought Cleveland Launcher HB irons because as I get older (71) I was having trouble hitting my Taylormade irons solid. I hit the Launchers more solid and about 10 yards further. Very pleased and golf is becoming more fun again.
Great clubs
Great clubs. Easy to hit and launches the ball higher Love them. Glad I purchased them.
My clubs
Nice swing balance, gets ball up .
Cleveland launcher irons
I have only used these clubs at a virtual driving range as it is winter where I live. They seem tohavethe feel of hybrids. I like the way they look at address. Can't wait until I van take them to the course.
Yikes
I am a 66 yr old, ex Golf Instructor, who was afflicted with peripheral neuropathy. In short, I can' operate my feet, I wear braces to walk...and I still play golf but swing speeds are terrible. Even with regular, composite shafts, I cannot hit my 8 iron more than 125 yards...I have lost 25 yards from my playing days and that translates to 20% slower swing speed. Pretty frustrating to have to be "leaning" on six iron to get it to go 140 yards. Makes par fours very difficult to par. But VOILA, I went and tested these clubs and HOLY SHIP! the six iron went high and 160 yards with no change of effort on my part. The seven went 148, the eight went 136, and all with loads of height and spin. I could hardly believe my eyes. I was so impressed I bought a set right on the spot. Haven't received them yet but I know enough about the golf swing, club fitting, and my disability to know that relatively slow swingers, such as myself, are going to be blown away by these clubs. Good luck to all. I will post another review when I have played these clubs for a month or two...if I can contain the excitement I fully expect to feel. By the way, my name is Pinocchio because of the way I have to walk, not because I am a liar!
Joe
I ordered a set of Cleveland Launchers and was very impressed beginning with the shipping and handling of the order. First of all, it was due to ship in 5 to 7 days and I received it in 2 days. I was totally elated. I have also been so amazed to see how light and easy the Cleveland HB clubs are to use. This has been one of the best purchases I have made in a long time
H B IRONS
They are great clubs, easy to hit and they go farther than my old ones
Cleveland Launcher HB Irons
Easiest irons to hit, easily gets the ball in the air. Truly like hitting hybrids, that easy. Especially for slower swing speeds.
The Launcher irons from Cleveland
The Launcher irons from Cleveland are the real thing. They have improved my game 5-6 strokes @ I have only had them a couple of weeks.
Cleveland HB Launcher Irons
I had the Cleveland Hybrid irons - the original ones - for 5 years and loved them. Bought the new HB Launcher irons, went from R to Stiff shaft and love them. Continually easy to hit and the stiff shaft does not hurt my shoulders or back - no difference physically. Been working on my swing also. Balls going straight. Golf Discount had the absolute lowest price on these clubs and they arrived quickly.
Shipping