Description
RTX-3 Blade Wedge
Get Closer
The new RTX-3 wedges feature three key technologies that help golfers get the ball closer to the hole.
Feel Balancing Technology
Nine grams of mass have been removed from the hosel and redistributed to the head of the wedge for a center of gravity closer to the impact zone. Not only does this improve feel, but testing also shows this technology has created the tightest shot dispersion of any wedge Cleveland Golf has ever made.
V Sole Grinds for Consistency and Control
Three new grinds feature a V shape with more leading edge bounce to help the clubhead through the turf faster at impact. This promotes a crisper feel and more consistent head speed for added spin and control.
V-LG (•) - Low-bounce. Best in tight, firm conditions and for golfers with a shallow Angle of Attack.
V-MG (••) - Mid-bounce. Suitable for a wide range of players and turf conditions.
V-FG (•••) - High-bounce. Best in soft, wet conditions and for golfers with a steep Angle of Attack.

New Rotex Face Increases Spin
The third-generation RTX face features a refined groove shape, a new Rotex micro-milling pattern engineered to optimize spin performance by loft, and Laser Milling. These technologies combine to generate not only the most spin, but the most consistent spin within the limits.
Specifications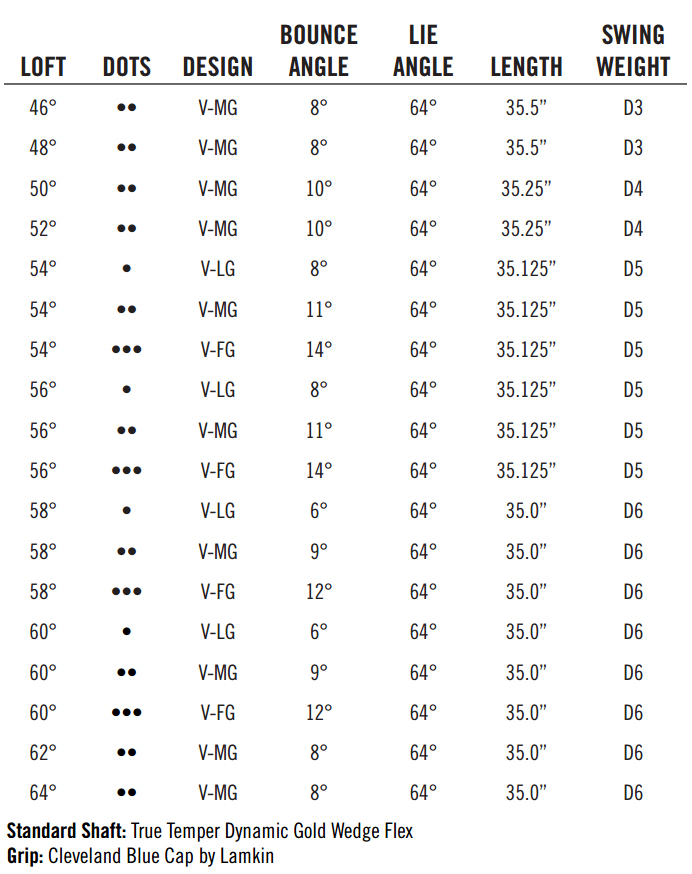 Reviews
4 Cleveland Wedges
Received them in perfect time
Great wedges
Nice heavy feel with plenty of bite around the greens.
Great wedges!!!!!! I switched from
Great wedges!!!!!! I switched from Cleveland wedges to Titliest Vokies a couple years ago. I am now back and l really like the performance of these Cleveland wedges better.
Great wedge!
Love this club. It has really improved my game close to the hole. Great control and back spin. No more running the ball across the green. Thanks
wedge
like to softer feel and great ball action on shots around green
Nice feel. Doesn't dig in the dirt. Ideal for soft turf
I give it 5 stars for its over all performance and feel.
Cleveland RTX-3 Black Satin 60 Degree Lob Wedge
I was looking for a lob wedge to supplement my short game wedges and the Cleveland RTX-3 60 degreee lob wedge was a great choice. Nice spin with the proper ball, even from short distances. The black satin is a really nice finish. Not like the painted on black of other Cleveland wedges. I do all my short range (30 yds and in) with this wedge. Highly recommend.
Cleveland wedge
Love the feel and the ball action on chip shots and lob shots
Shipping