Description
RTX-3 Cavity Back Wedge
Get Closer
The new RTX-3 Cavity Back wedges have a larger head and are more forgiving than the RTX-3 Blade model. Both models feature three key technologies that help golfers get the ball closer to the hole.
Feel Balancing Technology
Nine grams of mass have been removed from the hosel and redistributed to the head of the wedge for a center of gravity closer to the impact zone. Not only does this improve feel, but testing also shows this technology has created the tightest shot dispersion of any wedge Cleveland Golf has ever made.
V Sole Grinds for Consistency and Control
Three new grinds feature a V shape with more leading edge bounce to help the clubhead through the turf faster at impact. This promotes a crisper feel and more consistent head speed for added spin and control.
V-LG (•) - Low-bounce. Best in tight, firm conditions and for golfers with a shallow Angle of Attack.
V-MG (••) - Mid-bounce. Suitable for a wide range of players and turf conditions.
V-FG (•••) - High-bounce. Best in soft, wet conditions and for golfers with a steep Angle of Attack.

New Rotex Face Increases Spin
The third-generation RTX face features a refined groove shape, a new Rotex micro-milling pattern engineered to optimize spin performance by loft, and Laser Milling. These technologies combine to generate not only the most spin, but the most consistent spin within the limits.
Specifications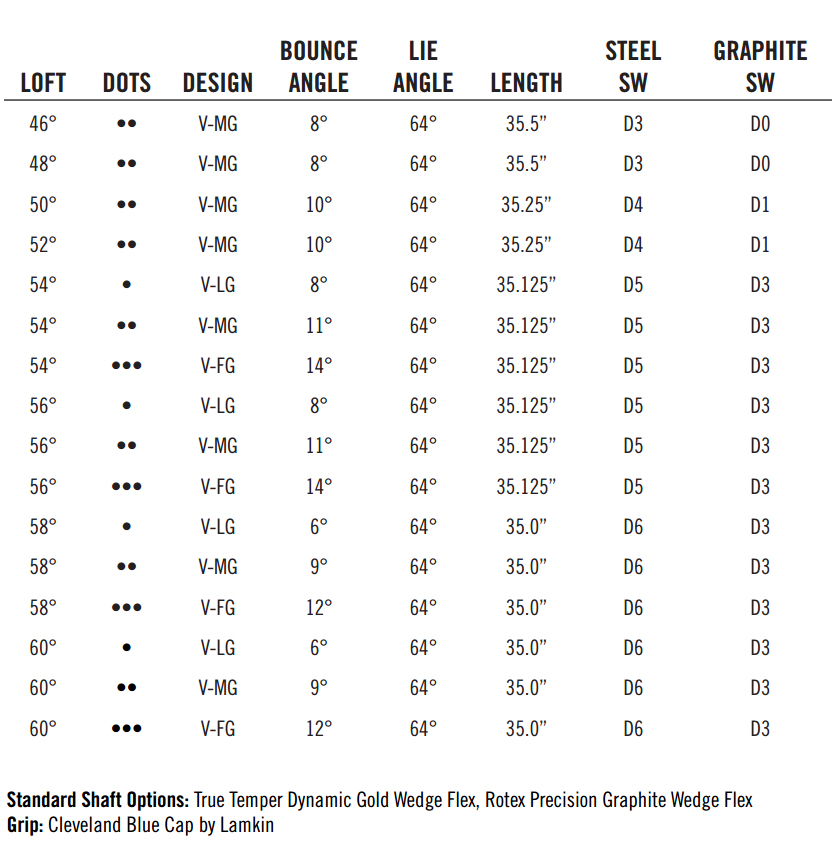 Reviews
Wedge
I love the way the club looks when I set it up
RTX-3 wedges, 56* and 60*
I purchased these in April for $65/ea and, after about five 18 hole rounds, so far so good. I did strip the grips immediately and replace with the (terrific STAR brand grips). I'm using their midsize; they are heavier than the stock grips and thus reduced the swingweights. I think the stock swingweights were around D7; regardless, they are now D3. My comparison is with a set of RTX-3 wedges. The CBXs do blend better with my irons--I use graphite shafts in my irons. In contrast, the RTX-3s felt heavier in hand (I think they also swingweighted at D6 or 7). I'm finding the CBXs easy to align. Full shots carry my usual distances. For little shots, so far so good. I am enjoying the smoother transition from the short irons to the wedges. I took a look at Cleveland's ads before writing this and I see this "transition" is something they promote. I can say that so far it's working for me. I'm late 60s now and I used to take it for granted that wedges felt heavy in the hand and I built my short game around that feel. Right now, I prefer the CBXs. If somebody offered me Vokeys in trade, I expect I'd pass. As always, best to hit some some actual shots to see if they work for you, but if they do, these prices at golfdiscount are crazy--and their service has always been top notch.
Great wedge. Great service.
Great wedge. Great service.
Birdie Pitch
Hit a 35 foot pitch birdie t the Coast Guard Invitational.
Only used them once and
Only used them once and really liked the feel cant wait to try them more!
Gap wedge dilemma solved!
Bought the 50 degree Cleveland RTX-3 to close the gap in my irons. Great purchase! Did not care for the 2019 model which has a smaller head. At 70 years I need the oversized look.
BETTER THAN I THOUGHT
The club itself is better than I thought. I like the heavy weight and the face is very nice.
Cleveland RTX3 wedges
Great feel off the fairway, rough and in the sand , I use these clubs on every hole, great service, got my clubs in a few days
Great
Great wedge! Good feel Highly recommend
The best wedge ever
This wedge is awesome the ball just jumps off
Cleveland RTX-3 CB 54 degree 8 bounce wedge
Purchased this as a replacement for RTX-2 CB which is wearing out. My wedge set up and swing requires a wedge with these specs and it is hard to find. I use it for full shots and most chips and pitches around the green. Adjust backswing for distance control. As a 19-20 handicap I can actually create spin with this wedge and get it to stop. The face/grooves are better than anything out there that I have tried. Very forgiving and fits well in between a 49 degree Niblick and 58 degree Smart Sole. Didn't like the new Cleveland wedges as much so bought this before they sold out.
Quality wedge. Deliverd on time.
Quality wedge. Deliverd on time.
Rich's Wedge
Great wedge and great price. Fills the gap from my pitch to sand wedge.
Cleveland RTX-3 wedges (46*,50*,54*)
Countless hours of searching for the awesome price , followed up with amazing feel and distance! I thoroughly enjoy my awesome Wedges
Great wedges, great price
Great wedges, great price
Great Wedges
These wedges are superior class clubs , are easy to hit and you get the expected distance within a reasonable margin . I am very happy I bought these wedges an excellent choice at a very good discount .
CBX Graphite 60
CBX 3 wedges have improved my distance control. Sand to hard pan lies these clubs get it done.
RTX-3 CB 60 degree
Excellent wedge. Heavy head makes swinging it easier. Shots are straight, fly high and land soft with spin.
TTC 3 CB wedges
Love these wedges - the feel balancing technology is for real. These blow my standard set wedges away.
Glad I pulled the trigger
Replaced my older sand and lob with a 54 and 58 of these. Very happy with this purchase.
Superior Wedge
This is the best wedge I have used. The look and feel are exceptional. My first 3 shots on the course resulted in birdie puts of 10 foot or less. I liked the club so much, I ordered 3 more of different lofts.
Cleveland RTX-3 CB Tour
So easy to hit, it feels like a mis-hit.
Great service, even better speed in delivery.
Living way up in the sticks I sort of get used to delivery of items being somewhat "inconsistent". The driver came real fast, it put Amazon to shame. Amazing. Now if I can hit with thing even one tenth of the speed of the service I will be on to something. Thanks
Shipping