Description
RTX-3 Blade Wedge
Get Closer
The new RTX-3 wedges feature three key technologies that help golfers get the ball closer to the hole.
Feel Balancing Technology
Nine grams of mass have been removed from the hosel and redistributed to the head of the wedge for a center of gravity closer to the impact zone. Not only does this improve feel, but testing also shows this technology has created the tightest shot dispersion of any wedge Cleveland Golf has ever made.
V Sole Grinds for Consistency and Control
Three new grinds feature a V shape with more leading edge bounce to help the clubhead through the turf faster at impact. This promotes a crisper feel and more consistent head speed for added spin and control.
V-LG (•) - Low-bounce. Best in tight, firm conditions and for golfers with a shallow Angle of Attack.
V-MG (••) - Mid-bounce. Suitable for a wide range of players and turf conditions.
V-FG (•••) - High-bounce. Best in soft, wet conditions and for golfers with a steep Angle of Attack.

New Rotex Face Increases Spin
The third-generation RTX face features a refined groove shape, a new Rotex micro-milling pattern engineered to optimize spin performance by loft, and Laser Milling. These technologies combine to generate not only the most spin, but the most consistent spin within the limits.
Specifications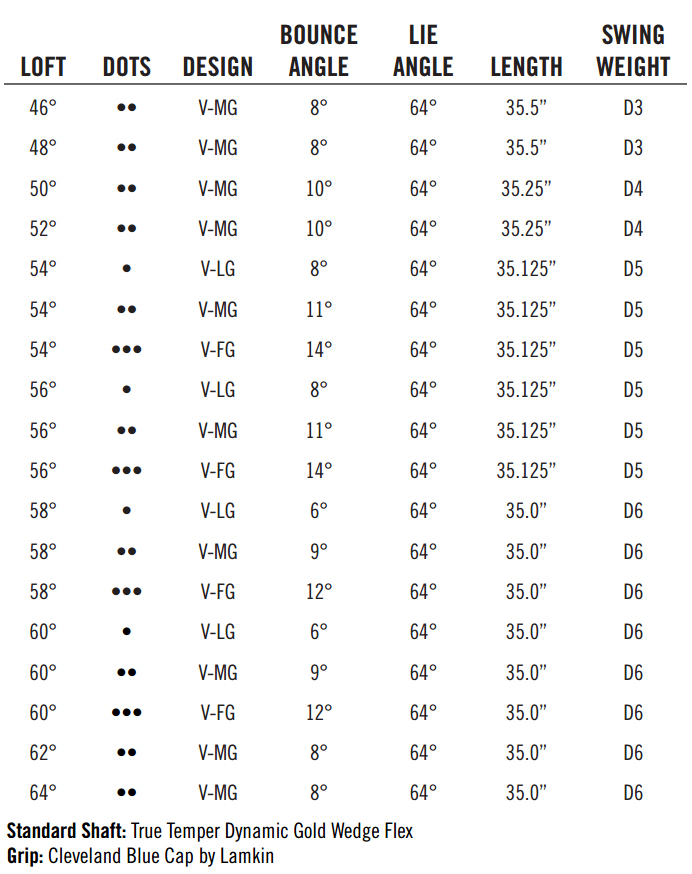 Reviews
Ordered 3 Cleveland Wedges
Order was received in a timely manner and was accurate to what I ordered. Have ordered multiple times on this site and yet to be disappointed
Cleveland Wedges
Delivery on time and competitively priced
Excellent Wedge
Beautiful design, well crafted and versatile. Played with it and noticed immediately the extra spin and control on shots 50yards and in versus my old Cleveland Reg 588 Tour Action Raw wedge.
RTX Wedges
Very happy with my purchase
RTX wedge
I am happy with my wedge and the price. My delivery experience was not good. Customer service rep gave incorrect shipping info and wedge arrived late. I choose not to review but now that you have insisted I have. Sometimes just best to leave well enough alone .
Great
Great club. Quick delivery! In perfect shape and exactly what I ordered
Great addition
Great addition to my bag, Mine is a 58 deg and the ball jumps off the face. Might rotate my 52 deg out for this model.
Shipping