Description
Fly-Z XL Complete Set
Easy Distance, All In One Package.
The Fly-Z XL Package Set is engineered to help make golf easier through higher draw-biased ball flights which deliver easy distance. Being the only offset driver in the marketplace the Fly-Z XL Driver delivers up to 17.5 yards of draw bias. Speed Channel Face with Forged E9 Face Weighting, Crown Zone technology along with an all-titanium head, saves weight and helps deliver a back CG position that yields great forgiveness and draw bias often needed by seniors, women and beginning golfers. A high MOI sole geometry combined with an offset design makes the Fly-Z XL easier to hit straight by correcting slices, increasing stability and maintaining distance.
The Fly-Z XL Fairways and Hybrids are also engineered for forgiveness by incorporating a low, back CG, Crown Zone Weighting with an offset head design to maximize launch and feature COBRA's revolutionary Speed Channel Face for more forgiveness and increased distance from the fairway.
Key Technology
Speed Channel Face
Speed Channel is an engineered trench that surrounds the club face to help minimize face thickness and provide increased ball speeds across the face for incredible distance with forgiveness.
Offset Design
Offset Design helps the golfer square the club face more easily at impact. Now you can forget about that slice once and for all, and enjoy finding more fairways and greens in regulation with higher, straighter, more draw-biased ball flight.
Back CG Zone Weighting
Zone Weighting removes weight from the crown to reposition it low and back in the head for a low, deep Center of Gravity. The result? Extreme forgiveness on off center hits and excellent distance no matter where you hit the ball on the face.
Speed Channel Face
An engineered trench behind the face area helps to minimize face thickness, and increase flexion at impact to deliver increased distance through faster ball speeds even on mis-hits.
Hollow Cavity Design
Long and mid-irons (4–8) feature a dual cavity design with a hollow lower half section that delivers a lower and deeper Center of Gravity meaning you get easy launch with extreme forgiveness in every shot.
Perimeter Undercut
The scoring irons (9 - SW) feature a deep Perimeter Undercut where weight has been removed from the back of the entire face area to create a large unsupported face, meaning you benefit from forgiveness and accuracy in every shot.
Specifications
12 Piece Graphite Set Includes:
Driver
Fairways: 3W, 5W
Hybrids: 4H, 5H, 6H
Irons: 7, 8, 9, PW and SW
Putter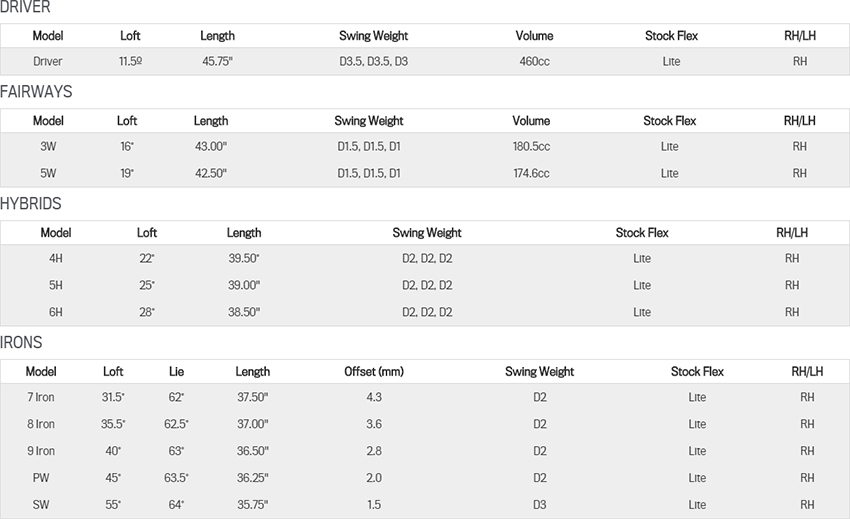 Reviews
Great set, great price
Woods, hybrids, and irons all reform well. All clubs help in hitting the ball straighter. The driver has a loft of 11.5 degrees which really gets the ball high in the air but you sacrifice some distance because of this. I play two to three rounds a week and these clubs have helped my game. Highly recommend them.
Cobra Fly-Z XL V1 Complete Set
The delivery was fast, the clubs arrived in perfect condition and they surpass every expectation I had when I bought them !
1st new set in 30 years
The new Cobra Fly xl set was bought for my 65th birthday. Had been using a set of Lynx Master Imperials for about 30 years. Comparing the old blade irons to the new xl irons: the xls are easier to hit. The Hybrids are going to improve my longer iron game also. Hit the 3 wood further than my old driver off the tee. Still working on xl driver.
Cobra fly z xl v1
Prompt shipping,and the clubs are exactly as decribed and pictured. Golf Discount representatives answered all questions promptly, and accurately. Very satisfied with these clubs, and the price is fanastic. Thanks Golf Discount!!!
Shipping