Optimum performance in each iron is achieved through the creation of the ultimate progressive set. Multiple advanced construction techniques are incorporated throughout the set to create more feel, distance, control and forgiveness.
King F6 Irons
A King is Born.
TecFlo™ Construction
Full Hollow
A full hollow design with face insert in the long irons (3i-5i) delivers low CG and a highly responsive face for easier to hit, higher flying long irons.
Half Hollow
A half hollow design in the mid irons (6i-7i) provides an extremely thin face design with added discretionary weight for optimal CG positioning which delivers more precise, easy to hit mid irons.
Cavity
The cavity back design in the scoring irons (8i-PW) allows for a low/back CG position that provides more spin and added shot control.
Specialty
Specialty wedge design (GW-SW) provides added versatility and shot control around the greens.
T.O.P. Technology
Engineered aluminum cap replaces steel on half hollow irons which frees up 5g of discretionary weight which has been replaced low and further back in the head creating a lower CG position for improved launch conditions and ball flight.
Deep Perimiter Undercutting
An extremely deep undercut creates the largest unsupported face ever in a COBRA set of irons, meaning you get extreme distance on center hits and consistent forgiving distance on off center hits.
Progressive Spin Design
Optimized spin and launch conditions for every club in the set with V-Grooves on the 4-6 irons, U-Grooves on the 7-PW, and Wedge spaced grooves on the GW-SW. V-Grooves reduce spin from the long irons to increase distance and consistency, U-Grooves provide optimized spin for more precision in the mid irons, and wedge spaced grooves provide extra spin for shots around the green.
Speed Channel® Sole and Face
An engineered channel positioned on the sole, close to the leading edge of the iron and around the perimeter of the upper back cavity creates more flex at impact to deliver greater distance through faster ball speeds.
CNC Milled Grooves
Creates increase spin and optimized trajectories throughout the set and provides improved control and workability to be able to attack the pin.
Premium Chrome Plating with PVD
A new Nickel Chrome/PVD plating provides enhanced club durability throughout the set, and a confidence inspiring aesthetic look at address.
Specifications
Standard Steel Shaft: FST Steel Flighted
Standard Grip: Lamkin R.E.L. 360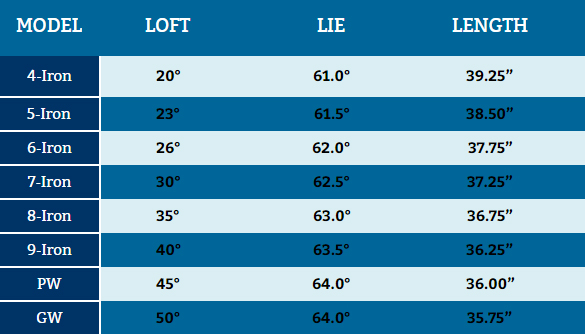 Cobra King F6 Irons Expert Review
Written By: Bob Gomavitz
---
The Takeaway
The Cobra F6 iron set is a progressive designed iron set with 4 different head designs. The TecFlo technology starts with the 3-5 irons having a full hollow head with face inserts, the 6 and 7 irons have a half-hollow design and a very thin face, the 8-PW have a traditional cavity back, and the GW-SW have a solid head design. These chrome plated heads have a small speed channel sole that flexes at impact to create faster ball speeds. The set also offers another progressive design feature with two different groove styles. There are V-grooves on the 4-6 irons and U-grooves on the 7-PW.
Who's It For?
A progressive set like this tends to really cater to the mid handicap players (10 to 22 range) that want the newest technology, a large sweet spot, and CG locations that will help their game with excellent distance and control.
Final Take
I found the King F6 Irons more solid feeling than the Forged Tec Irons. I tested this head with a higher end shaft and not the stock offering, but the stock version is weighted very much the same as the KBS Tour V's, only it will produce a slightly higher ball flight. For a Game Improvement Iron, the K6 offer a massive amount of technology throughout the set. The 7 iron that I tested was very easy to hit, produced above average distance, a solid feel (I anticipated that click sound, which never happened) and perfect ball flight.
Club Tested: 7 Iron Shaft: KBS Tour V; Flex: Stiff; Loft: 30°
Read the 2016 Game Improvement Irons Guide