Cobra 2018 King Forged Tec Irons
Cobra 2018 King Forged Tec Irons
Technology Enhanced Cavity. The New KING Forged TEC irons offer the Feel and Precision of a Tour Iron, and the Forgiveness and Distance desired by all.
Cobra KING Forged Tec Irons
Take The Throne.
KING is back. Greg Norman is a two-time Major Champion, and was No.1 in the world for 331 consecutive weeks, a true legend of the sport. And KING COBRA was the backbone of Greg's success - the innovative technology that drove his play. Now KING returns, with another product that is worthy of the name. Rickie is the future. The energy, and excitement that injects performance and style into golf. Rickie is what's next, and KING will be the power behind his success. The crown has been passed. Long live KING.
COBRA has a long history of making incredible performance irons. The return of KING irons from COBRA offers tour inspired irons that deliver unprecedented Accuracy & Precision, with Feel & control.
Deadly Accurate
To enjoy pure strikes and consistency in every shot, you need the optimum Center of Gravity (CG) placement. The CG in the KING Tec irons is positioned directly behind the center of the face for more precision shot control.
Multi-Material Construction
Strategically placed tungsten inserts are co-forged in the heel and toe help to increase MOI for forgiveness and also help position the Center of Gravity directly behind the impact zone. Combined with an engineered TPU insert positioned directly behind the impact zone that provides vibration damping, you will enjoy a soft, yet solid feel at impact.
J5 Face Insert
A new forged high strength steel face insert is thinner, lighter and hotter delivering more distance across the face. The saved weight from this J15 structure is moved lower and deeper in the head for longer, higher flying straighter shots.
Forged Steel
A 10-25 Carbon Steel body is forged five times to deliver a more refined grain structure and precision shaping that provides soft yet solid feel in every shot.
Specifications
Standard Steel Shaft: KBS C-Taper Lite
Standard Graphite Shaft: UST Recoil 680
Standard Grip: Lamkin UTX/KING LTD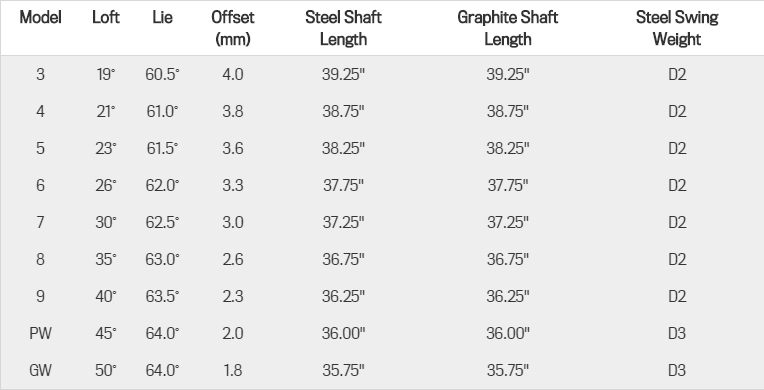 Cobra King Forged Tec Irons Expert Review
Written By: Bob Gomavitz
---
The Takeaway
The King Forged Tec Irons are a multi-material construction club head. The iron heads include strategically placed tungsten inserts, a high strength steel face, and a 10-25 Carbon Steel body. By having a thinner lightweight steel face Cobra can save overall club weight allowing them to add more weight lower and deeper in the head for longer, straighter, higher flying shots.
Who's It For?
The King Forged Tec Irons are a step up in terms of forgiveness from the King Pro Irons and will provide the better player a larger head with an increased sweet spot all while still providing that sweet forged feel. Great for + to 10-handicap players who desire great feel and still have the ability to work the ball.
Final Take
Right away, I instantly felt more confident with the King Forged Tec Irons in my hands compared to the much smaller heads of the King Pro Irons. I really liked the looks and the stock shaft offering (KBS C Taper Lite) but there was a slight click feeling/sound that made me think twice shot after shot. Though, the ball flight and distance were on par for the set up.
Ultimately, I just could not get past the impact sound as they sounded more like a game improvement iron to me. Sometimes the dampening cosmetic back plate causes this sound (which might be the case with these) and not the construction. I could get used to it just like I did with a White driver head, but I wanted to mention this in my review.
Club Tested: ; Shaft: ; Flex: Stiff; Loft: °
Read the 2016 Players Irons Guide