Description
Details
Cobra KING Pro Forged MB/CB Irons
Take The Throne.
KING is back. Greg Norman is a two-time Major Champion, and was No.1 in the world for 331 consecutive weeks, a true legend of the sport. And KING COBRA was the backbone of Greg's success - the innovative technology that drove his play. Now KING returns, with another product that is worthy of the name. Rickie is the future. The energy, and excitement that injects performance and style into golf. Rickie is what's next, and KING will be the power behind his success. The crown has been passed. Long live KING.
COBRA has a long history of making incredible performance irons. The return of KING irons from COBRA offers a combination muscle back and cavity back forged iron set. Tour inspired irons that deliver unprecedented Accuracy & Precision, with Feel & control.
Go With the Flow
Cavity Back design in the mid & long irons provide great forgiveness, and a muscle back design in the short irons enables great precision, workability and accuracy for attacking the pin. Create the right combination for your game.
Weight Placement
Strategically placed tungsten inserts in the toe help move the Center of Gravity to the center of the club for great precision and shot making.
Forged Steel
A 10-25 Carbon Steel head is forged five times to deliver a more refined grain structure and precision shaping that provides soft yet solid feel on every shot. CNC Milled faces and wedge style grooves also deliver maximum spin and more consistent launch trajectories in every iron.
Specifications
Standard Shaft: KBS C-Taper 120
Standard Grip: Lamkin UTX/KING LTD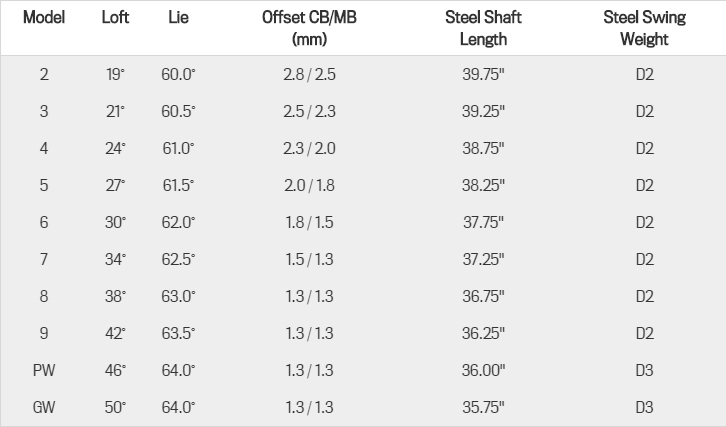 Reviews
Expert Review
Cobra King Pro Irons Expert Review
Written By: Bob Gomavitz
---
The Takeaway
The new King Pro Irons are a Tour-inspired combo set that is made up of a Cavity Back design for the 2-6 irons and a Muscle Back design for the 7-PW. 10-25 Carbon Steel heads are forged 5 times, which provides a soft, yet solid feel on every shot. The faces are CNC milled and deliver maximum spin and more consistent launch trajectories. Also, a strategically placed tungsten insert in the toe area helps move the CG to the center of the face for greater precision and shot making.
Who's It For?
The Tour-inspired King Pro Irons are for players who carry a low handicap, create higher swing speeds than most, and have the ability to strike the ball near the face over and over again.
Final Take
First off, I need to mention the stunning cosmetics of this set. The black heads with orange trim really spells out the Cobra name since Rickie Fowler came aboard. These irons have a very traditional look with super clean lines.
This no frills set delivers exactly what it was made to do. The King Pro Irons have solid feel, great looks and top notch performance. I must say, the 7 iron head was the smallest looking head in my hands since maybe the 1970's. Perhaps it was the sharp contrast of the black head against the satin KBS C Tapers shaft that gave me this impression, but the head size looked like a kid's club to me. However, it without a doubt played like a big boy's club.
Club Tested: 7 Iron Shaft: KBS Tour C Taper; Flex: Stiff; Loft: 34°
Read the 2016 Players Irons Guide
Shipping
FREE SHIPPING
on orders over $99
$8.99 Flat Rate
on orders under $99
*PING Excluded from FREE Shipping. Shipping costs are for Ground Shipping to the contiguous United States
*Where FREE 3-Day Shipping is specified on new product launches, this shipping method only applies to that specific product. The rest of the products in the order may ship standard ground unless otherwise specified.
Online Shipping Information (United States)
GolfDiscount.com is proud to use FedEx as its primary shipping provider. All packages shipped via FedEx include shipping insurance as part of the quoted price. Packages are protected 100% until the merchandise arrives and is signed for by you. We offer FedEx Ground Shipping to the Contiguous 48 states. All FedEx shipment times are quoted in business days, as neither FedEx Next-Day service nor FedEx 2-Day service ship or deliver on weekends or holidays.
Orders over $99.00 = *Free FedEx Ground shipping!
Orders under $99.00 = Ground shipping only $8.99
*Please note that the free shipping option excludes PING merchandise due to MFR restriction.
Orders with out of stock products
We do our best to reflect accurate inventory on the website but on occasion some items may be out of stock. If an order with multiple products includes a product that is out of stock, the out of stock item will be removed and we will ship the in-stock items. This will allow us to get your order delivered quickly without delay! Questions? Call us at 1-800-394-4653.
International Shipping
GolfDiscount.com can ship almost any item we carry in stock internationally. From Canada, to Europe, to Australia and everywhere in between, we can provide rate estimates and service to international customers. International shipping prices will be calculated during checkout, but if you would like to estimate shipping costs prior, please use our sales team at 1-800-394-4653.
Express Shipments
We are also proud to offer FedEx Next Day and 2-Day Air at the lowest possible rates attainable. Rates vary depending on the dimensional weight and destination of the shipment.
Hawaii and Alaska Shipments
FedEx Next Day and 2-Day Air are available for customers looking to have products shipped to Hawaii or Alaska.
Processing Times
Orders completed by 12PM PST (3PM EST) ship out same day! All other orders will be processed and fulfilled within one business day. Drop Ship products and orders completed on Saturdays require additional processing time.
PO Boxes and APO Shipments
GolfDiscount.com gladly ships to PO Boxes and APO addresses through USPS.
Additional Shipping Information
Canadian and International Orders