Description
Details
Women's King F6 Combo Irons
A King is Born.
Hybrids:
Back Adjustable CG Technology
A moveable weight piece allows you to change the center of gravity to maximize distance and delivers a towering ball flight with more carry.
Speed Channel Face
Speed Channel® is an exclusive COBRA innovation. An engineered trench around the perimeter of the face minimizes thickness and increases ball speeds across the face for incredible distance.
MyFly8® Technology with SmartPad®
Eight adjustable loft settings to maximize distance and manage trajectory for any course condition and any swing.
Irons:
TecFlo™ Construction
Full Hollow
A full hollow design with face insert in the long irons (3i-5i) delivers low CG and a highly responsive face for easier to hit, higher flying long irons.
Half Hollow
A half hollow design in the mid irons (6i-7i) provides an extremely thin face design with added discretionary weight for optimal CG positioning which delivers more precise, easy to hit mid irons.
Cavity
The cavity back design in the scoring irons (8i-PW) allows for a low/back CG position that provides more spin and added shot control.
Specialty
Specialty wedge design (GW-SW) provides added versatility and shot control around the greens.
T.O.P. Technology
Engineered aluminum cap replaces steel on half hollow irons which frees up 5g of discretionary weight which has been replaced low and further back in the head creating a lower CG position for improved launch conditions and ball flight.
Deep Perimiter Undercutting
An extremely deep undercut creates the largest unsupported face ever in a COBRA set of irons, meaning you get extreme distance on center hits and consistent forgiving distance on off center hits.
Progressive Spin Design
Optimized spin and launch conditions for every club in the set with V-Grooves on the 4-6 irons, U-Grooves on the 7-PW, and Wedge spaced grooves on the GW-SW. V-Grooves reduce spin from the long irons to increase distance and consistency, U-Grooves provide optimized spin for more precision in the mid irons, and wedge spaced grooves provide extra spin for shots around the green.
Speed Channel® Sole and Face
An engineered channel positioned on the sole, close to the leading edge of the iron and around the perimeter of the upper back cavity creates more flex at impact to deliver greater distance through faster ball speeds.
CNC Milled Grooves
Creates increase spin and optimized trajectories throughout the set and provides improved control and workability to be able to attack the pin.
Premium Chrome Plating with PVD
A new Nickel Chrome/PVD plating provides enhanced club durability throughout the set, and a confidence inspiring aesthetic look at address.
Specifications
Standard Graphite Shaft: Matrix Red Tie Q4
Standard Grip: Cobra Winn Wrap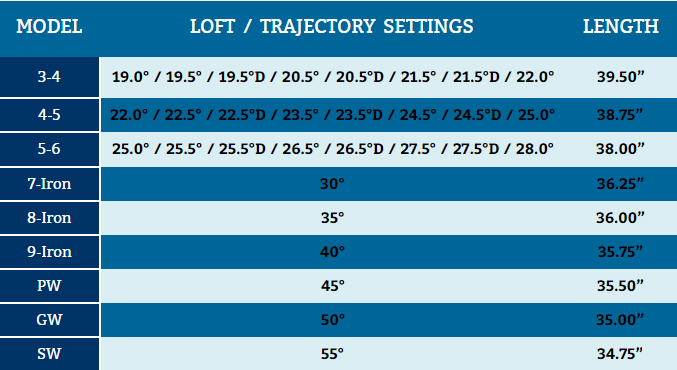 Reviews
Shipping
*PING Excluded from FREE Shipping. Shipping costs are for Ground Shipping to the contiguous United States
Online Shipping Information (United States)
GolfDiscount.com is proud to use FedEx as its primary shipping provider. All packages shipped via FedEx include shipping insurance as part of the quoted price. Packages are protected 100% until the merchandise arrives and is signed for by you. We offer FedEx Ground Shipping to the Contiguous 48 states. All FedEx shipment times are quoted in business days, as neither FedEx Next-Day service nor FedEx 2-Day service ship or deliver on weekends or holidays.
Orders over $99.00 = *Free FedEx Ground shipping!
Orders under $99.00 = Ground shipping only $8.99
*Please note that the free shipping option excludes PING merchandise due to MFR restriction.
Orders with out of stock products
We do our best to reflect accurate inventory on the website but on occasion some items may be out of stock. If an order with multiple products includes a product that is out of stock, the out of stock item will be removed and we will ship the in-stock items. This will allow us to get your order delivered quickly without delay! Questions? Call us at 1-800-394-4653.
International Shipping
GolfDiscount.com can ship almost any item we carry in stock internationally. From Canada, to Europe, to Australia and everywhere in between, we can provide rate estimates and service to international customers. International shipping prices will be calculated during checkout, but if you would like to estimate shipping costs prior, please use our sales team at 1-800-394-4653.
Express Shipments
We are also proud to offer FedEx Next Day and 2-Day Air at the lowest possible rates attainable. Rates vary depending on the dimensional weight and destination of the shipment.
Hawaii and Alaska Shipments
FedEx Next Day and 2-Day Air are available for customers looking to have products shipped to Hawaii or Alaska.
Processing Times
Orders completed by 12PM PST (3PM EST) ship out same day! All other orders will be processed and fulfilled within one business day. Drop Ship products and orders completed on Saturdays require additional processing time.
PO Boxes and APO Shipments
GolfDiscount.com gladly ships to PO Boxes and APO addresses through USPS.
Additional Shipping Information
Canadian and International Orders