Description
RTX 4 Wedge
Get More Spin
RTX 4 is the most advanced tour wedge Cleveland has ever created. Built with more spin, more versatility, and a more compact, tour-driven shape, it provides ultimate tour performance.
Rotex Face Technology
Controlling your wedge shots is only possible with ample, predictable spin. So new 4th Generation Rotex Face Technology consistently delivers more spin across all conditions, giving you better distance control, improved accuracy, and lower scores.
Sharper Tour Zip Grooves
Sharper, deeper grooves slice through grass, sand and water for more consistent spin on every shot.
More Durable Laser Milling
Longer-lasting laser milling brings face roughness right to the conforming limit for more friction and more spin on all shots.
Centered Rotex Face Milling
Milling that's in-line with your strike pattern increases backspin on all full, pitch, and chip shots.
Tour-Developed Sole Grinds
Four sole grinds deliver enough versatility to execute every short game shot imaginable.
FULL
The traditional mid-bounce you know and love. Enjoy crisp pitch shots and solid full-shot performance.
•• MID
This V-Shaped Sole cuts smoothly through turf and its trailing edge relief keeps the leading edge low on open face shots.
• LOW
A C-Shape provides heel and toe relief for ultimate versatility from any lie.
XLOW
The lowest bounce RTX 4 wedge is perfect for tight lies and hitting with an extremely open face.
Tour Shaping
Low RTX 4 lofts are more compact with a straight leading edge, blending perfectly with your short irons. Higher lofts have a traditional wedge shape for pitch and chip shots around the green. RTX 4's more compact blade shape is a direct result of extensive tour testing and feedback. Enjoy better feel and more control with this tour-developed, player-oriented shaping.
Progressive Feel Balancing Technology
Next-generation Feel Balancing Technology is optimized by loft for even more short game control.
Specifications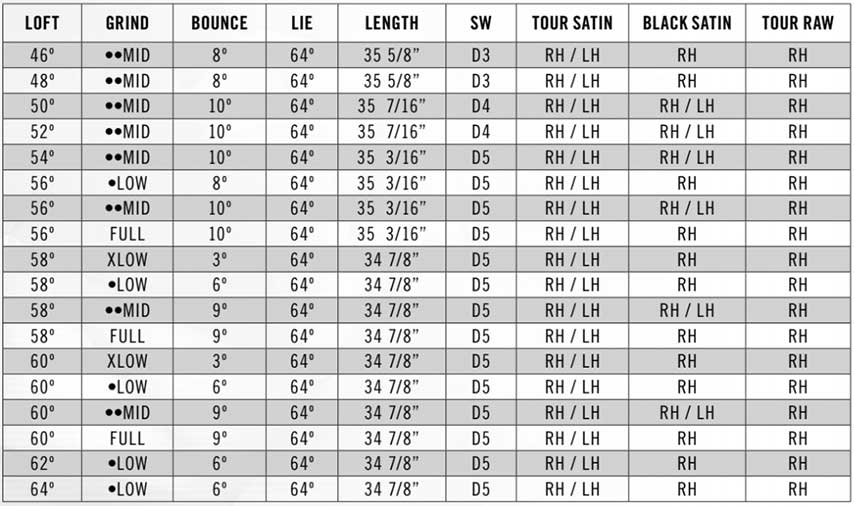 Reviews
Shipping