Description
GPS Golf Classic
Tag and Tee Off.
Game Golf, a new company that has only been around since last year is generating some huge buzz with their GPS Golf Shot Tracker that made its official debut at this year's PGA Merchandise Show.
On the PGA TOUR, ShotLink provides the necessary data, giving pros a glimpse at every aspect of their game. Game Golf is simplifying the process for all golfers by giving them insight into their own game — such as club distance, fairways hit, greens in regulation and putts per hole — via their lightweight GPS tracking device that captures accurate shot locations and calculates club performance during a given round.

How it works is you simply screw into the grip butt end of each of your clubs a red sensor disc (one each for the 14 clubs in your bag), clip the GPS device to your belt, tap whichever club for which you are preparing to shoot to the device, and the Game Golf device accurately measures all manners of data for that shot, that club, and your round. The data logged for each "sensored" club during the round is then sent to the Game Golf servers and can be viewed on a computer, iPhone or iPad. The Game Golf website overlays each shot on satellite photos of the course you played, allowing you to see the shots you hit, where, and how far.
"We want people to understand how far they're hitting a 7-iron and how often they're scrambling for par," said designer John McGuire, the CEO of Silicon Valley start-up Active Mind Technology. "But we didn't want golfers inputting the information during a round. Enjoy the round and let the device do all the work for you. We want the process to be simple, but at the same time, provide as much data as possible."
As you play more rounds, the Game Golf site starts to calculate your average distance for every club. It's even smart enough to throw out clear mis-hits (ex: 40 yard 5-iron shots) so that over a short time you start to get an amazingly clear, realistic picture of how you actually hit the ball when you are playing.
Includes
Game Golf tracking device
18 NFC tags to attach to your clubs
USB Cable
Protective Pouch
Features and Benefits
Vetted and Approved
Fully permitted under the USGA and RA Rules of Golf, Game Golf Classic is approved for tournament play and establishing handicaps. Now, you can see how your game plays under pressure.
No Cell Phone Required
Keep your phone in your golf bag and review your round post-game. With the ability to tag your club before or after each hit, you can rest assured every stroke in your game will be recorded.
Bring Your Game Anywhere
With geo-fenced tee boxes, fairways, bunkers and greens on over 33,000 golf courses, you can use Game Golf anywhere in the world.
Get Access To:
Automatic Game Tracking
Shot Detection
Club Performance
Shot Dispersion
Fairway Accuracy
Greens-In-Regulation
Number of Putts
Sand Saves
Scrambling Percentages
Benchmarking
Challenges
Social Sharing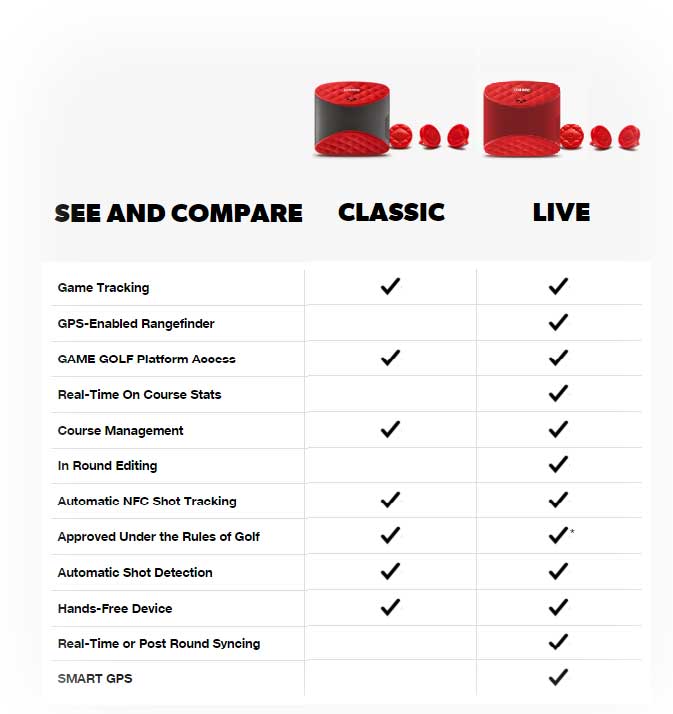 Game Golf Classic Quick Start Guide
Let Game Golf show you how to see, share, compare and compete with every shot, every hole, every round

Guaranteed lowest price on Closeout Game Golf Classic Digital Tracking System and all Game Golf Amazon Closeouts with Free Ground Shipping on orders over $99.
Reviews
A Must Have for New Golfers
I've only been golfing about 18 months, and I wish that I'd had this product sooner. Bought about two weeks ago, and have played three rounds with it. After downloading and analyzing my rounds, my score has dropped by nine strokes and falling. Great investment.
Works Quick and Easy
Product is easy to setup and use. The GPS on your waist acknowledges the club tapping instantly.||Only thing I'd like that it doesn't do yet is keep track of the total feet of putts per round.||The webpage is pretty nice but due to the large amount of information put onto the map it gets sluggish when moving around the map sure this will be fixed.||Overall great product and it impresses everyone
Shipping