Description
PT4 Hand-Held GPS RangeFinder
Smartphone style
The PT4 is a brand new edition to the GolfBuddy line of golf GPS/rangefinders and is a GPS rangefinder wrapped in smartphone style packaging, giving it an up-to-date appearance and even 40% lighter than previous models - keeping it thin enough to minimize intrusiveness.
The LCD capacitive touch screen is now 30% larger and has a higher resolution than GolfBuddy's previous Platinum, making it easier to read for any golfer. Couple that with the pinch-zoom, landscape and portrait view and the brand new user interface and this device becomes one of the easiest RangeFinders to use on the market today.
Designed for minimal input, the PT4 also recognises your current shot distances, what course and hole you are playing and keeps track of your score with an improved scoring function, allowing you to track and keep score of up to four players rounds. Scorecards are preloaded along with the courses and the PT4 can keep score as well as track key stats throughout the round. These stats can then be viewed on the device or on your computer via the GolfBuddy Manager program that can be downloaded to your computer.
Scorecard screen: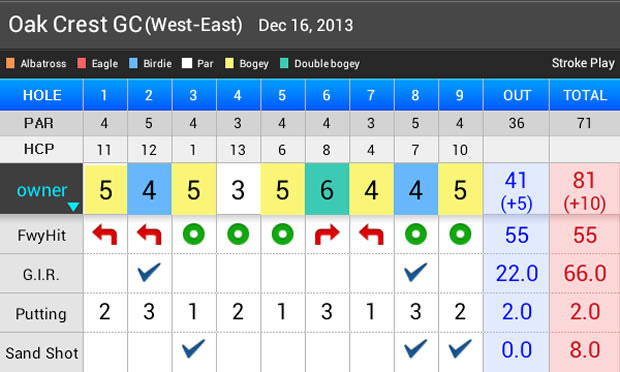 The PT4 is GolfBuddy's most-advanced GPS device to date, and as a proven leader and innovator in the golf GPS industry GolfBuddy is certain it will offer you "the finest golf GPS experience."

Features
Touch and Move pin placement
Dynamic Green View
Tee to Green hazard and target yardages specific to your location, not simply the hole you are playing.
Full Colour Map
Improved water-resistance
Replaceable and rechargeable battery
37,000 pre-loaded courses with a 40,000 course capability
50 channel GPS receiver
Guaranteed lowest price on Closeout GolfBuddy PT4 Hand-Held GPS Rangefinder and all GolfBuddy Rangefinders Closeouts with Free Ground Shipping on orders over $99.
Reviews
Shipping