Description
LR5 Rangefinder
Compact and Easy-to-Use.

Standard mode: Provides distance to the target
Scan mode: Continuously scans for 10 seconds to shows distances to varying targets
Pin mode: Continuously scans for 10 seconds to shows distances to varying targets; the LR5 will display the distance to the closest target
Tech Specs
6x magnification
3 scan modes (Standard, Scan, Pin)
Accuracy +/- 1 yard
Ergonomic body design
Default to "last used" settings
Automatic shut-off after 10 seconds when left unattended
Battery life: 3,000~5,000 actuations
Diopter adjustment (eyepiece adjustment)
Water resistant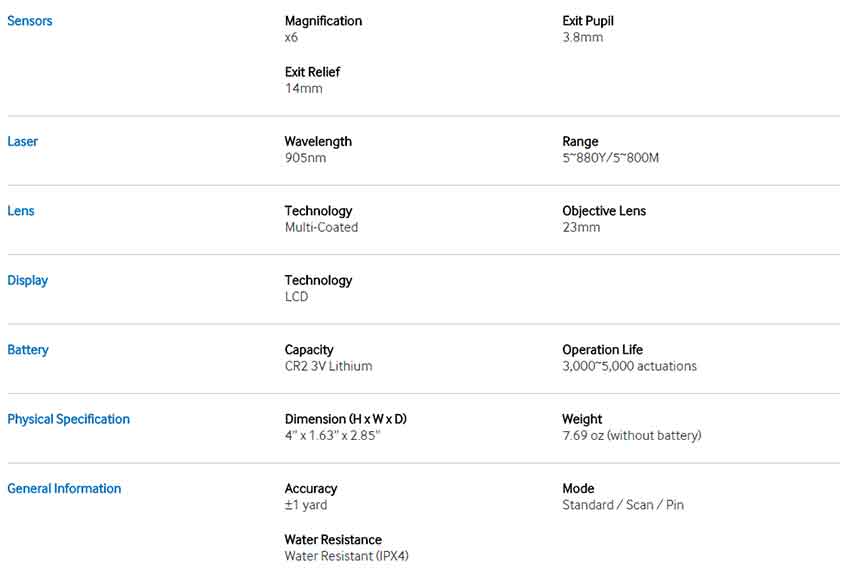 Reviews
Very good. Excellent price
Very good. Excellent price
👍🏻
Great price.... get performance
Golf buddy
Works great use all the time
It does everything I need.
It does everything I need.
Nice product
Very easy to use and accurate.
Golf Buddy LR5
Great price and fast shipping
Golf Buddy Laser Rangefinder
Unbeatable price. Works great! Yardage is spot on!!!
Just what I wanted
This instrument gives quick and accurate yardages. Perfect for my needs.
Golf buddy LR5
Great deal for the money and can't go wrong with it
Range finder
Recently purchase range finder great value. This being my first range finder i was amazed by how far off my club selections where. Has helped me select the correct club. The product it self is very easy to use and pretty easy to stabilize for acurate read. Would recommend to any one looking for great range finder at great price.
Golf Buddy Range Finder
Great range finder for the price. Spend 200.00 less and get a great product..
Golf Buddy LR5 Rangefinder
Excellent service I was an overseas customer and I had to verify my credit card credentials, this was completed with no fuss and my order arrived ahead of schedule and the product was perfect... a good job Golf Discount.
Range finder
Small compact easy to use and accurate readings what more could you ask for and a good price to boot.
Great Value
As good as more expensive rangefinders. Use your own new alkaline battery. The one that comes with the rangefinder will not last more than a few days. But it's only a battery, easily replaced.
Nice Rangefinder at Nice Price
I purchased a Bushnell rangefinder when they first came out. It is a very good rangefinder, but it is large and heavy. This Golf Buddy rangefinder is very small and light. It has a nice cross haired target sight. There is one thing that you should be aware of if you are coming from a large rangefinder. The smaller ones are more difficult to hold steady. It's much easer to hit an unintended target due to the smallness of the body. That being said, if you have pretty steady hands, this rangefinder seems to be accurate and easy to use.
Works well!
I've had no problems locking in on targets.
Shipping