Description
Details
GX-1i2 Rangefinder
Pinpoint Accuracy

Brighter, faster, more accurate: take your golf game to the next level with the Leupold GX-1i2. The high performance DNA® (Digitally eNhanced Accuracy™) engine and advanced infrared laser provide faster measurements with accuracy displayed to the nearest half yard. Leupold's exclusive PinHunter® laser technology, fog mode and seven selectable aiming reticles consistently hunt down the pin in virtually any weather conditions. Prism Lock™ technology affords unmatched accuracy by using highly reflective prisms already incorporated into many course features and pins to obtain a high intensity return to your GX-1i2. With Prism Lock, holding the rangefinder steady becomes much less of a concern, and you can be assured your distance measurement is exact. Additionally, the GX-1i2 is tournament legal, offering line-of-sight distance measurement only. Rugged, compact, and completely waterproof, Leupold's GX rangefinders are sure to shave strokes off your game. Welcome to the future of golf.


Optical System
Leupold engineers combine precision glass, cutting edge coating technology and rugged structural components to create the most desired optical products on the market. The optical system in the GX golf rangefinders is built to the same rugged, exacting standards.
You can expect no less than bright, clear optics. Accurate ranging. Low glare. Scratch resistance. And years of dependable use.
Digitally Enhanced Accuracy (DNA)
Fueled by an exclusive new rangefinder engine technology, three years in the making, products with DNA propel golf laser rangefinding to new levels of precision, and speed. Get faster, more precise ranging with resolution to within 1/10th of a yard against all background colors and textures. DNA takes the groundbreaking GX series to a new level!
Durability
Leupold products are battered and abused by thousands of enthusiasts every day and they are legendary for their durability. They know how to make a product rugged and theye've poured that knowledge into the weatherproof Leupold golf rangefinder. So the next time you play through an ill-timed squall, you can be confident at least one friend will stick by you side - your Leupold golf rangefinder.
Fog Mode
Rain or shine, many golfers hit the links regardless of condtitions; that's why Leupold designed Fog Mode.
Most rangefinders give measurements from the first target returned, which in some cases is the fog between you and the pin.
Your GX will cut through the weather and provide fast, accurate measurements to get you on the green.
Pinhunter 2™ and Prism Lock™
The key to fast, accurate ranging is the ability to lock on to the flagstick. For some, a shaky hand has made it more difficult to get on—and stay on—the pin. Not any more. Leupold improved PinHunter 2™ Laser Technology (available on GX-3i² and GX-4i²) filters out background images and makes zeroing-in on the target faster and easier. Three different reticle options give you more flexibility in choosing the one that's best for you.
Leupold GX Prism Lock Technology combined with PinHunter 2 Laser Technology make "locking on" faster than ever before. You get an audible tone when the rangefinder finds the prism, and the distance is immediately displayed, speeding up the pace of play and giving you more confidence to hit the shot.
Quick Set Menu
The Quick Set Menu is intuitive and easy to use, giving you fast access to the incredible performance of your GX golf rangefinder. All features and modes are easy to see without cluttering the field of view.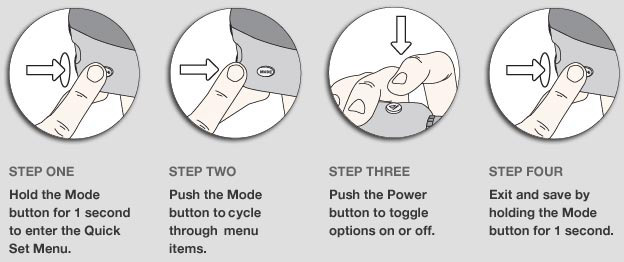 Scan Mode
When you want multiple readings in one quick sweep, just hold down the Power button and the display will continuously update with accurate line-of-site measurments. As an extra benefit, on courses utilizing prism technology, your GX will beep and the display will freeze the moment you scan past a prism-topped flag stick, assuring you of an accurate reading.
Specifications
Weight: 6.8 ounces
Dimensions: 3.6L x 2.9H x 1.4W
Maximum Range: 650 yds (Reflective)
Caddy pack Includes
Leupold Golf Hat
Caddy Bag
Extra CR2 Battery
Reviews
Expert Review
Leupold GX-1i2 Expert Review
Written By: Bob Gomavitz
---
The Takeaway
The GX-1i is compact Rangefinder with some very nice features like a 6x23mm setup, and bunch of different modes that can be very useful under various conditions. For some reason, the green color made me think of hunting rather than golf when I first took it out of the box, but after that it was all about golf. One of the modes that really caught my eye was the Fog/Rain mode. Though I did not test this rangefinder in this mode, I can see how this mode could very useful, especially since I see a fair amount of fog and misty rain in my area. My current rangefinder just doesn't cut it in these conditions, so this would be a really welcomed feature. Another mode that I felt was a nice touch was the Selectable Reticles, with 7 options to choose from. I found that a certain reticle really helped me lock into my target after testing all of these options. The GX-1i2 was very easy to use, though I did have some issues locking on to a 296-yard flag with a strong backdrop. I kept locking onto the backdrop 75% of the time. Being such a compact unit, I found myself not as steady in locking down readings as I am with slightly larger units.
Who's It For?
With its lightweight and compact size, this is an excellent unit for walkers, especially those that carry, though players who ride will find this great as well. A great choice for those that do not play in perfect weather all the time.
Final Take
Even though the Green made me think hunting, I found this to be an excellent unit with plenty of nice features. It's an excellent step down from the other high end units that Leupold has to offer.
Read the 2015 Laser Rangefinders Guide
Shipping
*PING Excluded from FREE Shipping. Shipping costs are for Ground Shipping to the contiguous United States
Online Shipping Information (United States)
GolfDiscount.com is proud to use FedEx as its primary shipping provider. All packages shipped via FedEx include shipping insurance as part of the quoted price. Packages are protected 100% until the merchandise arrives and is signed for by you. We offer FedEx Ground Shipping to the Contiguous 48 states. All FedEx shipment times are quoted in business days, as neither FedEx Next-Day service nor FedEx 2-Day service ship or deliver on weekends or holidays.
Orders over $99.00 = *Free FedEx Ground shipping!
Orders under $99.00 = Ground shipping only $8.99
*Please note that the free shipping option excludes PING merchandise due to MFR restriction.
Orders with out of stock products
We do our best to reflect accurate inventory on the website but on occasion some items may be out of stock. If an order with multiple products includes a product that is out of stock, the out of stock item will be removed and we will ship the in-stock items. This will allow us to get your order delivered quickly without delay! Questions? Call us at 1-800-394-4653.
International Shipping
GolfDiscount.com can ship almost any item we carry in stock internationally. From Canada, to Europe, to Australia and everywhere in between, we can provide rate estimates and service to international customers. International shipping prices will be calculated during checkout, but if you would like to estimate shipping costs prior, please use our sales team at 1-800-394-4653.
Express Shipments
We are also proud to offer FedEx Next Day and 2-Day Air at the lowest possible rates attainable. Rates vary depending on the dimensional weight and destination of the shipment.
Hawaii and Alaska Shipments
FedEx Next Day and 2-Day Air are available for customers looking to have products shipped to Hawaii or Alaska.
Processing Times
Orders completed by 12PM PST (3PM EST) ship out same day! All other orders will be processed and fulfilled within one business day. Drop Ship products and orders completed on Saturdays require additional processing time.
PO Boxes and APO Shipments
GolfDiscount.com gladly ships to PO Boxes and APO addresses through USPS.
Additional Shipping Information
Canadian and International Orders