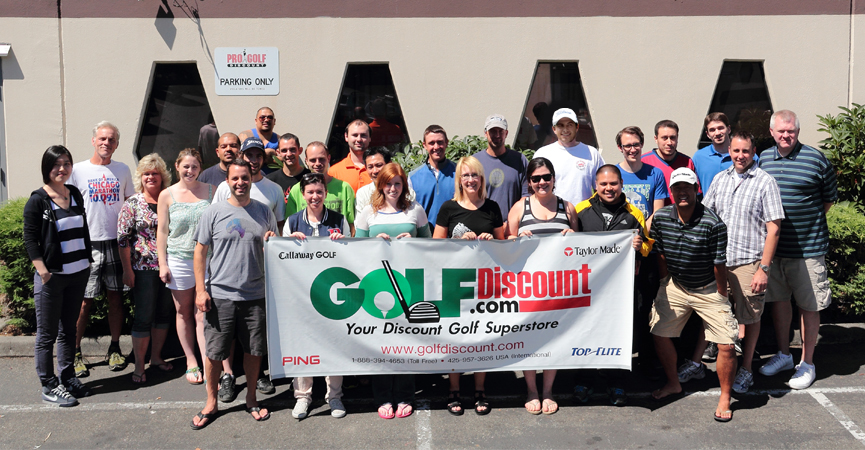 Meet The Team At Golf Discount
Get To Know The Golfers Behind The Screen
---
Randy Silver
Founder/CEO
Randy is the proud owner of Golf Discount. He started his career in the golf industry at the age of 13 as a golf caddie in Michigan. He attended Michigan State University for 2 years while working at a local golf store in Detroit. At age 21, he decided to move to Seattle to open a golf store of his own in 1977. His single golf store grew to five locations in the western Washington area. With the success of his retail locations, he decided to enter the online world with GolfDiscount.com in 1995. Randy is an avid golfer who works hard to maintain a single digit handicap.
---
Perry Ponti
General Manager
Perry has been with Golf Discount for over 36 years. He started as a backroom attendant and progressed through the company with dedication and hard work ethic. Perry is in charge of all purchasing and managing all vendor relationships at Golf Discount. He works hand-in-hand with the our owner to make important business decisions. Perry plays golf year round and is proud to maintain a 3 handicap. His favorite golf course is Kingsbarns Golf Links in Scotland.
---
Mike Zavaglia
Controller
Mike oversees the accounting team and offers support to other departments within the company. He joined the team in 2014, bringing experience from both the banking industry and a fast-paced CPA firm. In total, Mike has worked in the golf industry for 12+ years. He graduated from Gonzaga University with degrees in accounting and finance. Mike's passion for golf sparked at the young age of 10. He is currently a 9 handicap and still looking for his first hole-in-one. He always tries to emulate Fred Couples, who graduated from the same high school. His favorite golf course is Cabo del Sol in Mexico. Mike lives near the mountains with his wife and two sons.
---
Andy Sposari
Customer Service Manager
Andy is the customer service manager for GolfDiscount.com, and is entering his 17th year with the company. He has worked throughout the company to learn as much about the business as possible. Andy's in-depth knowledge allows him to provide his customers with the best service and advice. He has been golfing for most of his life and played in his first tournament at the age of 12. Andy has played all over the country while maintaining a single digit handicap. He plays several times each month at courses local to him in Seattle.
---
Dave Matthew
Warehouse Manager
Dave is responsible for receiving, distributing, inventory control, and general day to day warehouse operations. He has been with Golf Discount since 1989 and has worked several difference positions before being named Warehouse Manager. In his free time, Dave enjoys spending time with his daughter, coaching her many sports, playing golf, and watching college football. Go Dawgs!
---
Kevin Pugh
IT Manager
Kevin has been with Golf Discount for over 24 years. He brings top notch experience from both the retail and the technical side of the golf business. He maintains all functionality of our e-commerce site, and keeps all the technology related equipment up and functioning. Having been a golfer since 1977, Kevin has basically seen it all (or so he tells us...all the time). In fact, he is still predicting the comeback of the persimmon wood…and we are still waiting! Even with a busy family life, Kevin continues to maintain a single-digit handicap.
---
Josh Flynn
Third Party Manager
Josh is in charge of third party sales on eBay and Amazon for Golf Discount. Josh has been with the company for 14 years. He has held numerous positions with the company, and has been a Channel Manager for the last 6 years. Josh's love for golf bloomed when he started working at the University of Washington driving range almost 25 years ago. While he doesn't get to play as much as he'd like anymore, he likes to think he can still keep it in the 70's on most days.
---
Torie Larson
Apparel Buyer
Torie works with many vendors to bring a variety of clothing to GolfDiscount.com at great prices. She joined the team in July of 2016, bringing her fashion background and passion for all things apparel. Torie graduated from the University of Idaho with a degree in Clothing, Textiles, Design, and Marketing. She was introduced to golf at a very young age and retook up the game after college. She enjoys spending a sunny afternoon playing golf with family and friends. Torie and her Golden Retriever, Stella, actively reside near Lake Washington.
---
Breena Troy
Digital Marketing & E-Commerce Specialist
Breena is in charge of several aspects of Golf Discount's digital marketing efforts. She manages all social media accounts, produces exciting blog content, and helps with e-commerce performance. Breena grew up in Hawaii on the beautiful island of Maui. She was introduced to golf around the age of 6 and has loved the game ever since. Breena grew up playing world class golf courses on Maui such as Ka'anapali and Kapalua. She has 1 hole-in-one under her belt and plays as much as possible to maintain a 4 handicap. Breena graduated with honors from the University of Washington in Seattle with a degree in Economics.
---
Natacha Flateau
Graphic Designer
Natacha is the talented designer behind all of Golf Discount's ads and promotional material. Natacha has been a Graphic Designer for over 20 years and has done a lot of design work for the golf industry. She loves being creative and helping others make their visions a reality. In her spare time, she enjoys researching health and nutrition. She leads an active lifestyle and loves to attend Barre fitness classes.
---
Ronel Calonge
Shipping Manager
Ronel oversees the shipping department at Golf Discount. He ensures products are carefully packaged and shipped with care to our customers around the world. He has been with the Golf Discount family since 2001 and brings an infectious positive attitude to work everyday. Ronel is passionate about living a healthy lifestyle, losing over 100 lbs in three years.
---