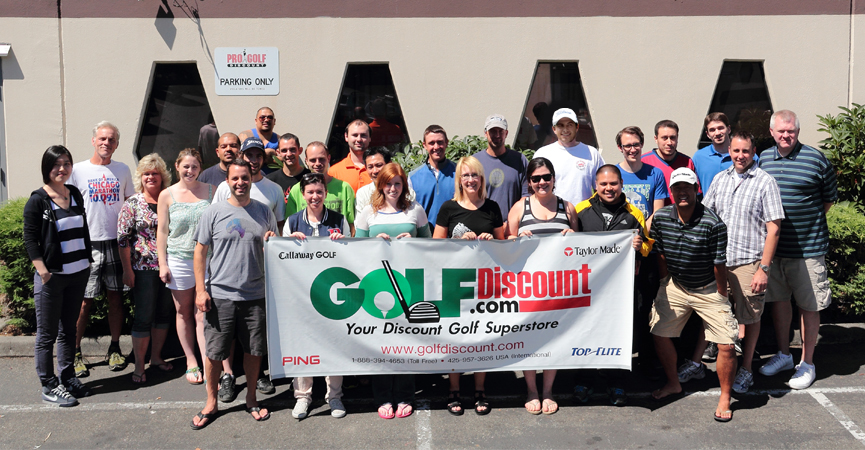 Meet the Teams at GolfDiscount.com:
Sales and Customer Support: Andy's team
When you call us at 1-800-394-4653 or contact us, these are the people you will be talking with. Andy's team is staffed with friendly, professional, and experienced golf experts, knowledgeable about all the equipment sold on the website and the game of golf as a whole. Andy's team strives to provide you the best in customer service and to ensure you're happy and satisfied with your entire shopping experience.
Warehouse Operations: Dave's team
This is the team of people preparing your shipment in our headquarters' dispatch center. Our goal is to make sure that your order is processed, safely packaged, and shipped quickly and accurately, making sure you can hit the course with your new gear as soon as possible! Dave's team also processes all returns and trade-in transactions, receiving your items and getting money back in your pocket.
Finance Department: Mike's team
Mike's team makes sure that our company runs smoothly, overseeing accurate and secure transaction details. Mike's team make sure that our website can process orders faster, keep our customer's information safer, and deliver the best overall experience possible.
Buy Center: Lisa and Erica
Lisa and Erica manage all of the equipment and clothing on the website, making sure product information is accurate and complete and that the largest selection of top-notch golf gear is available for our customers to purchase.
Digital Marketing and eCommerce: Anna, Breena, Jason, Josh, Kevin, Natacha
This team unearths buried treasures from behind the screen, managing product pages and advertisements, email marketing, and information technology. This team is responsible for everything you see on the website, and their goal is for you to have an easy an enjoyable time navigating and shopping at GolfDiscount.com.
Golf Advisory Staff

Andy
Internet Sales Manager. GolfDiscount.com expert since 2001
E-mail Andy
Nick
Advisory Staff. GolfDiscount.com expert since 2004
E-mail Nick
Jarrett
Advisory Staff. GolfDiscount.com expert since 2013
E-mail Jarrett
Rob
Advisory Staff. GolfDiscount.com expert since 2013
E-mail Rob
Chris
Advisory Staff. GolfDiscount.com expert since 2015
E-mail Chris
Jordan
Advisory Staff. GolfDiscount.com expert since 2015
E-mail Jordan