Description
Details
JPX-850 Hybrid
Shock Wave Sole.
The primary function of the JPX-850's Shock Wave sole is to enable the entire club head to contract and expand on impact – delivering more of the energy from the swing to the ball for increased distance. The additional mass also lowers the head's center of gravity (COG), enabling easy launch from strikes direct from the turf.
Additionally, Mizuno club designers incorporated the feedback of their Tour Staff with regard to look at address. This solid and square appearance delivers confidence to perform at your highest level.
Key Technology
Shock Wave Sole: Enables entire head to flex for increased ball speeds and maximum distance.
Low COG: Easy launch from all course conditions.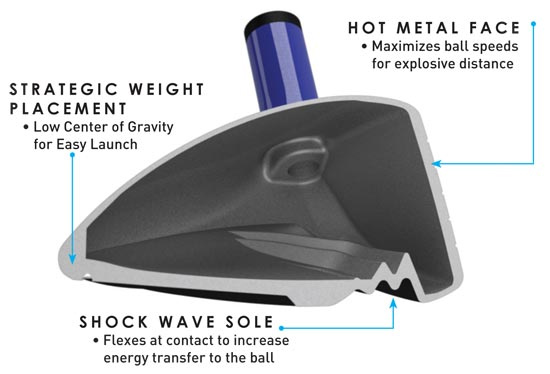 Standard Graphite Shaft:
Fijukura Motore
Standard Grip:
Mizuno M-310 60
" Hybrids have always played an important part in my set make-up. With this new JPX-850 hybrid, I have seen a noticeable improvement in distance control and ease of ball flight."
-Stacy Lewis, LPGA Professional
Reviews
Expert Review
Mizuno JPX-850 Hybrid Expert Review
Written By: Bob Gomavitz
---
The Takeaway
The Mizuno JPX-850 Hybrid incorporates the Shock Wave Sole, which flexes to increase the energy transferred to the ball at impact. The low, back CG creates an easy launch, while the Hot Metal Face maximizes ball speeds. The piercing blue head sits slightly closed and is on the shallow side for face depth. The head size is on the larger side, and will help those that fear the smaller-sized hybrids.
Who's It For?
Mid-Low to Higher handicap players who need help elevating the golf ball should look at the JPX-850. The flatter, larger footprint is a key sign that a low, rear CG is in place to help you get the ball airborne.
Final Take
I struggled with the JPX-850. I either saw a very high flight or a thin, low shot. Out of the hybrids that I tested, this was the only one I thinned. I love the colorway and the quality Fujikura shaft that comes standard with it, but for my game I just did not see the results that I needed to see from this hybrid.
Read the 2015 Hybrid Guide
Shipping
FREE SHIPPING
on orders over $99
$8.99 Flat Rate
on orders under $99
*PING Excluded from FREE Shipping. Shipping costs are for Ground Shipping to the contiguous United States
*Where FREE 3-Day Shipping is specified on new product launches, this shipping method only applies to that specific product. The rest of the products in the order may ship standard ground unless otherwise specified.
Online Shipping Information (United States)
GolfDiscount.com is proud to use FedEx as its primary shipping provider. All packages shipped via FedEx include shipping insurance as part of the quoted price. Packages are protected 100% until the merchandise arrives and is signed for by you. We offer FedEx Ground Shipping to the Contiguous 48 states. All FedEx shipment times are quoted in business days, as neither FedEx Next-Day service nor FedEx 2-Day service ship or deliver on weekends or holidays.
Orders over $99.00 = *Free FedEx Ground shipping!
Orders under $99.00 = Ground shipping only $8.99
*Please note that the free shipping option excludes PING merchandise due to MFR restriction.
Orders with out of stock products
We do our best to reflect accurate inventory on the website but on occasion some items may be out of stock. If an order with multiple products includes a product that is out of stock, the out of stock item will be removed and we will ship the in-stock items. This will allow us to get your order delivered quickly without delay! Questions? Call us at 1-800-394-4653.
International Shipping
GolfDiscount.com can ship almost any item we carry in stock internationally. From Canada, to Europe, to Australia and everywhere in between, we can provide rate estimates and service to international customers. International shipping prices will be calculated during checkout, but if you would like to estimate shipping costs prior, please use our sales team at 1-800-394-4653.
Express Shipments
We are also proud to offer FedEx Next Day and 2-Day Air at the lowest possible rates attainable. Rates vary depending on the dimensional weight and destination of the shipment.
Hawaii and Alaska Shipments
FedEx Next Day and 2-Day Air are available for customers looking to have products shipped to Hawaii or Alaska.
Processing Times
Orders completed by 12PM PST (3PM EST) ship out same day! All other orders will be processed and fulfilled within one business day. Drop Ship products and orders completed on Saturdays require additional processing time.
PO Boxes and APO Shipments
GolfDiscount.com gladly ships to PO Boxes and APO addresses through USPS.
Additional Shipping Information
Canadian and International Orders