Description
Details
JPX-850 Iron Set
The Longest Iron in Golf.
The breakthroughs in distance and ball speed of the JPX-850 are achieved through Mizuno's Power Frame design, which greatly increases the rebound area of the clubface. In addition, the Power Frame positions weight in the extreme corners of the club head to increase stability on off-center shots, maximizing forgiveness and consistent distance.
Equally as important, the innovative Power Frame design ensures ball speeds are consistently high across the entire clubface and that the high COR is not created at the expense of feel or control. The JPX-850 delivers more distance, with more solid feel than any other iron in the game.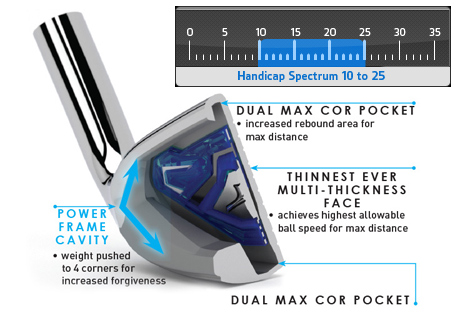 Key Technology
Power Frame Distance: Increases rebound area for maximum distance.
Power Frame Forgiveness: Weight is strategically placed in the four corners of the cavity to maximize forgiveness.
Dual Relief Zone Sole: Ideal turf interaction for solid ball striking in all course conditions.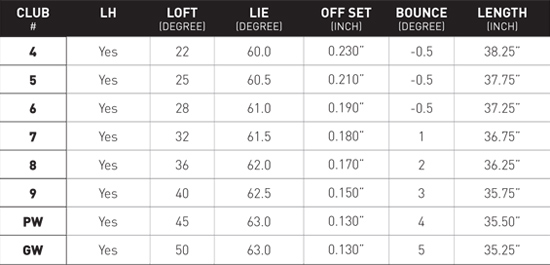 Standard Steel Shaft:
True Temper XP 105 – R300, S300
Standard Graphite Shaft:
Orochi Graphite
Standard Grip:
Mizuno M-31 360 .58 Round
"Simply increasing ball speed is not our goal - making it happen within a manageable head size is the real challenge. With the Power Frame we were able to take ball speeds to a completely different level - all while keeping it hand in hand with a nice feel and a level of workability."
-Tetsuya Kanayama, Senior R&D Team Member
Reviews
Expert Review
Mizuno JPX-850 Irons Expert Review
Written By: Bob Gomavitz
---
The Takeaway
The JPX 850 features Mizuno's Power Frame Technology. To increase forgiveness, the Power Frame Technology distributes the weight to the 4 corners of head. The Dual Max Cor Pocket offers an increased rebound area for max distance. Add in their thinnest-ever, multi-thickness face for higher ball speeds and you have one hot head! The sole offers players a dual relief design for solid ball striking.
Who's It For?
I would have said in the past that Game Improvement irons are more for 18+ handicappers. Purists most likely will still walk by this section in the stores, but so be it. Now, pretty much any type of player can play this class of Game Improvement irons without hesitation, and there is one main reason. What held back the better players in previous years from using this class of iron was the hot spots, or jumpers as they're called, which creates inconsistent distances from the same club number. The OEM's have done a fabulous job correcting this issue with better technology in head and groove design.
Final Take
Looking at the Mizuno JPX iron, I see a gorgeous club head with a clean, simple design that makes sense to me. The head produced consistently solid shots, and without any "clicking" noises that I've heard from a friend's older JPX heads. The sole is on the larger side, but this provides the beef behind the the face to support its thin design. The ball flight was true and tight, not too high, or too low. Cosmetically, the high polished appearance with some satin finish really looks good. Adding in the JPX blue colorway to the damping badge, and you have one great looking and forgiving head.
Club Tested: 6-Iron; Shaft: C Taper Lite; Loft: 28°
Read the 2015 Game Improvement Irons Guide
Shipping
FREE SHIPPING
on orders over $99
$8.99 Flat Rate
on orders under $99
*PING Excluded from FREE Shipping. Shipping costs are for Ground Shipping to the contiguous United States
*Where FREE 3-Day Shipping is specified on new product launches, this shipping method only applies to that specific product. The rest of the products in the order may ship standard ground unless otherwise specified.
Online Shipping Information (United States)
GolfDiscount.com is proud to use FedEx as its primary shipping provider. All packages shipped via FedEx include shipping insurance as part of the quoted price. Packages are protected 100% until the merchandise arrives and is signed for by you. We offer FedEx Ground Shipping to the Contiguous 48 states. All FedEx shipment times are quoted in business days, as neither FedEx Next-Day service nor FedEx 2-Day service ship or deliver on weekends or holidays.
Orders over $99.00 = *Free FedEx Ground shipping!
Orders under $99.00 = Ground shipping only $8.99
*Please note that the free shipping option excludes PING merchandise due to MFR restriction.
Orders with out of stock products
We do our best to reflect accurate inventory on the website but on occasion some items may be out of stock. If an order with multiple products includes a product that is out of stock, the out of stock item will be removed and we will ship the in-stock items. This will allow us to get your order delivered quickly without delay! Questions? Call us at 1-800-394-4653.
International Shipping
GolfDiscount.com can ship almost any item we carry in stock internationally. From Canada, to Europe, to Australia and everywhere in between, we can provide rate estimates and service to international customers. International shipping prices will be calculated during checkout, but if you would like to estimate shipping costs prior, please use our sales team at 1-800-394-4653.
Express Shipments
We are also proud to offer FedEx Next Day and 2-Day Air at the lowest possible rates attainable. Rates vary depending on the dimensional weight and destination of the shipment.
Hawaii and Alaska Shipments
FedEx Next Day and 2-Day Air are available for customers looking to have products shipped to Hawaii or Alaska.
Processing Times
Orders completed by 12PM PST (3PM EST) ship out same day! All other orders will be processed and fulfilled within one business day. Drop Ship products and orders completed on Saturdays require additional processing time.
PO Boxes and APO Shipments
GolfDiscount.com gladly ships to PO Boxes and APO addresses through USPS.
Additional Shipping Information
Canadian and International Orders
Customers from your area also like