Description
Details
JPX 900 Hot Metal Irons
Long and Hot
By utilizing new materials and new methods of construction, the new JPX 900 Hot Metal Irons are the longest and hottest broad appeal irons Mizuno has ever made.
Features
Strong Chromoly 4140M for an extreme COR tech face
Harmonic Impact Technology (HIT) for soft, solid, and consistent feel
Extremely thin face for drastically high ball speed
Power Frame for unmatched stability and powerful sound at impact
Reinforced ribs on the top line ensures a strong and powerful sound at impact
360° Cup Face Design delivers a larger COR area
Unitized Cup Face delivers all the benefits without the wasted mass and inconsistencies of welding
COR Tech Design provides greater face rebound for toe and heel mis-hits
Specifications
Standard Steel Shaft: N.S. Pro Modus3
Standard Graphite Shaft: Project X LZ 4.5
Standard Grip: Golf Pride Multi-Compound 60R Blue/Black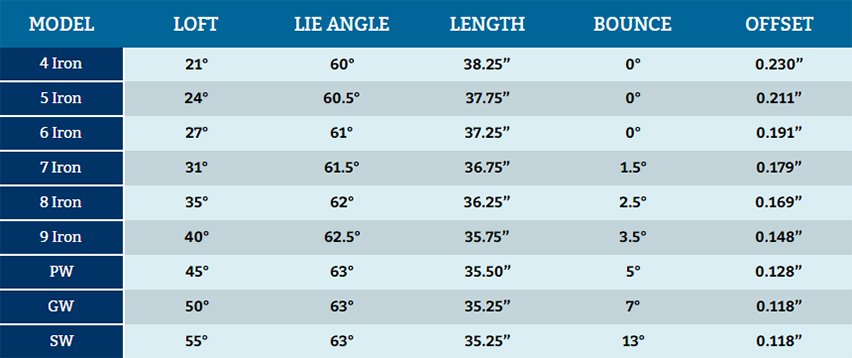 Reviews
Expert Review
Mizuno JPX 900 Hot Metal Irons Expert Review
Written By: Bob Gomavitz
---
Club Tested: 7 Iron; Shaft: PX LZ 5.5; Loft: 27°
The Takeaway
Made from Chromoly 4140M, which is 15% stronger than 17-4 stainless steel, Mizuno has created their hottest face ever. The ultra-thin face combined with the re-engineered CorTech multi-thickness design provides superior initial ball speed for maximum distance. The Power Frame design gives the JPX 900 Hot Metal irons an industry leading MOI by moving more mass to the perimeter of the club head. And the Unitized Cup Face Geometry delivers a massive COR (Coefficient of Restitution) area and also provides more discretionary weight than welded cup face designs. In simpler terms, deep CG and lots of forgiveness.
Who's It For?
The JPX 900 Hot Metal irons are for players who are looking for a much overdue update in technology and a cleaner look to their older game improvement irons. 10 to 36 handicaps.
Final Take
The JPX 900 Hot Metal is one stunning Game Improvement club head. It has a slightly larger head size, top line and more offset versus the 900 Forged irons; however, these are just typical progressions from this type of iron set. Appearance-wise, the 900 Hot Metal irons have a slightly richer look, with a touch of a polished chrome, but they still incorporate a clean, satin look like the Forged version.
I found these to launch a touch higher and about 5 yards longer than the JPX 900 Forged version, even though there lofts are identical. The clearly defined leading edge bevel will help players who get a touch too steep in softer conditions. I could easily see myself playing these, the 900 Forged irons, or even a nice combo set. All told, these are an excellent improvement over the JPX 850 in looks and feel.
Shipping
FREE SHIPPING
on orders over $99
$8.99 Flat Rate
on orders under $99
*PING Excluded from FREE Shipping. Shipping costs are for Ground Shipping to the contiguous United States
*Where FREE 3-Day Shipping is specified on new product launches, this shipping method only applies to that specific product. The rest of the products in the order may ship standard ground unless otherwise specified.
Online Shipping Information (United States)
GolfDiscount.com is proud to use FedEx as its primary shipping provider. All packages shipped via FedEx include shipping insurance as part of the quoted price. Packages are protected 100% until the merchandise arrives and is signed for by you. We offer FedEx Ground Shipping to the Contiguous 48 states. All FedEx shipment times are quoted in business days, as neither FedEx Next-Day service nor FedEx 2-Day service ship or deliver on weekends or holidays.
Orders over $99.00 = *Free FedEx Ground shipping!
Orders under $99.00 = Ground shipping only $8.99
*Please note that the free shipping option excludes PING merchandise due to MFR restriction.
Orders with out of stock products
We do our best to reflect accurate inventory on the website but on occasion some items may be out of stock. If an order with multiple products includes a product that is out of stock, the out of stock item will be removed and we will ship the in-stock items. This will allow us to get your order delivered quickly without delay! Questions? Call us at 1-800-394-4653.
International Shipping
GolfDiscount.com can ship almost any item we carry in stock internationally. From Canada, to Europe, to Australia and everywhere in between, we can provide rate estimates and service to international customers. International shipping prices will be calculated during checkout, but if you would like to estimate shipping costs prior, please use our sales team at 1-800-394-4653.
Express Shipments
We are also proud to offer FedEx Next Day and 2-Day Air at the lowest possible rates attainable. Rates vary depending on the dimensional weight and destination of the shipment.
Hawaii and Alaska Shipments
FedEx Next Day and 2-Day Air are available for customers looking to have products shipped to Hawaii or Alaska.
Processing Times
Orders completed by 12PM PST (3PM EST) ship out same day! All other orders will be processed and fulfilled within one business day. Drop Ship products and orders completed on Saturdays require additional processing time.
PO Boxes and APO Shipments
GolfDiscount.com gladly ships to PO Boxes and APO addresses through USPS.
Additional Shipping Information
Canadian and International Orders
Customers from your area also like