The MP-15 embodies the definitive balance of tradition and technology for today's better player.
MP-15 Iron Set
Forgiveness Without Sacrifice.
The MP-15 embodies the definitive balance of tradition and technology for today's better player.

At address the MP-15 appears every inch the classic Mizuno MP iron – compact with clean lines, designed to enhance both feel and workability. Forged directly inside the 1025E steel framework is a re-engineered Titanium Muscle insert, which maintains thickness behind impact for solid feel, while allowing weight to be shifted to the perimeter to provide "full cavity" forgiveness.
The MP-15 is the perfect blend of classic looks and high-tech forgiveness.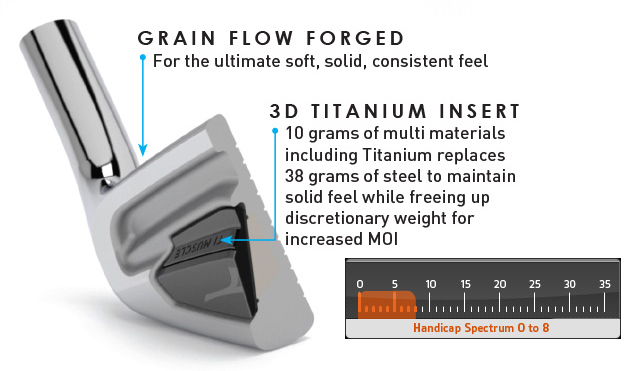 Key Technology
Ti Muscle: Delivers increased forgiveness with solid feel.
Grain Flow Forged: 1025E "Pure Select" mild carbon steel and pure titanium combine to provide the ultimate soft, solid and consistent feel..
Tour Proven Sole and Compact Head: Deliver consistent turf interaction for enhanced control and workability.
Standard Shaft:
True Temper Dynamic Gold S300
Standard Grip:
Mizuno M-31 360 .58 Round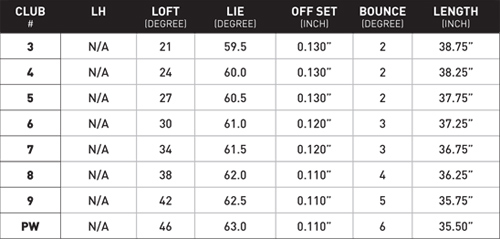 "The MP-15 blends the best elements of two great tour irons – the MP-59 and MP-64. A really compact player's iron, but with stability from off center strikes to provide the player forgiveness when they need it."
-Tetsuya Kanayama, Senior R&D Team Member
Mizuno MP-15 Irons Expert Review
Written By: Bob Gomavitz
---
The Takeaway
Like the MP-4, the MP-15 are grain flow forged with 1025E pure select mild carbon steel to deliver that sensational feel Mizuno is famous for. The MP-15 is what Mizuno calls a Ti Muscle head for increased forgiveness and a very solid feel. They do this by replacing 38 grams of steel with 10 grams of multiple materials, including Titanium, which will still maintain the solid feel while freeing up discretionary weight for increased MOI.
Who's It For?
Players irons are for touring and club pros, skilled amateurs and traditionalists. While they offer the greatest feel and maneuverability, with a smaller sweet spot than game improvement irons they are also the toughest to hit consistently.
Final Take
The increased forgiveness from the Ti Muscle head was clearly effective in my testing as my mishits felt greatly improved, along with the ball flight and some added distance. The muscular back side was not present at address, so you still have that classic, clean look of a traditional MB head. The ball flight was tight and slightly high with the PX 5.5 shaft. The offset was minimal, but not the least in the business. An excellent choice for those that feel that the MP-4 is just too demanding for their game, but want that classic Mizuno feel with some forgiveness to the head.
Club Tested: 6-Iron; Shaft: PX 5.5; Loft: 30°
Read the 2015 Players Iron Guide