Description
Details
MP-H5 Iron Set
Launch Forgiveness.
The Mizuno MP-H5 iron set offers the most forgiveness and playability Mizuno has ever introduced to the better player's market. The set blends hybrid long irons to half-cavity short irons. All the irons are made with Mizuno's patented Grain Flow Forging process for a soft, solid, consistent feel. The MP-H5 was designed to deliver a higher, controllable ball flight and steeper, soft landings to attack these challenging pin positions.
The hollow Construction delivers a deeper Center of Gravity (COG) throughout the set for a high launch with controllable spin. The MP-H5 achieves this "launch forgiveness" while maintaining a thin top line and minimal offset, giving the better player total shot-making control.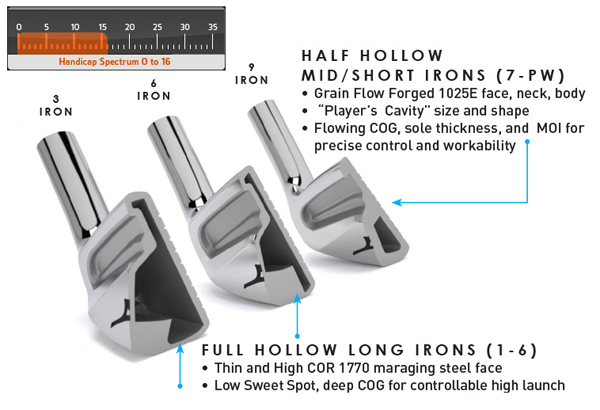 Key Technology
1-6 Irons: Full hollow design with high COR maraging steel face for easy launch and long, consistent distance.
7-PW: Half hollow 1025E Grain Flow Forged design for easy launch and soft, solid, consistent feel.
Aggressive Set Flow: High foregiveness long irons to compact short irons.
Solid Muscle Design (8-PW): Enhanced feel and maneuverability
Perimeter Grind: Reduces topline appearance and sole width
Standard Shaft:
FST KBS C-Taper Lite
Standard Grip:
Mizuno M-31 360 .58 Round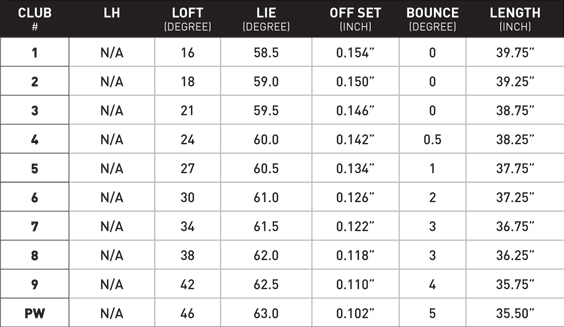 "The MP-H5 will suit players who have grown up on traditional irons, but don't want to be left behind on distance and technology. Launch Forgiveness is one of the hottest trends on the professional tours, and now you can add it to your bag as well."
-Chuck Couch, VP of Product Management
Reviews
Expert Review
Mizuno MP-H5 Irons Expert Review
Written By: Bob Gomavitz
---
The Takeaway
The MP-H5 features an interesting cavity area that is half hollow on the mid and short irons (7-PW), and a fully hollow cavity on long irons (1-6). The Half Hollow heads feature a grain flow forged 1025E face, neck and body, and offers you a players cavity size and shape. The fully hollow heads feature a thin and high COR 1770 maraging steel face and a low sweet spot with a deep CG for a controllable high launch and excellent forgiveness.
Who's It For?
These irons are a great choice for scratch golfers, to mid-handicappers and improving golfers who want to increase their shot making abilities, receive increased feel from shot to shot, and want to control distances better than they would be able to with the even more forgiving game improvement heads.
Final Take
The MP-H5 were a very interesting iron for me. I hear so much about Mizuno irons, yet I have never owned a set. This set was more to my liking than the other two Mizuno heads I reviewed earlier. I found the feel to be even better, and the launch and ball flight fit my eye as well. This head still looked like a blade to me, with a very rounded toe meeting a sharp edge leading into a nice sized top line. The offset looked minimal on this somewhat compact head. So far, my favorite iron offering from Mizuno.
Club Tested: 6-Iron; Shaft: KBS Tour; Loft: 30°
Read the 2015 Players Cavity Back Irons Guide
Shipping
FREE SHIPPING
on orders over $99
$8.99 Flat Rate
on orders under $99
*PING Excluded from FREE Shipping. Shipping costs are for Ground Shipping to the contiguous United States
*Where FREE 3-Day Shipping is specified on new product launches, this shipping method only applies to that specific product. The rest of the products in the order may ship standard ground unless otherwise specified.
Online Shipping Information (United States)
GolfDiscount.com is proud to use FedEx as its primary shipping provider. All packages shipped via FedEx include shipping insurance as part of the quoted price. Packages are protected 100% until the merchandise arrives and is signed for by you. We offer FedEx Ground Shipping to the Contiguous 48 states. All FedEx shipment times are quoted in business days, as neither FedEx Next-Day service nor FedEx 2-Day service ship or deliver on weekends or holidays.
Orders over $99.00 = *Free FedEx Ground shipping!
Orders under $99.00 = Ground shipping only $8.99
*Please note that the free shipping option excludes PING merchandise due to MFR restriction.
Orders with out of stock products
We do our best to reflect accurate inventory on the website but on occasion some items may be out of stock. If an order with multiple products includes a product that is out of stock, the out of stock item will be removed and we will ship the in-stock items. This will allow us to get your order delivered quickly without delay! Questions? Call us at 1-800-394-4653.
International Shipping
GolfDiscount.com can ship almost any item we carry in stock internationally. From Canada, to Europe, to Australia and everywhere in between, we can provide rate estimates and service to international customers. International shipping prices will be calculated during checkout, but if you would like to estimate shipping costs prior, please use our sales team at 1-800-394-4653.
Express Shipments
We are also proud to offer FedEx Next Day and 2-Day Air at the lowest possible rates attainable. Rates vary depending on the dimensional weight and destination of the shipment.
Hawaii and Alaska Shipments
FedEx Next Day and 2-Day Air are available for customers looking to have products shipped to Hawaii or Alaska.
Processing Times
Orders completed by 12PM PST (3PM EST) ship out same day! All other orders will be processed and fulfilled within one business day. Drop Ship products and orders completed on Saturdays require additional processing time.
PO Boxes and APO Shipments
GolfDiscount.com gladly ships to PO Boxes and APO addresses through USPS.
Additional Shipping Information
Canadian and International Orders