Description
G25 Hybrid
Easier to Hit, Longer Distance, Happy Golfer
Progressive CG Positions
The CG position is lower and farther back in the lower-lofted hybrids and progresses slightly forward in the higher lofts to help minimize spin and prevent ballooning (common in higher- lofted hybrids). Custom engineering of the CG helps to achieve proper trajectories and creates functional distance gaps between clubs.
External Sole Weighting
Weight positioned low and back raises the MOI for greater distance and forgiveness.
Sole Relief
Generous camber heel-to-toe and sole relief ensures solid contact from most lies.
Large Hitting Surface
A large hitting surface and thin face perimeter ensure forgiveness and high ball speeds. Squared-up toe and heel improves consistency and makes alignment easy.
Features
Progressive CG positions for optimized trajectories
Traditionally-shaped, 17-4 stainless steel head
External sole weighting creates high MOI
Charcoal, non-glare matte finish
Specifications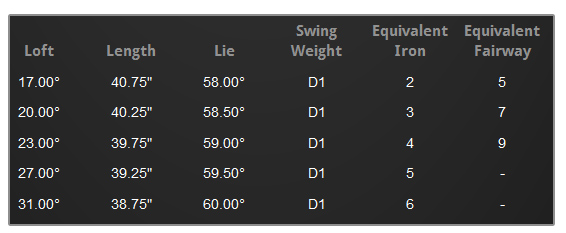 Learn more about: Ping G25 Hybrids
Reviews
Golf clubs
Good prices fast delivery.
Ping Guy
This is a great club. Good distance and accuracy. The most awesome thing about this club is the trajectory. Zero problems with getting the ball in the air. This club is the very reason that I purchase Ping clubs.
Love my G25 hybrids.
I am a senior golfer with an 18 handicap. these hybrids are easy to hit. I,ve tried other hybrids and found these the best replacements for my 4,5,6 irons. ihave a 23, 27, and 31..G25.. love them all
awesome club
Love my new g25 hybrid. As an x tour player I've come to the point of replacing my longer irons. This club is super easy to hit and great to look at. This just may rejuvinate my interest in the game. You won't be dissappointed.
Shipping