Description
G25 Irons
High Launching and Forgiveness
Re-engineered Custom Tuning Port (CTP)
The CTP is lower than the G20 and integrated into the sole to lower mass and position the CG for high-launching, forgiving results. Support bars align with the impact area to ensure a solid feel and distance control throughout the set. Elastomer cavity badge improves feel.
Progressive Sole Widths
The sole widths vary (wide to narrow) from the 4-iron through pitching wedge to provide higher-launching, more forgiving long irons, and short irons with added playability and control.
Sleeker Profile
A thin top line and moderate offset provides a look which appeals to a wide variety of golfers looking for a game improvement model.
Features
Long-iron forgiveness, short-iron control
Sleeker profile, narrower sole
Re-engineered Custom Tuning Port (CTP)
Stabilizing bars for distance control
17-4 stainless steel w/elastomer cavity badge
Custom fit to 12 color codes available
Specifications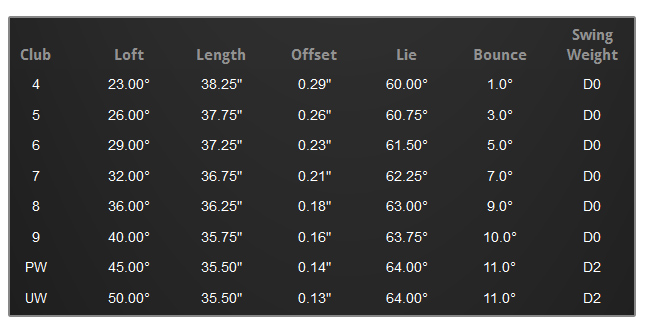 Reviews
great product at great price, can't beat it
I search for this set of Ping G25 irons for a long time, it is just amazing that I get this at the lowest possible price , paid a little bit of shipping, and no sales tax to California. I will definitely shop again here. Thanks for the great service and fast shipping.
The most pure and forgiving irons I have owned.
Grew up playing Eye-2's and now, playing at a 6 HCP, back to Ping. I got caught up (along with my buddies) in the "distance" movement courtesy of the other manufacturers. The G25's are plenty long, but the forgiveness and accuracy is the biggest benefit. Shot well my first round (78) and was -2 on the par 3's. It was funny my buddies were caught up with me hitting 9 iron on a 3 with pin at 145yds. They were air mailing wedges as I hit 9iron to 3 feet. The size of the G25's took maybe an hour to visually to get used to, but the I really like the progressive soles and blade lengths. Again, the G25's are forgiving and its minimal penalty on miss hits. They make golf easy and fun!
Purchased Ping Irons
Fast delivery and very good price.
Shipping