Introducing COR-Eye™ Technology on the new Ping GMAX Irons; A speed-generating structure that creates more flex for increased ball speeds, leading to more distance and control
Ping GMAX Irons
Hit and Hold More Greens.
Speed-Generating Structure
Activates sole, face (31% thinner perimeter) and top rail to create more flex for increased ball speed (approximately 1-3 mph across face) leading to more distance with control.
Custom Tuning Port (CTP) Connects to Sole
This placement positions the center of gravity low and on the back of the club which increases MOI for greater forgiveness, higher launch and more accuracy.
Sole Geometry
The thin sole helps increase face flex, while the enhanced leading edge, greater trailing edge relief and increased bounce improve turf interaction.
Progressive Lengths and Lofts
Lengths and lofts are optimized to increase distance with proper gapping and higher trajectories for stopping power.
Lighter Swingweights
Straight-flight technology in the 4, 5, and 6 irons help square the face at impact for faster ball speeds and straighter results.
Specifications
Default color code: Yellow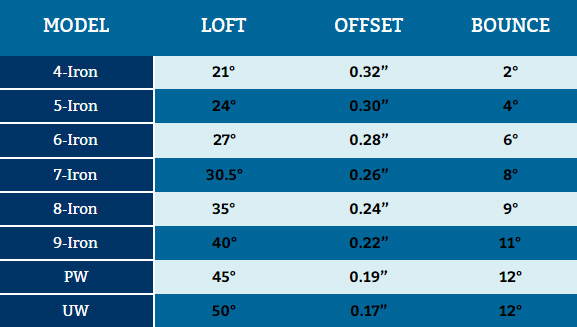 Standard Steel Shaft: CFS Distance
Standard Graphite Shaft: CFS Graphite
Several fitted after-market shafts are available at no additional charge. Call golfdiscount.com at 1-800-394-4653 to place an order for a custom iron set today!
Dynamic Gold (S300, X100)
Project X (5.0, 6.0)
XP 95 (Regular, Stiff)
Nippon Modus³105 (Stiff, X-Stiff)
Ping GMax Irons Expert Review
Written By: Bob Gomavitz
---
The Takeaway
The new Ping GMax Irons have COR-Eye Technology that generates faster ball speeds, up to 3 mph over previous Ping offerings. The diving-board-like-effect across the whole face are responsible for the faster ball speeds and increases forgiveness across the entire face, so even off center hits will fly straighter and longer. The new face design conceals the CTP (Control Tuning Port) behind the cavity and for the first time connects to the sole. With this new position, each club's center of gravity is moved lower and further back to increase the MOI (Moment of Inertia) for increased forgiveness and higher launching results. The 4-8 irons are heat treated which strengthens the material by about 40%. This allows the face to be thinner to allow greater flexing and hotter ball speeds. The wider sole positions the CG to produce higher shots that land softer. The enhanced leading edge and optimal bounce leads to better turf interaction for cleaner, crisper shot making. A large head size with an increased offset enhances playability, as well as the progressive lengths and lofts that produce efficient gaping. Lighter swing weights in the 4, 5, and 6 irons help square the face up at impact for faster ball speeds and straighter shots.
Who's It For?
The new Ping GMax irons are for the players that are looking for Max Playability out of their iron sets. This is a game improvement set that should catch the eye of mid-high to higher handicap players, from pure beginners buying their first set to the seasoned senior players looking to keep up on distance and playability.
Final Take
Side by side there is quite the difference between the GMax and the i Series. The GMax head is larger, has more offset, a deeper cavity, thicker top line and a much wider sole. The ball flight with the GMax and standard CFS shaft produced and nice, high trajectory that did not balloon on me. The turf interaction was very good, but might be a bit scary off of summertime hardpan, if you take any sort of divot. The feel was solid, but because of the larger deeper cavity, it produced a bit of a metal baseball bat sound, or a slight pinging noise that did little for me. Distance-wise, it was hard to really tell because of the slight head wind, but if I had to guess, it might have been 5 yards longer than the i Series head. The GMax are tanks, but they are a great club for those in need of this type of design.
Club Tested: 7-Iron; Shaft: Ping CFS Distance; Loft: 30.5°
Read the 2015 Super Game Improvement Irons Guide