Introducing the next generation of Ping i Series E1 Irons for 2015; A player's iron that anyone can play, and will inspire unparalleled confidence and control.
Ping i Series E1 Irons
New Steel, New Feel.
Ping introduces the next generation of the popular I series irons for 2015!
Technology
431 Stainless Steel Head
Provides softer feel and its higher strength-to-weight ratio allows for more perimeter weighting to increase forgiveness and accuracy.
Concealed Custom Tuning Port
The Custom Tuning Port (CTP) is positioned deeper in the cavity and lower on the face to align with the impact area for a more solid sound and feel.
Progressive Set Design
Head sizes and offsets are engineered to provide forgiveness and trajectory control.
Distance-Generating Lengths & Lofts
Lengths and lofts are optimized to increase distance with proper gapping and promote higher trajectories for stopping power.
3-9 irons are 1/4" longer in length vs. i25 irons
3-8 irons are 1° stronger loft vs. i25 irons
High Moment of Inertia
Weight Savings, about 3-4 grams, from the 431 stainless steel and the deeper CTP position allow for expanded perimeter weighting. A tungsten toe weight in the 3-7 irons increases forgiveness.
Specifications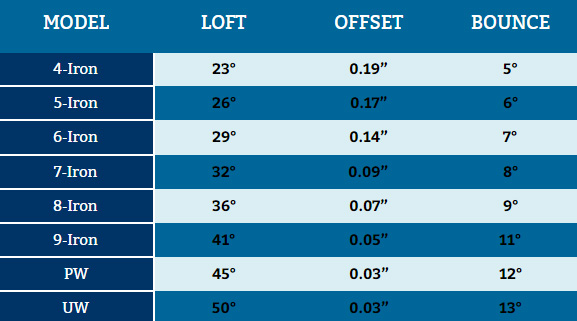 Standard Steel Shaft: CFS Distance
Standard Graphite Shaft: CFS Graphite
Several fitted after-market steel shafts are available at no additional charge:
Dynamic Gold (S300, X100)
Project X (5.0, 6.0)
XP 95 (Regular, Stiff)
Nippon Modus³105 (Stiff, X-Stiff)
What is your Ping Color Code? Ping irons can be custom fit to different Color Codes (lie angles) to fit golfers of varying sizes, swing tendencies and ball-flight preferences. There are 12 different Color Codes, ranging from Maroon (extremely upright) to Gold (extremely flat). Establishing the most effective Color Code is very important as it can impact direction. Clubs that are too upright may cause a golfer to draw, hook or pull the ball; while clubs that are too flat may cause the golfer to fade, slice, or push the ball. Discover your Ping Color Code and Play Your Best with the Ping nFlight web fitter.
Ping i Series Irons Expert Review
Written By: Bob Gomavitz
---
The Takeaway
Where do I start? First off, the main difference with the new i series over the i25s is the use of 431 Stainless Steel compared to the 17-4 Stainless Steel previously used for the i25s. What this offers is a softer feel, more workability, greater strength-to-weight ratio, less overall weight and better trajectory control. Adding in a Progressive Set Design (this means a larger head size and more offset in the long irons and smaller head size and less in the short irons), forgiving long irons (low back center of gravity), optimized lofts and lengths to a super clean looking head that offers a high MOI (Moment of Inertia) and you have an iron set that will appeal to a larger group of players. Other features include a Tungsten weight in the toe area of the 3-7 irons, which Ping has made less noticeable by blending the weight plug into the head finish, making it hard to see without actually looking for it. The CTP (Custom Tuning Port) is in a more concealed position below the cavity for a cleaner look and an increase in perimeter weighting. The CTP is now more aligned with the impact area, resulting in a better sound and feel. The sole is designed with the proper amount of bounce for clean turf interaction and optimized playability in all types of conditions. Lastly, to match up with each player's own personal style Ping is offering 4 different aftermarket shafts to enhance flight and spin.
Who's It For?
The new i series covers a large range of players. Though, these irons will mainly be sought by players who are improving rapidly and want a clean players-looking head offering a large amount of forgiveness and playability. Better players will also be interested because of the softer feel and more forgiving head that the 431 Stainless Steel offers compared to their muscleback heads. So, because of the features mentioned above, the majority of the players who will love these irons will be players with an 8 to 18 handicap.
Final Take
Having owned a set of i20's in the past I was very excited to test this head, and even more excited to test it with the Nippon Modus Pro 105 shaft. Looks-wise, the i Series offers a simple, clean clubhead. The top line is on the medium to medium-thin side. The sole is medium-thin, slightly scalloped from head to toe with some back edge relief. The bottom groove line with white paint fill offers a simple alignment aid. Feel-wise, these heads were a touch softer than the 17-4 Stainless Steel heads that I personally play, which in turn offers up a touch more feedback to the hands at impact. I found the interaction with the turf was excellent and with minimal digging. The ball flight using the Nippon shaft was excellent, though just a touch on the high side. However, I was hitting into a slight head wind and the ball stayed true with no ballooning. Distance-wise, the i Series was on par with my current irons, though what raised my eyebrow with this shaft was the super tight dispersion. I was blown away by just how straight this combo was, and definitely a combo that I could order, no problem. With 4 aftermarket shafts available, along with the standard Ping CFS Distance shaft, finding the right combo just became easier. Suffice it to say, Ping strikes again!
Club Tested: 7-Iron; Shaft: Nippon Modus Pro 105; Loft: 32°
Read the 2015 Players Cavity Back Irons Guide