Description
Details
i25 Fairway Wood
PING Enhanced Shot Making
Compact and hot off the tee, the 17-4 stainless steel PING i25 fairway woods are built into an all new sleeker frame to give golfers even more enhanced shot making. With their taller face and lower center of gravity the new i25 fairway woods deliver fantastic boosts in ball speed and reduced spin for added distance. Patented racing stripes help with alignment, adjustable lofts customize your fitting, and the industry-first PWR shaft family optimizes trajectory and feel.
With the i25 fairway woods, engineering a tall face was a top PING priority. The enlarged hitting area provides more confidence off the tee and in light rough. And, the CG is extremely low, allowing for more energy at impact to go to the ball speed, with less into the spin resulting in a hot, penetrating trajectory with a predictable ball flight.
The i25 fairway wood also sports the same subtle, racing stripes on the crown as the i25 driver and is expressly designed to help golfers aim and deliver the face accurately, assist in setup consistency, or guide in taking the club back on the desired path. Ultimately, this will make any golfer who puts the PING i25 fairway wood in play more consistent and help with hitting shots straight at the target. The i25 fairway wood is also adjustable in that one can add or subtract a half degree of loft to the 14°, 15°, and 18° heads using PING's Trajectory Tuning Technology. The ability to fine-tune trajectory makes it easy to optimize launch angle and spin rate for maximizing distance. PING's lightweight,
adjustable hosel
is highly aerodynamic and has the same outer diameter and mass of their traditional fixed hosels. Fixed weight in club head
not adjustable.
PING's proprietary PWR shafts (55g, 65g, 75g) in the i25 fairway woods vary in stiffness profile, and allow for changing the club's total weight without altering the swingweight – or balance in your hands. The lighter shafts are suited for players looking to hit it higher and reduce fade-type misses, while the heavier versions are best for players looking to lower their trajectory and reduce draw-type misses.
Features
Racing Stripe alignment aid
Taller, hotter face
Lofts Adjustable +-1/2º
PWR Shaft Family
Available 3 (14º), 3 (15º) and 5 woods (18º)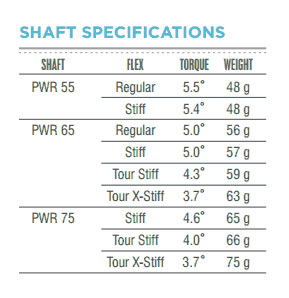 Reviews
Verified Reviewer
What is a
Verified Reviewer
A Verified Reviewer is a shopper who has confirmed an email address, or connected a social network with Yotpo, providing an added level of transparency and trust.
Verified Buyer
A Verified Buyer is a user who has purchased the reviewed product through our store.
Refund
Good morning, I make the return of the golf club, they told me that they were going to make the refund
On Ping i25 Fairway Wood
Verified Buyer
A Verified Buyer is a user who has purchased the reviewed product through our store.
Verified Buyer
A Verified Buyer is a user who has purchased the reviewed product through our store.
Verified Buyer
A Verified Buyer is a user who has purchased the reviewed product through our store.
Verified Buyer
A Verified Buyer is a user who has purchased the reviewed product through our store.
Solid feel when good contact made.
Not a forgiving club, but very satisfying to hit when my swing is working well. A great club off the tee.
On Ping i25 Fairway Wood
Shipping
FREE SHIPPING
on orders over $99
$8.99 Flat Rate
on orders under $99
*PING Excluded from FREE Shipping. Shipping costs are for Ground Shipping to the contiguous United States
*Where FREE 3-Day Shipping is specified on new product launches, this shipping method only applies to that specific product. The rest of the products in the order may ship standard ground unless otherwise specified.
Online Shipping Information (United States)
GolfDiscount.com is proud to use FedEx as its primary shipping provider. All packages shipped via FedEx include shipping insurance as part of the quoted price. Packages are protected 100% until the merchandise arrives and is signed for by you. We offer FedEx Ground Shipping to the Contiguous 48 states. All FedEx shipment times are quoted in business days, as neither FedEx Next-Day service nor FedEx 2-Day service ship or deliver on weekends or holidays.
Orders over $99.00 = *Free FedEx Ground shipping!
Orders under $99.00 = Ground shipping only $8.99
*Please note that the free shipping option excludes PING merchandise due to MFR restriction.
Orders with out of stock products
We do our best to reflect accurate inventory on the website but on occasion some items may be out of stock. If an order with multiple products includes a product that is out of stock, the out of stock item will be removed and we will ship the in-stock items. This will allow us to get your order delivered quickly without delay! Questions? Call us at 1-800-394-4653.
International Shipping
GolfDiscount.com can ship almost any item we carry in stock internationally. From Canada, to Europe, to Australia and everywhere in between, we can provide rate estimates and service to international customers. International shipping prices will be calculated during checkout, but if you would like to estimate shipping costs prior, please use our sales team at 1-800-394-4653.
Express Shipments
We are also proud to offer FedEx Next Day and 2-Day Air at the lowest possible rates attainable. Rates vary depending on the dimensional weight and destination of the shipment.
Hawaii and Alaska Shipments
FedEx Next Day and 2-Day Air are available for customers looking to have products shipped to Hawaii or Alaska.
Processing Times
Orders completed by 12PM PST (3PM EST) ship out same day! All other orders will be processed and fulfilled within one business day. Drop Ship products and orders completed on Saturdays require additional processing time.
PO Boxes and APO Shipments
GolfDiscount.com gladly ships to PO Boxes and APO addresses through USPS.
Additional Shipping Information
Canadian and International Orders