Description
i25 Driver
All New PING Sriped Racer

The all new, adjustable PING i25 driver is focused on optimal spin, accurate alignment, and effective shaft fitting for maximizing distance and accuracy. Tungsten-weighted to raise the MOI, the Ti 8-1-1 driver offers two industry-first design attributes: patented racing stripes on the crown, and an innovative PWR shaft family that maintains a constant swing weight across every offering.

With high-density tungsten weights that have lowered the CG of the i25 clubhead, the i25 is designed to adeptly generate the proper amount of spin and a ball flight that maximizes roll. The weights also increase forgiveness. The curvature of the crown, toe, and sole are engineered to reduce aerodynamic drag compared to other 460cc drivers which means increased clubhead speed and more distance.

The patented racing stripes, with their attractive and subtle styling, are far from just a cosmetic update and are designed to help aim and deliver the face accurately, guide the golfer in taking the club back on the desired path, and assist in aligning feet and body.

The i25 is also fitted with PING's proprietary shaft family called PWR (Performance, Weighting, and Responsiveness). The PWR 55-, 65-, and 75-gram shafts, nine options in all, offer unique weights and stiffness profiles, but they do not alter the club's swingweight. The lighter versions promote higher ball flight and can reduce fade-type misses; the heavier versions promote lower flight and can reduce draw-type misses.

Golfers can fine-tune their launch conditions by adding or subtracting half a degree of loft on the uniquely optimized 8.5º, 9.5º and 10.5º heads. PING's Trajectory Tuning technology utilizes an adjustable hosel that is easy to use, lightweight, and aerodynamically efficient. Fixed weight in club head not adjustable

Specifications

Headsize: 460cc
Lofts: 8.5º, 9.5º, 10.5º
Length: 45.25"
Lie: 58º
Head weight: 207g
Swing weight: D3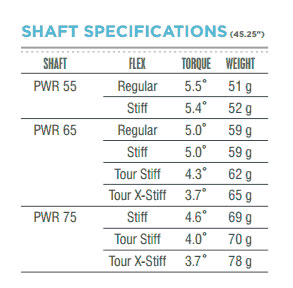 Reviews
Ping i25 Driver
What a great club! Just looking down at this club on my set-up gives me the confidence on the tee knowing that I won't spray it into the bush.
Ping I 25 Driver
Had a blip of warm weather here in Chicago, and went to the range. Nice piece of equipment. Will take to monitor to adjust shortly, to find out my spin rates at different settings. So far, very pleased with a short amount of practice.
Great all around
The website, customer service, and product are/were all first class - will not hesitate to recommend and/or use this site again!!
Ping i25 driver
The Ping i25 driver is one of the best drivers I've hit in the past few years. It is very consistent and the tungsten weighting on the bottom makes it stable through impact avoiding twisting. Because of that it's not the easiest with workability but a great club none the less.
Got it today will use it tomorrow, just what I wanted
great looking club, feels good. I have the irons & fairway wood best feel of any club I've ever hit!
i 25 driver
Outstanding driver!!! I have been through many clubs in my life, irons, drivers, putters, you name it and I have spent thousands on it. I played Ping for years, as soon as another model came out, I would buy it, irons, woods, etc. I couldn't seem to get over the hump, and switched to Taylor Made irons,woods, etc. graphite shafts, the whole nine yards, then switched to Callaway, then bought a new set including woods of Taylor Made and switched back to them, then switched to Cobras, then back to Ping, then back to Taylor Made. But, now I am back on with Pings, G20 irons are the best I have ever hit. I had the Ping K15 driver but didn't seem to hit it long enough, and could not work it. I tried the Ping G25 with similar results. But, when I hit the Ping i25 driver with the stiff shaft, I found what I have spent thousands of dollars looking for. I can easily draw it, or hit a fade, and this club is the longest I have ever hit by a mile, to a mile and a half, long..,. and the way it feels and sounds when struck well, awesome may be the appropriate word, pure awesome!!! Needless to say anything further, I like it!!
Long & Forgiving
I'm 63 years old so I was looking for a club to provide additional distance and assist in correcting my occasional slice. I ordered the 10.5 degree with the PWR 55 shaft. Picked up 15-20 yards per drive. The occasional slice is all but gone. The 45.25 inch shaft is much easier to control than the 46+ inch shafts on other name brand drivers. And the racing strips on top of the driver are very helpful in helping alignment. If you fit this profile, you have to give this club a try.
Shipping