Description
i25 Fairway Wood
PING Enhanced Shot Making
Compact and hot off the tee, the 17-4 stainless steel PING i25 fairway woods are built into an all new sleeker frame to give golfers even more enhanced shot making. With their taller face and lower center of gravity the new i25 fairway woods deliver fantastic boosts in ball speed and reduced spin for added distance. Patented racing stripes help with alignment, adjustable lofts customize your fitting, and the industry-first PWR shaft family optimizes trajectory and feel.
With the i25 fairway woods, engineering a tall face was a top PING priority. The enlarged hitting area provides more confidence off the tee and in light rough. And, the CG is extremely low, allowing for more energy at impact to go to the ball speed, with less into the spin resulting in a hot, penetrating trajectory with a predictable ball flight.
The i25 fairway wood also sports the same subtle, racing stripes on the crown as the i25 driver and is expressly designed to help golfers aim and deliver the face accurately, assist in setup consistency, or guide in taking the club back on the desired path. Ultimately, this will make any golfer who puts the PING i25 fairway wood in play more consistent and help with hitting shots straight at the target. The i25 fairway wood is also adjustable in that one can add or subtract a half degree of loft to the 14°, 15°, and 18° heads using PING's Trajectory Tuning Technology. The ability to fine-tune trajectory makes it easy to optimize launch angle and spin rate for maximizing distance. PING's lightweight,
adjustable hosel
is highly aerodynamic and has the same outer diameter and mass of their traditional fixed hosels. Fixed weight in club head
not adjustable.
PING's proprietary PWR shafts (55g, 65g, 75g) in the i25 fairway woods vary in stiffness profile, and allow for changing the club's total weight without altering the swingweight – or balance in your hands. The lighter shafts are suited for players looking to hit it higher and reduce fade-type misses, while the heavier versions are best for players looking to lower their trajectory and reduce draw-type misses.
Features
Racing Stripe alignment aid
Taller, hotter face
Lofts Adjustable +-1/2º
PWR Shaft Family
Available 3 (14º), 3 (15º) and 5 woods (18º)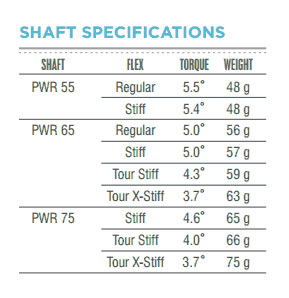 Reviews
Ping i25 3 Wood
Great club! Arrived in excellent condition as depicted on the site.
Ping i25 3wood
Awesome club for a great discounted price.
Ping I25 3 wood
Excellent buy club and cover were brand new
Solid feel when good contact made.
Not a forgiving club, but very satisfying to hit when my swing is working well. A great club off the tee.
Shipping