Description
i25 Irons
Progressive PING set = More Greens in Regulation
The all new PING i25 irons are engineered for a variety of skill levels with technology that provides versatility and forgiveness. In the progressive set design, each 17-4 stainless steel head has a specific function with regard to the center of gravity, the bounce, and the offset. The result is highly forgiving long irons and controlled short irons, which will bring confidence to your shot-making.
From the 3-iron through the lob wedge, the PING i25 irons are engineered to look and perform as a complete set. They offer a progressive set design. In the long irons, the heads are bigger and the soles wider for launching the ball high with maximum forgiveness. The mid irons and wedges are more compact, with thinner top rails and narrower soles to promote a lower ball flight for hitting greens with precision.
Another i25 irons key to performance are dual stabilizing bars -- narrow in the long irons, wider in the short irons. Narrow bars increase ball velocity and spin, producing a higher trajectory and greater distance. Wide bars in the short irons minimize face deflection to generate lower, more penetrating trajectories for maximum control.
The PING custom tuning port (CTP) sits lower in the head to locate the CG low to optimize launch conditions. Concealing the CTP also creates a clean, appealing design. A high-density tungsten toe weight elevates the MOI, stabilizing the head on mis-hit shots. This means less twisting of the club head and more energy transferred to the ball. The i25 heads are compact, with a machined face and grooves, a satin chrome finish, and pleasing lines that speak to PING quality and PING attention to detail.
Features
17-4 stainless steel w/tungsten toe weight
Progressive Set Design
Stabilizing Bars
Optimized CTP Position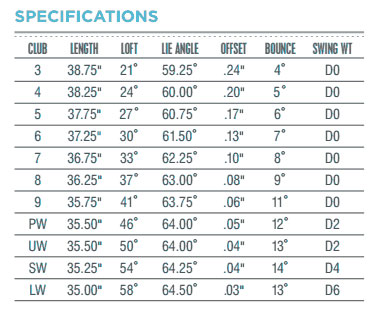 Reviews
Shipping